Where are the public service (Freeview Light) transmitters?

Brian Butterworth published on UK Free TV
There are many TV transmitters in the UK, but only 81 of them carry all the services including the three commercial multiplexes. The other 1,036 transmitters will only carry the three public service transmitters, sometimes called Freeview Lite.

The commercial operators, SDN (originally S4C Digital Networks, now part of ITV plc) and Arqiva (originally as Crown Castle International, the privatized BBC Engineering) declined the invitation from Ofcom to extend their transmission network, see No new full Freeview transmitters.

As the transmitters can cover millions of homes down to less than 100, this means that:


In England, there are 54 full service transmitters and 583 public service transmitters, but the three-multiplex transmitters only serve 7% of the population.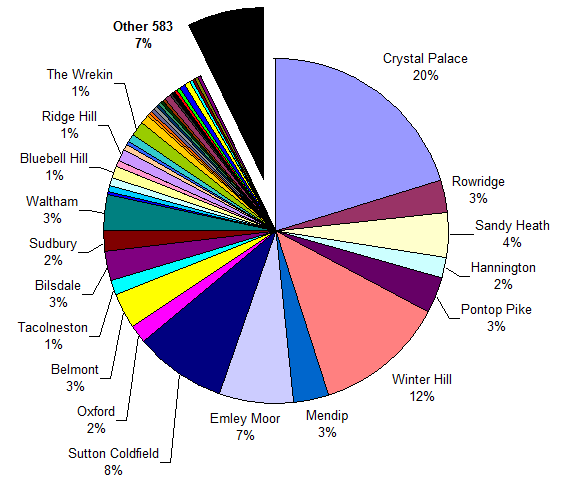 The main reason for the commercial operators not extending their networks is the uneconomic nature of these sites. It is not simply a question of being allocated frequencies by Ofcom (these were freely available to the operators) - the cost of installing the three antennas on each mast, the considerable capital expense of providing the transmission equipment and the ongoing network, power and monitoring costs.

In Scotland, the 14 main transmitters cover 85% of the population with full Freeview, but those in the mountains and islands are again uneconomic. Indeed, the Black Hill transmitter alone covers 40% of Scots.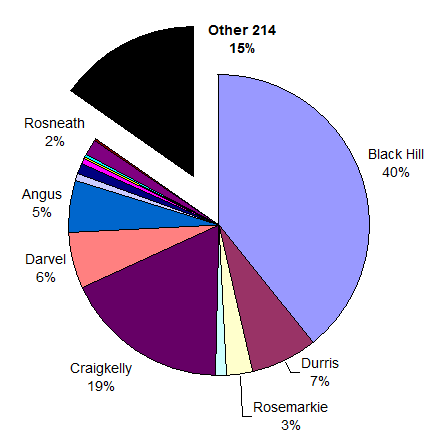 Looking to Northern Ireland, the Divis transmitter provides services to 67% of the population, with two other full service transmitters providing the next 13%. However, again 20% of the population are provided by the other 43 and these will provides just the public services.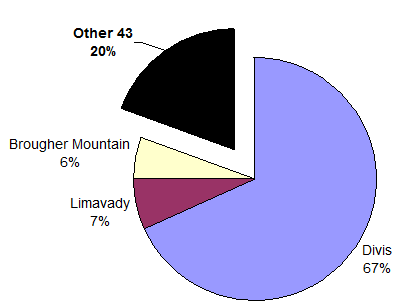 TV viewers in Wales stand the most chance - one in three - of being short of channels. Nine main transmitters cover 66% of the population, and in the mountains and valleys the other 196 transmitters cover very small populations each.




Map showing public service only areas in England, Wales, NI and Scotland.


Comments
Friday, 23 May 2014

Dave - The mast dosn't look to be 100+ feet high?---- but spec savers>>>>>>

But I cannt see the mast from the highest acessible point on my house and there is reference to 3 storey houses at the top end of the site which I undertand is nearest he mast ?
Is 'effective' line of sight all that really matters at TV freqs and so what's 'underneath' that path no effect?

Still raises the question should Arqiva be told about new build next door

Cheers

James

James's 7 posts
James's:
map
J's Freeview map
terrain
J's terrain plot
waves
J's frequency data
J's Freeview Detailed Coverage

James: Ideally line-of-sight is required.

I'd guess that if Arqiva need be notified then it should have been done so at application stage. It might be worth enquiring with the Council as to whether this happened.

Dave Lindsay's 5,724 posts
Monday, 3 November 2014

I am on Freeview Lite, thus receiving a severely curtailed service compared to others living quite close by. As I only receive circa 10% of the channels, should I not also receive a similar reduction in my licence fee to help pay for my satellite service.

Steve Dickens's 2 posts

Steve Dickens: Payment of the Licence Fee is required by law for anyone receiving broadcast television. It does not guarantee availability of signals or ability to receive them, irrespective of whether this is by terrestrial or satellite means.

In any case the Licence Fee goes exclusively to the BBC. The BBC is a Public Service Broadcaster (PSB), just as ITV/STV/UTV, Channel 4/S4C and Channel 5 are. Public Service Broadcasters have obligations in terms of coverage. To serve less than 10% of the population means installing lots of small low powered transmitters to fill in in locations where the terrain prevents reception from a main transmitter. Crucially, the cost-per-viewer of these transmitters is much higher than for the large high-powered transmitters. So as to provide a Public Service, PSBs must go to this expense.

Those channels which are carried only by the main transmitters and a select few smaller ones are the Commercial channels. They pick and choose and it isn't surprising that they serve the most people for the least possible cost. For a further explanation, see:

Which Freeview channels does the Londonderry transmitter broadcast?

Thus, the idea of paying less to the BBC where Commercial (not PSB) operators choose not to serve is absurd. The issue is one of whether the Commercial operators should have an obligation to serve the public by greater coverage and that decision was taken prior to commencement of broadcasts as being "no they don't".

If the argument is one of "we should pay for what we get" then that means you should actually pay more for what you get because you are actually paying for placement and operation of the transmitter which serves you , and as I say, per viewer the cost is greater.

Dave Lindsay's 5,724 posts

Steve Dickens: It is the case that you could have Freesat, for which there are no on-going payments to make, just as with Freeview. Once the equipment has been purchased you can watch all channels for no additional charge.

Dave Lindsay's 5,724 posts
S
Steve Dickens
7:47 PM
Ivybridge

Dave Lindsay: Your logic is impeccable, of course. The question was a little 'tongue in cheek' although I do feel somewhat hard done by. My DAB reception is rubbish too and I wonder what will happen if the analogue radio service follows that of the TV, into oblivion.

Steve Dickens's 2 posts
Steve's:
map
S's Freeview map
terrain
S's terrain plot
waves
S's frequency data
S's Freeview Detailed Coverage

Steve Dickens: I understand that you are likely to feel miffed at Freeview consisting only of the PSB multiplexes.

See this section for information on DAB:

Digital radio | ukfree.tv - helping the UK with free TV reception since 2002

Dave Lindsay's 5,724 posts
Thursday, 27 November 2014

We are told that no more TV stations will be added to FreeView Lite', but I notice that we have now have Film 4+1. In fact we have three +1 stations. I would much rather get rid of all the +1 stations (and HD channels) and replace with others such as ITV3, Dave etc.

Also, what will happen when BBC3 goes internet only. What will happen to its slot?

Nick Burgess's 1 post

Indeed Nick, the +1 stations do not need to be on PSB multiplexes, in my opinion. ITV3 and ITV 4 at least instead of ITV+1 and ITV3 +1.

I would imagine BBC 4 HD will replace BBC3 HD on the BBC B multiplex if BBC 3 closes.

I don't think any decision has been made yet on the future of BBC 3, has it ?

PJH's 240 posts

Sorry, I meant ITV2+1

PJH's 240 posts
Select more comments
Your comment please