Where are the public service (Freeview Light) transmitters?

Brian Butterworth published on UK Free TV
There are many TV transmitters in the UK, but only 81 of them carry all the services including the three commercial multiplexes. The other 1,036 transmitters will only carry the three public service transmitters, sometimes called Freeview Lite.

The commercial operators, SDN (originally S4C Digital Networks, now part of ITV plc) and Arqiva (originally as Crown Castle International, the privatized BBC Engineering) declined the invitation from Ofcom to extend their transmission network, see No new full Freeview transmitters.

As the transmitters can cover millions of homes down to less than 100, this means that:


In England, there are 54 full service transmitters and 583 public service transmitters, but the three-multiplex transmitters only serve 7% of the population.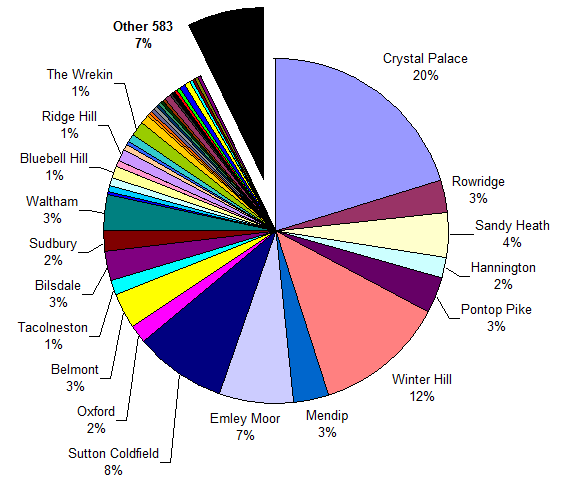 The main reason for the commercial operators not extending their networks is the uneconomic nature of these sites. It is not simply a question of being allocated frequencies by Ofcom (these were freely available to the operators) - the cost of installing the three antennas on each mast, the considerable capital expense of providing the transmission equipment and the ongoing network, power and monitoring costs.

In Scotland, the 14 main transmitters cover 85% of the population with full Freeview, but those in the mountains and islands are again uneconomic. Indeed, the Black Hill transmitter alone covers 40% of Scots.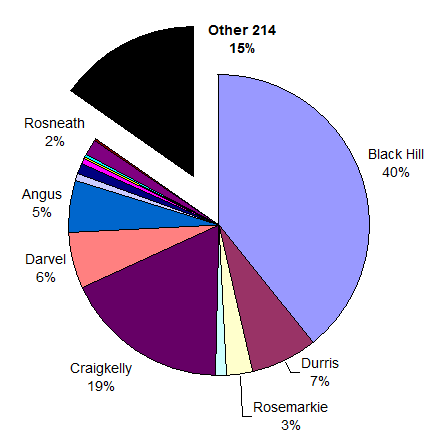 Looking to Northern Ireland, the Divis transmitter provides services to 67% of the population, with two other full service transmitters providing the next 13%. However, again 20% of the population are provided by the other 43 and these will provides just the public services.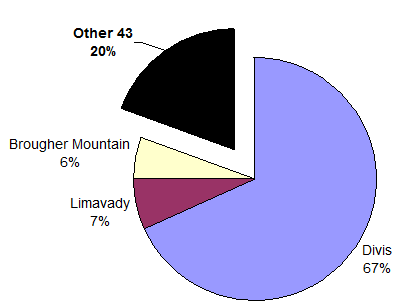 TV viewers in Wales stand the most chance - one in three - of being short of channels. Nine main transmitters cover 66% of the population, and in the mountains and valleys the other 196 transmitters cover very small populations each.




Map showing public service only areas in England, Wales, NI and Scotland.


Comments
Friday, 6 July 2012
J
John F
12:12 AM
West Kilbride

My postcode is KA23 9EH. Having had to wait several years even to receive Channel 5 we looked forward to the delights of Freeview, only to discover that we get only the bare minimum (Freeview Light?). No ITV3 or 4, no Film 4 etc. Now we have had our noses rubbed further in the dirt by being told to retune for the Olympics and Channel 4's mew weekly summary of goodies. Who makes the decisions about which segment of the population is deserving and who is not? Probably someone in Englandshire who thinks we still live on porridge and cultivate haggis for a treat..

John F's 2 posts
John's:
map
J's Freeview map
terrain
J's terrain plot
waves
J's frequency data
J's Freeview Detailed Coverage

John F: Err, no. It's down to the laws of capitalism and it is explained above !!!

The Commercial broadcasters selected the most lucrative transmitters (those with most viewers).

The rest cover 8.5% of the population and the cost to run them is about equal to the cost of the 81 they have which cover 90% of the population.

As they are profit making organisations, showing advertising to as many viewers as possible which they aquire at lowest possible cost, then it's not surprising that they aren't interested.

Dave Lindsay's 5,724 posts
M
Mark Fletcher
12:50 AM
Halifax

John F.West Kilbride,KA23 9EH.Then again you could always opt for Freesat,or if you are served by Virgin Media in your locality Cable TV.

Mark Fletcher's 673 posts
Mark's:
map
M's Freeview map
terrain
M's terrain plot
waves
M's frequency data
M's Freeview Detailed Coverage

John F - all of the BBC services are carried on the relay transmitters so you will get all the Olymipic coverage.

Just a bit unfortunate that neither the Black Hill or Darvel transmitter reach far enough west...

Michael's 358 posts
Wednesday, 24 October 2012

not only do we not get commercial operators but we don't even get on your map. Poor N. Ireland.

Martin Bradley's 1 post
Tuesday, 4 December 2012
P
Peter Henderson
1:23 AM
Newtownabbey

Martin: There are three transmitters that carry the COM multiplexes. These are Divis, Brougher Mountain, and Limivady. In addition, there are also three sites that broadcast the NI mux (i.e. TG4, RTE 1 and RTE 2). Add to the fact that Saorview also covers much of the province (Saorsat is also available) and I think we are pretty well served with free to air television compared to the rest of the UK.

Anyone who is covered by a Freeview Lite transmitter can of course avail themselves of Freesat. With the addition of Pick TV, Challenge TV, and Sky News today, there really isn't that much difference between it and Freeview.

I'm not sure why Brian has left NI out of the coverage map.

Peter Henderson's 240 posts
Peter's:
map
P's Freeview map
terrain
P's terrain plot
waves
P's frequency data
P's Freeview Detailed Coverage
Monday, 24 December 2012

This issue really makes my blood boil as well!

I live in an area that receives only Freeview Lite. My main issue is that most of the channels are utter rubbish. For example, when there was just one ITV channel, they had to provide content for everyone. Now that they have several 'tailored' channels if you don't get the ones that provide you with content that interests you, you're stuck with unwatchable channels. ITV2 is my idea of TV hell. ITV1 is little better (which I get twice with the +1). So, now I'm worse off than before! Channel 4 has now become a channel aimed at teenagers. If you don't get Film4, then you're stuck watching 'The Joy of Midget Teenage Group Sex' or 'Illiterate Gypsy Weddings'. So even though I now have more channels, I actually get less content I want to watch than when there was just one CH4 or ITV.

Let's do a summary of what's on Freeview Lite:-

BBC 1 and 2 - Decent general viewing.
BBC3 - Utter rubbish aimed at teenagers.
BBC4 - Good quality documentaries.
ITV1 - Soaps, celebs, reality TV, gossip, talent shows, Jeremy Kyle. A nightmare.
ITV1+1 - The same nightmare except 1 hour later.
ITV2 - Extended versions of what's on ITV1.
Ch4 - Mostly junk aimed at those under 25.
CH4+1 - The same junk one hour later.
More4 - The same junk yet again.
S4C - Even if you do speak Welsh, most of the content is of low quality.
Channel5 - Reasonable, except too much celeb gossip.
BBC News - Good news channel.
BBC Parliament - Boring beyond words.
CBeebies + CBBC - Timeshare with BBC3+4. Even kids programs are preferable to hours and hours of the loathsome Jeremy Kyle!


Basically 'Freeview Lite' should be called 'Freeview Teenage and Chav', because unless you belong to one of those groups, there's precious little for you in the package.

David Jones's 1 post

David Jones: Going by your general opinion of the PSB channels, I doubt the commercial channels you're missing are going to be much better for you! But what channels do you feel you are missing out on by being on Freeview lite?

Michael's 358 posts
Tuesday, 25 December 2012

I specifically wanted ITV3 and ITV4, as the older stuff ITV used to produce is of much higher quality (in my opinion) than the rubbish they generally produce these days. I'd rather watch Minder or The Professionals for the 15th time than celebrate shallow, idiotic stupidity by watching The Only Way Is Essex or Take Me Out. And the films on ITV1+2 are generally tailored for the kinds of audience those channels are aimed at.

I also wanted Dave (for comedies like Red Dwarf and League of Gentlemen), Yesterday (for documentaries) and Film4. Channel 4 shows very few films since it now has a dedicated film channel. If you don't get that channel, then you don't get the films. This was never the way things were meant to be; creating multiple specialised channels from single generic ones and then denying access to millions of people to content they may prefer. Ofcom should have stipulated that anyone purchasing licences would have to upgrade ALL transmitters as they have now allowed a 2 tier situation to arise, which is deplorable.

David Jones's 3 posts

David Jones: You can get most of what you want (except Dave) on Freesat... Compare TV FLight/F'sat | ukfree.tv - 10 years of independent, free digital TV advice .

Briantist's 38,899 posts
Select more comments
Your comment please