Where are the public service (Freeview Light) transmitters?

Brian Butterworth published on UK Free TV
There are many TV transmitters in the UK, but only 81 of them carry all the services including the three commercial multiplexes. The other 1,036 transmitters will only carry the three public service transmitters, sometimes called Freeview Lite.

The commercial operators, SDN (originally S4C Digital Networks, now part of ITV plc) and Arqiva (originally as Crown Castle International, the privatized BBC Engineering) declined the invitation from Ofcom to extend their transmission network, see No new full Freeview transmitters.

As the transmitters can cover millions of homes down to less than 100, this means that:


In England, there are 54 full service transmitters and 583 public service transmitters, but the three-multiplex transmitters only serve 7% of the population.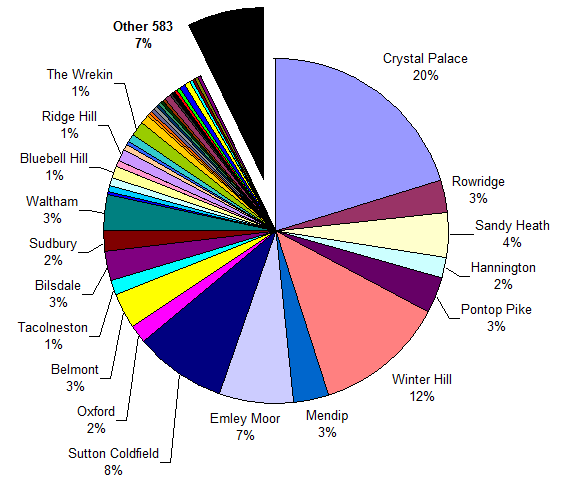 The main reason for the commercial operators not extending their networks is the uneconomic nature of these sites. It is not simply a question of being allocated frequencies by Ofcom (these were freely available to the operators) - the cost of installing the three antennas on each mast, the considerable capital expense of providing the transmission equipment and the ongoing network, power and monitoring costs.

In Scotland, the 14 main transmitters cover 85% of the population with full Freeview, but those in the mountains and islands are again uneconomic. Indeed, the Black Hill transmitter alone covers 40% of Scots.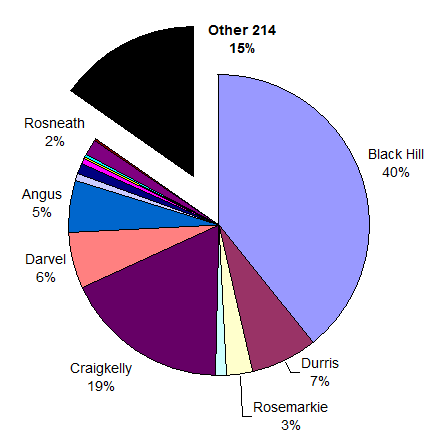 Looking to Northern Ireland, the Divis transmitter provides services to 67% of the population, with two other full service transmitters providing the next 13%. However, again 20% of the population are provided by the other 43 and these will provides just the public services.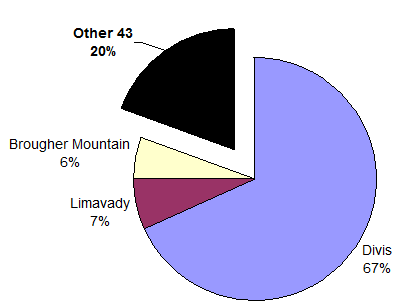 TV viewers in Wales stand the most chance - one in three - of being short of channels. Nine main transmitters cover 66% of the population, and in the mountains and valleys the other 196 transmitters cover very small populations each.




Map showing public service only areas in England, Wales, NI and Scotland.


Comments
Thursday, 27 November 2014

PJH: BBC3 shares with CBBC, so apparently its going to be BBC1 plus 1.

MikeB's 2,579 posts
Thursday, 1 December 2016

I only receive 9 channels, hardly worth paying to licence for . Can I do anything to receive more other than paying for it.
Mrs bevan

S Bevan's's 1 post

S Bevan's : Your TV licence is for the entitlement to watch TV, it does not promise reception of any channels. Please provide a postcode so we can see which transmitters are available to you. Alternatively you could get Freesat at a one off cost for the box, satellite dish and installation.

StevensOnln1's 3,570 posts
Saturday, 4 February 2017

StevensOnln1: No the TV tax license is to watch the BBC channels and listen to BBC audio channels!. A pay or go to jail tax, no give either way. I watch mostly sport which is ever increasingly on subscription channels which the government wouldn't dare think of....... Because it's a choice to the person who paid tax to buy a TV and ultimately should have the right to decide which TV Channels they want to PAY for, not what the government demands for a handful of channels since TV reception began.
Where is that person's human rights when to watch and pay for what they decide to watch!
I myself now live in a freeview light area which makes my case even more relevant.
With expanding media streaming ect choice should be with the consumer, not the government.
Thank you

Joseph Tonner's 12 posts

If you are going to reply by saying it's for the payment towards the transmitters, then take off the revenue that goes towards paying for the channels that I would not choose to watch.
CHOICE!

Joseph Tonner's 12 posts

Joseph Tonner: Its not like we havn't heard either of those two (totally debunked) arguments before, but by putting them together, you actually undermined one of them totally.

Steven is right - a TV licence is no different to your car tax - how far you drive and where you go is up to you, but you do have to tax your car. So you can chose not to watch or listen to any BBC programmes at all, but since about 93% do in any one week, its likely that you are getting something anyway.

As for those lite transmitters, its because, to be brutally honest, commercial broadcasters cannot be bothered to provide a service to you - your just not worth it. However, the BBC does do its best to provide you with as full range of its services as possible, and the government makes ITV, C4 and C5 provide some of their services as well.

You want choice via subscription? Fine, but if the BBC had to go subscription, it would certainly do its best to get out of providing an relatively expensive per viewer service, and so would probably withdraw services from those transmitters. And all other broadcasters would likely follow suite. And you'd get nothing, or very little.

Virgin is unlikely, since cable doesn't really do rural, and it would be interesting to see if all rural areas have the sort of broadband speed you'd need to stream sports etc on those exciting subscription services you can have the choice of.

Of course, you could still get Sky...which you have to pay for. And a lot more than a TV licence.
Or, you could just get Freesat, and enjoy pretty much all the the channels on Freeview, with no hassle and no subscription, just the cost of a TV licence. Which would work better?

MikeB's 2,579 posts

Joseph Tonner:

The TV Licence Fee is just that, a fee to permit you to watch TV services no matter what or who the originators are. If you watch any form of TV service, either direct broadcast or via the internet you must have a valid licence for that address. Even if you watch catch-up services via the web either on a 'smart' TV or a computer/mobile phone/tablet/etc you must still have a valid licence. The money collected goes into Government 'coffers' and some is dished out to the BBC. What the Government do with the rest they do not say.

Consider the situation if you travel by train. You buy a ticket from the service operator that allows you to travel from one named railway station to another named railway station. The tracks that train travels on are not owned by the train service operator but by Network Rail. They are paid by the service operator for that provision, using some of the money you paid for your ticket. You know it is illegal to travel on a train without a valid ticket for that journey. Likewise, it is illegal to watch any TV service in the UK without a valid licence.



MikeP's 3,056 posts
Sunday, 7 April 2019

Retuning after the March 2019 change I now only get 7 TV channels all HD, and no Radio Channels, I believe at the top end of the new frequency band. Have the rest of the Channel frequencies been shifted out of the frequency range of my antenna?

P Flook's 3 posts

P Flook: We need to know which transmitter you're using out of over 1,100 across the UK. If you provide a full postcode we'll be able to see which transmitters cover your area, where you are in relation to them and your predicted coverage etc. You could also try contacting the Freeview Advice Line, who can assess if you need a new wideband aerial and can arrange for one to be fitted free of charge if you don't have satellite or cable (see link below).

Important changes to Freeview TV signals | Freeview

StevensOnln1's 3,570 posts
Select more comments
Your comment please