2011 switchover week two: The Wrekin and Ridge Hill transmitter groups

Brian Butterworth published on UK Free TV
Hardly a Wednesday from 30th March until 23rd November 2011 will not involve a step in the UK digital switchover, and this week sees the first stage of switchover for 632,000 homes in the West of Central England.

From 6am Wednesday, you will need to retune your Freeview box or television set if you use The Wrekin, Ridge Hill, Bromsgrove and Lark Stoke full service Freeview transmitters.

If you use a The Wrekin or Ridge Hill relay transmitters, from this date you will also be able to receive all the BBC Freeview services (except HD), and you will no longer be able to view BBC TWO on analogue.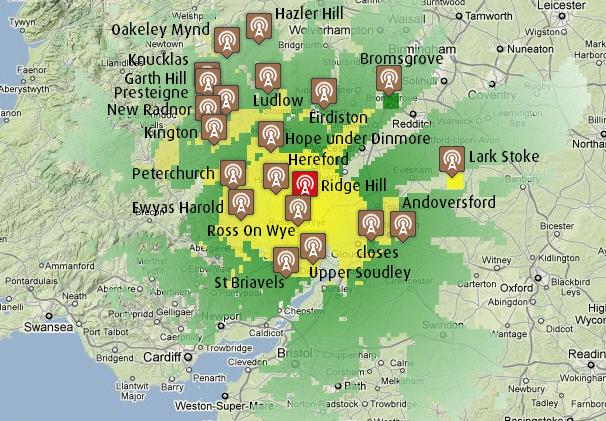 You MAY find that old equipment will no longer work - see TVs and boxes that do not support the 8k-mode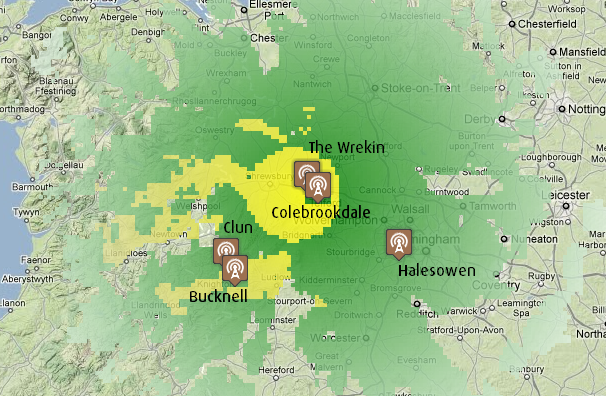 On Wednesday 20th April 2011 will see the second stage of switchover, which provide the final Freeview configuration, including Freeview HD for all transmitters in this region, except at The Wrekin where the commercial multiplexes will only be at their final output levels of 10kW in September 2011 - during this transition period the commercial multiplexes will use the following frequencies: SDN ch49 and ch31 (both 2kW), Arqiva A ch53 (1kW), Arqiva B ch57 (1kW).
Comments
Friday, 8 April 2011

Great to see the opening bit of the old ATV IN COLOUR ident again I have the full (quite decent quality) version on discs 3 & 4 of the NETWORK Sapphire & Steel boxed set, but not discs 1 & 2 for some reason ?

Nedbod's 619 posts

Nedbod: I'm glad someone recognised it!

Briantist's 38,908 posts

I live in Margate, Kent, this week I received a letter to say that the change over to digital in this area was taking place in July. On opening, it referred to East Anglia transmissions. Now some people along the North Kent coast do tune into Anglia as they receive better reception than the Dover transmitter but in the main our reception does come from Dover and it's satellites and the change over for us is 2012. For people who have no idea where their aerials are pointing this letter is very misleading

alan tilbury's 3 posts
Saturday, 9 April 2011

alan tilbury: Who was the letter from?

Briantist's 38,908 posts
Monday, 11 April 2011

please can you tell me when i get digital switch over in highley,bridgnorth as most of the village has had first stage an we have not,post code is WV16 6ND.

Ken's 3 posts
Ken's:
map
K's Freeview map
terrain
K's terrain plot
waves
K's frequency data
K's Freeview Detailed Coverage

Ken: Wednesday, 7th and 21st September 2011.

Briantist's 38,908 posts

I have been helping an elderly aunt with the switchover (Stonehouse nr Stroud). Initially all went well (4 TVs/PVRS). Lost BBC2 analogue as expected. Then lost all analogue then the channels reppeared. Then they disppeared again. At same time some of the digital channels previously received show NO SIGNAL. The switchover website refers to variable strength until April 20th - but are they varying things all the time and hence causing the repeated loss of channels? If so then I don't need to worry as presumably by 20 April it will be a reliable signal. Reading other posts suggest that digital wont be on full power in this region until the final retune date of 20 April -2011 - is this correct?

Malcolm's 2 posts
Tuesday, 12 April 2011

Malcolm: Yes, the digital signals will not be at their normal "final power" until 20th April.

However, your description actually sounds like a failing amplification device. If you are using a booster or amplifier, remove it from the system.

Briantist's 38,908 posts
Wednesday, 13 April 2011

Think on ridge hill transmitter have BBC digital channels using panasonic dmr dvb DVD recorder have itv and channel 4&5 on analogue (thru recorder ) but not digital why is this thanjs

Sivita Harrison's 1 post

Sivita Harrison: Ridge Hill does not complete digital switchover until next Wednesday.

Briantist's 38,908 posts
Select more comments
Your comment please