New Astra 1N satellite to offer more UK-focused capacity - and soon

Brian Butterworth published on UK Free TV
SES Astra, the Luxembourg-based company that owns and operates the Astra satellite fleet used in the UK by Sky and the free-to-air broadcasters behind Freesat, has successfully launched the 5300kg ASTRA 1N satellite from Kourou, French Guiana on 6th August 2011.

This satellite will be moved into the 28.2 degrees east orbital position above the equator, where it will join the Astra 2 satellites. This position will allow its transmissions to be received by anyone who uses Sky or Freesat.

This additional capacity will increase the number of satellite transponders by 104.

Of particular note to free-to-air TV satellite viewers, the satellite has a "UK spot beam", which mirrors that of the Astra 2D satellite.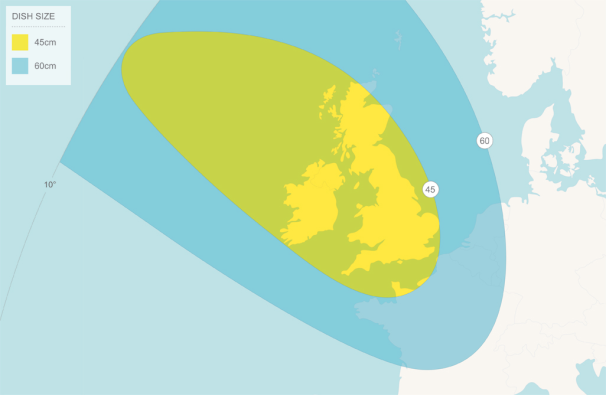 Whilst it can be argued (see Karen Murphy scores against the Premier League and Sky) that EU Television Without Frontiers directive allows public service broadcasters to carry their services on pan-European satellite, international rights holders prefer free-to-air channels to use the tight beams to restrict the coverage to a target country.

As all the Astra 2D transponders have been full for some years, the extra capacity on Astra 1N will allow for expansion.

Speculating, this might include:


Space for BBC TWO HD, which will require four HD stream to provide the English, Welsh, Scottish and NI variations.
Space for Channel 5 to move to have all of their advertising regions free-to-air, and perhaps 5* and 5USA.
Space for all ITV1 HD news regions to be on Freesat.
Comments
Monday, 8 August 2011

Briantist: This is from REAL Digital TV facebook page. "REAL Digital will offer 3 services. The 1st is a large free to air package with no subscription required. Then Sky Sports 1 and 2 will be offered without any annual contract just a month by month fee which will be the lowest price that is possible. The 3rd service will be called REAL Essentials and it will be offered as a monthly subcription and would require a 12 month contract. However the monthly fee will be the lowest Pay TV service in the UK. The channels in the REAL Essentials package will be confirmed later in the year. It will have something for everyone a family".

NottsUK's 345 posts

A couple of weeks ago, SES announced that ITV had contracted to lease three more transponders on top of their existing six: SES - News

Wait and see how much of 1N's capacity gets burned up with additional regional variants of ITV1 +1 and ITV1 HD. Perhaps ITV1 Central East can finally go free-to-air?

Mike Dimmick's 2,486 posts

Mike Dimmick: ITV Central East use to be free-to-air on Astra 2D transponder 49 until March 2010. It was removed with another ITV region to make room for ITV HD.

NottsUK's 345 posts
Tuesday, 9 August 2011

If all these speculated servicres come onto Freesat Brian, then it's very good news for those viewers in Freeview Lite areas.

It makes Freesat far more appealing than Freeview, in my opinion. Why even bother with Freeview if the channels on Freesat are virtually the same ?

Lets hope the speculated HD channels come true (includung UTV HD by the way).

Peter Henderson's 240 posts

Maybe once "exclusive contracts" and similar agreements have ended with companies like Virgin Media and BSkyB, we could have Channel 5 HD, Film4 HD and E4 HD? And how about HD versions of 5* and 5USA?

And one other thing: has the Astra 1N satellite been launched with both DVB-S MPEG-2 and DVB-S2 transponders pre-fitted? Or will the DVB-S2 have to be added at a later date or has it been launched exclusively DVB-S2? Since most people these days who have a Sky or Freesat system have HD versions, it would've made sense for the satellite to be DVB-S2 only.

Josh's 97 posts
Josh's:
map
J's Freeview map
terrain
J's terrain plot
waves
J's frequency data
J's Freeview Detailed Coverage

Josh: The transponders simply relay the signal from ground level, however it is modulated. Nothing needs to be done on the satellite to switch from PAL to DVB-S to DVB-S2. Only the feed from the ground needs to be changed - as the BBC demonstrated when they switched their feed on Astra 2D transponder 50 (10847V) from DVB-S to DVB-S2 a couple of months ago. DVB-S2 wasn't even started when Astra 2D went up in December 2000.

For compatibility, I would think any new or moved SD services will remain on DVB-S, while new or relocated HD services will go to DVB-S2 if a whole transponder can be cleared of SD channels.

Sky's last quarter report says that 3.8m of their 10.3m customers take HD. Remember that this costs an extra £123 per year (£10.25 per month) on top of the basic subscription and any additional channel packages.

Mike Dimmick's 2,486 posts

Then it makes pefrect sence to call it 1N :)

Ian's 497 posts
Ian's:
map
I's Freeview map
terrain
I's terrain plot
waves
I's frequency data
I's Freeview Detailed Coverage
Wednesday, 10 August 2011
B
Brian
4:11 PM
Peterborough

Why is the signal for CHN 4 HD so low on Freesat ?

Brian's 1 post
Brian's:
map
B's Freeview map
terrain
B's terrain plot
waves
B's frequency data
B's Freeview Detailed Coverage

Well it would be nice to see both 5USA and 5* on Freesat that i think is what many waiting for ! I mean i do sub to Skyhd but i could then have Freesat in the bedroom which would be better than Freeview !

darre's 16 posts

Brian: As far as its strength is concerned it isn't! as I have just checked it. However if you are referring to quality you could find that not only Ch4 HD but anything else (CBS programmes etc) at about 11Ghz (and above) vertically polarised are also low at approx 60% or so, this dependant on the LNB used on the dish, although I have a suspicion that there is more to it than this. (and NOT an alignment problem)

jb38's 7,179 posts
Select more comments
Your comment please