New Astra 1N satellite to offer more UK-focused capacity - and soon

Brian Butterworth published on UK Free TV
SES Astra, the Luxembourg-based company that owns and operates the Astra satellite fleet used in the UK by Sky and the free-to-air broadcasters behind Freesat, has successfully launched the 5300kg ASTRA 1N satellite from Kourou, French Guiana on 6th August 2011.

This satellite will be moved into the 28.2 degrees east orbital position above the equator, where it will join the Astra 2 satellites. This position will allow its transmissions to be received by anyone who uses Sky or Freesat.

This additional capacity will increase the number of satellite transponders by 104.

Of particular note to free-to-air TV satellite viewers, the satellite has a "UK spot beam", which mirrors that of the Astra 2D satellite.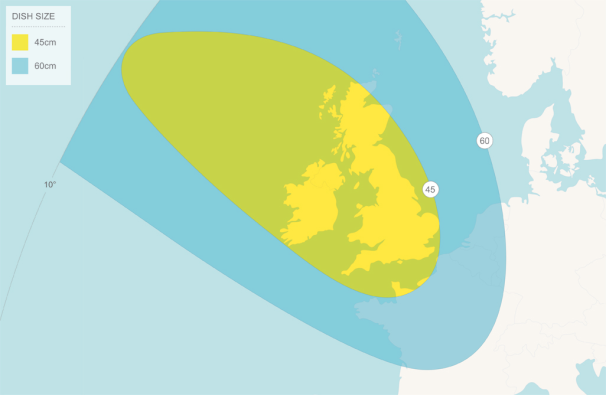 Whilst it can be argued (see Karen Murphy scores against the Premier League and Sky) that EU Television Without Frontiers directive allows public service broadcasters to carry their services on pan-European satellite, international rights holders prefer free-to-air channels to use the tight beams to restrict the coverage to a target country.

As all the Astra 2D transponders have been full for some years, the extra capacity on Astra 1N will allow for expansion.

Speculating, this might include:


Space for BBC TWO HD, which will require four HD stream to provide the English, Welsh, Scottish and NI variations.
Space for Channel 5 to move to have all of their advertising regions free-to-air, and perhaps 5* and 5USA.
Space for all ITV1 HD news regions to be on Freesat.
Comments
Wednesday, 2 November 2011

george: Depends on the box.

Sky boxes will retune automatically whenever Sky change the EPG data. You may need a current viewing card inserted to get the right region, if and when ITV move some ITV1 regions.

Freesat-branded boxes are supposed to retune automatically, but not all do. Some need to be put in standby to do it, or you have to select a retune function. Some viewers found they had to do a factory reset when BBC HD and BBC One HD changed over to DVB-S2 on the same transponder.

Generic free-to-air receivers will need to be retuned manually. Don't do it until the channels disappear from their old location.

The Astra 1N satellite is in the cluster of satellites at 28.2°E. You don't have to move your dish at all.

Mike Dimmick's 2,486 posts
Thursday, 1 December 2011

So it won't be my dish alignment that prevents my getting C4 HD or the other channels on Astra 1N? I've set my Passion+ as advised in various places but can't get a channel, etheer C4 HD or the ITV channels.

George Buchanan's 43 posts
Saturday, 3 December 2011

George Buchanan: Go to Menu/System settings/other settings and ensure that 'Power Search Mode' is on and then save.
Leave unit on standby over night and following day you should see the channels on the end of your channel list.

Birt's 6 posts
Sunday, 4 December 2011

Thanks all...

I got it after a factory reset but I'll remember the power search tip for the future. The pain with so many satellite channels is deleting the ones not wanted - hundreds of them. Am I alone in believing that a large proportion of these channels shuld really just be web sites now, and that freed capacity should be allocated to enable better quality on the channels that are not just 'special interest'?

George Buchanan's 43 posts
Sunday, 26 February 2012

Advice please.
I've been receiving free Sky channels for some years now on my boat in SW France using a 700mm Maxview crank up dish. Will the change to the new satellite affect my reception e.g. tighter footprint?
Thanks
John

John Barrett's 2 posts

John Barrett: No, it appears the footprint is slightly looser if anything at all.

Briantist's 38,899 posts
Monday, 27 February 2012

Thanks for that. We have got used to waking up to South Today!
John

John Barrett's 2 posts
Thursday, 8 March 2012

I have heard this new satelite will enable reception of english tv on the costa blanca, using a one meter dish. Is this true ot not.

Keith's 1 post

Keith: The UK beam from Astra 1N is *intended* to only cover the British Isles with a small dish. You *may* be able to use it outside the British Isles with a larger dish, but you won't find any official information on how large that would be: the whole point is that channels are *not* supposed to be receivable outside the licenced area.

SatBeams - Satellite Coverage Maps - Sat Footprint Intelsat 10-02 (Intelsat 1002, Intelsat Alpha-2, Intelsat X-02, IS-1002) / Thor 5 (Thor 2R) / Thor 6 (IS-1W) indicates that it may be receivable with a 90cm dish.

This is not the permanent location for this satellite. It is only providing capacity temporarily while Astra 2E, 2F and 2G are built and launched - presumably the dish providing the UK spot beam on 1N is ultimately intended for some other purpose. The UK spot beam, on whichever satellite replaces 1N, may well be different again, and require a larger dish still. 2F is due to go up this autumn, so might go into service early next year.

Mike Dimmick's 2,486 posts
Monday, 12 March 2012

Can you please tell me the size of dish I need to receive Freesat UK TV, I have a Villa in Calasparra Murcia Spain, Other owners had to have a 1.9 dish put in 4 or 5 years ago, but I am told I will not need that size of dish now.
I intend doing the set up myself as I have done it with my caravan many times.
Thanks P McCabe.

Paul McCabe's 1 post
Select more comments
Your comment please