Local TV on Freeview - locations announced

Brian Butterworth published on UK Free TV
Through detailed planning work and analysis of areas with good geographic interleaved spectrum coverage, Ofcom has identified 65 locations available for local TV broadcast services. These locations are:


Aberdeen
Ayr including Kilmarnock
Bedford including Sandy
Belfast including Lisburn
Birmingham including Greater Birmingham area, part of Wolverhampton, Walsall, Dudley
Brighton and Hove
Bristol
Burnley including Nelson, Colne
Cardiff including Newport, Bridgend
Carlisle
Derry / Londonderry
Dover including Parts of Folkestone
Edinburgh including Dunfermline
Elgin
Falkirk including Stirling
Glasgow including East Kilbride, Motherwell, Paisley
Gloucester including Cheltenham
Greenock including Dunoon
Grimsby including Parts of Kingston upon Hull
Guildford including Parts of Woking
Haywards Heath including Heathfield, Uckfield
Hemel Hempstead including Parts of St Albans
Lancaster including Morecambe, Heysham
Limavady including Parts of Ballymoney, parts of Coleraine
Liverpool including St Helens, Widnes, Wigan, Wirral
London including Greater London area
Maidstone
Manchester including Bolton, Bury, Oldham, Rochdale, Salford, Stockport
Middlesbrough including Hartlepool, Stockton on Tees
Mold including Denbigh, Ruthin
Newcastle including Gateshead, South Shields, Sunderland
Norwich
Oxford including Abingdon, Didcot
Plymouth
Preston including Blackpool
Reading
Reigate including parts of Crawley
Scarborough
Shrewsbury
Southampton including Eastleigh, Fareham, parts of Isle of Wight, parts of Portsmouth, Winchester
Stoke on Trent including Newcastle under Lyme
Stratford upon Avon
Swansea including Llanelli
Telford
Tonbridge including Parts of Tunbridge Wells
York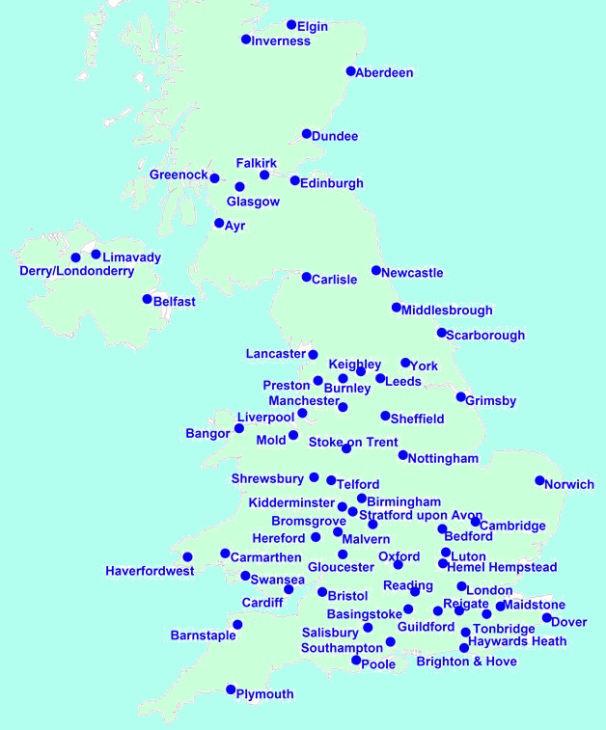 The government wants your views

If you can say, in than two pages, why your town should be chosen to have one of the first local TV on Freeview services, you are asked to answer the following two questions.

Question 1: Why do you think your town or city (if it is shown above) should be among the first of those selected to bid for a local TV licence?

Question 2: We would like to understand what approach potential the multiplex operator for local TV (MuxCo) bidders would take to the locations in this paper in order to make their business models work. Which locations are necessary to ensure a successful MuxCo model?

Answers to local.tv@culture.gsi.gov.uk.

More information:


Comments
Wednesday, 10 August 2011

Ian: It's all about what is achievable from the existing main transmitter network. That leads to some weird locations. Burnley, pop. 73,000, because it's off the existing 6-mux Pendle Forest transmitter; Mold, pop. 9,568, from Moel-Y-Parc, being the only town that could be covered. I can't see a town of < 10,000 people having a viable TV service!

In fact I can't even tell why Pendle Forest was included in the original 81 DTT sites, as it doesn't really cover any major population centre not served by Winter Hill. It was quite powerful pre-DSO, actually no power increase on the first four muxes at DSO; perhaps it filled a hole in the original Winter Hill coverage, before the equalization programme of 2000?

Again, Cambridge and Norwich are proposed locations. The south and east edges of the country are hard to serve anyway with overseas co-ordination required, Ipswich is likely too far from Sudbury and the transmission would head out toward Belgium and the Netherlands rather than being contained.

The mucking about with many DSO steps at Waltham, Sandy Heath and Sudbury indicates what a problem the terrain of eastern England is. It just may not be possible to find a free channel providing enough space for a Derby service off Waltham. Using relays has obviously gone in the 'too expensive' bucket.

Mike Dimmick's 2,486 posts

Mike Dimmick: Ah, yes. The mystery of the 81.

At least Pendle Forest is number 52 in terms of homes covered, which justifies the position in the Full Freeview list.

But why not Londonderry (37,000), Kidderminster (33k), Mynydd Machen (31k), Fremont Point (30k), Wrexham Rhos (29k), Luton (29k), Tay Bridge (27k), Poole (27k), Perth (26k), Bath(24k), Hertford (23k)?

Especially as Rumster Foresst (21k), Idle (21k), Pontypool (19k), Hastings (18k), Bristol Kings Weston (18k), Aberdare (18k), Blaenplwyf (17k), Saddleworth (11k), Eitshal (9.9k), Keelylang Hill (9.4k), Bressay (5.3k) and 345th-place Torosay (2.8k) are full-service transmitters.




Briantist's 38,899 posts

Briantist:
As some of these locations are relays with just PSB1, 2 and 3
dose this mean that it will replace a channel
or will it be a new small multiplex?

Also will this start when Channel 5 starts or after digital switch on/over.

MCMLXII's 12 posts

MCMLXII: The new local TV services will be provided on a new multiplex in DVB-T, QPSK, rate 2/3, guard interval 1/32 mode.

The services cannot start until switchover is complete - the interleaves are planned into the full new configuration network, so January 2013 is the earliest date.

Briantist's 38,899 posts

So guessing us in Essex (southend-on-Sea) wont be getting this then, but some of us like myself get our tv pictures from Bluebell Hill in Kent and Sudbury in Suffolk !

darre's 16 posts

darre: Please see the maps on the Local TV on Freeview - new Ofcom maps | ukfree.tv - independent free digital TV advice page. Basically it's a "no".

Briantist's 38,899 posts
Thursday, 11 August 2011

The thing that hasn't really be talked about and discussed on UK Free TV is the content of local TV programmes.

Will it be just local news or will there be other programmes like local history and geography?
Interviews with local celebrities and important local members of the community?
Any ideas?

And what hours will these local station broadcast from/to?
I doubt they will be 24 hours?
I wonder what they'll show the rest of the time?
Will they just shut down or will they carry Teleshopping like all other channels seem to do when they shut down?

It will be interesting to see which local TV stations I can receive when they start as I get very good signals from Winter Hill, The Wrekin and Sutton Coldfield.
I know these local station will be on a much lower power but you never know how strong or weak the signals come in where I live.

Stuart O.'s 156 posts
Stuart's:
map
S's Freeview map
terrain
S's terrain plot
waves
S's frequency data
S's Freeview Detailed Coverage

Stuart O.: The consultation expects at least one hour of local news broadcast per day. The licences will go to those with the best ideas.

The capacity will be running for 24 hours a day, I would expect that they will run their local news on a loop in most instances.

I would expect that the use of the frequencies for "home-shopping" would be specifically excluded, but as Ofcom point out the implementation of this system requires an Act of Parliament.

Briantist's 38,899 posts
Wednesday, 3 October 2012

Of course,everybody ignores Cornwall.

Tomos's 1 post
Select more comments
Your comment please