Switchover starts in the Oxford area

Brian Butterworth published on UK Free TV
This week sees the first stage of the digital television switchover for 415,700 homes in the Oxford area - one year after the only true problem during the whole of the UK pre-switchover process, the Oxford transmitter fire.

From 6am Wednesday 14th September 2011, you must to a perform a "first time installation" retune (sometimes "Factory Reset" or "Shipping Condition") on your Freeview box or television set if you use the Oxford full service Freeview transmitter.

This is because the old low power "multiplex 1" BBC service (on C34) will be replaced by the high power BBCA multiplex on the old analogue Channel 4 frequency, C53. Analogue Channel 4 moves to C63 for two weeks. Also multiplex C will move from C48 to C34 for two weeks as well.

If you use the Ascott under Wychwood (3pm), Charlbury (noon), Guiting Power (9am), Icomb Hill (9am) or Over Norton (9am) relay transmitters from mid-morning on Wednesday 14th September 2011 you will be able to receive the BBC Freeview services (with the exception of HD) for the first time, and you will no longer be able to view BBC TWO on analogue.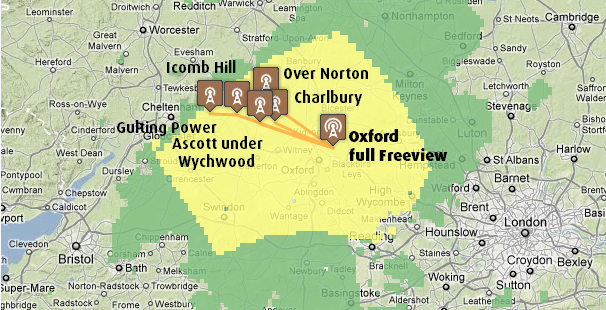 You MAY find that old equipment will no longer work - see TVs and boxes that do not support the 8k-mode

Another common problem at switchover is the ten-fold increase in signal from 10kW to 100kW will overload amplifiers and over-the-top aerial installations. If this is the case you will have to remove the booster or amplifier from the system, or perhaps fit an attenuator if you have no amplification.




On Wednesday 28th September 2011 will see the second stage of switchover, which provides the final Freeview configuration, including Freeview HD for all transmitters in this region.

On this date, you will need, once again, to do a "first time installation" as indicated above.

If you are over 75, you should already have been supplied new equipment by the Switchover Help Scheme.
Comments
Tuesday, 20 September 2011

Gavin Atkinson: If you are presently receiving BBC1 on a stable and reliable fashion with your present aerial, then there is absolutely no reason that you should have any problems whatsoever when the ITV (or HD) service starts, as they are on the same power.

For your own peace of mind, you could if you wish carry out a signal strength / quality check on your TV, usually done via tuning menu, this just to make sure that the BBC signal you are receiving isn't hovering around the 50% mark on quality, (stable as it might be!) as the Icomb transmitter is low powered as well as it being biased against radiating towards the East, but by it being located 3 miles away at 63 degrees from your own given position there shouldn't really be anything to worry about.

jb38's 7,179 posts

Gavin Atkinson: Just to further clarify, no! as judging on what you have said I would say that there isnt any reasonable risk of you requiring another aerial, that is provided that your quality indication is above the 50% level, as its varying quality levels dipping under that figure that usually causes problems.

jb38's 7,179 posts

ib38, my signal level (Oxford SN3 4ST ) on BBC is 95/95%. When we did the re-tune ITV was also fine, today however ITV is jumping about a bit. Will the change on 28th resolve that.

Robert's 75 posts
Robert's:
map
R's Freeview map
terrain
R's terrain plot
waves
R's frequency data
R's Freeview Detailed Coverage

Robert: Yes, but only as far as ITV1 etc is concerned, as the latter three multiplex channels, namely SDN - ArqA - ArqB will remain on 12.5Kw low power for an indeterminable period.

jb38's 7,179 posts
Thursday, 22 September 2011

Live just west of Swindon Wilts. Receive all TV from Mendip. Also on western fringes of Oxford. Excellent reception with correct (new since switchoff) aerial etc. Even better with Humax PVR-9300T; signal strength always about 80% and quality 100%. Coinciding with first phase of Oxford switchover last week, everything has gone mad. Frequent picture and sound breakup on all channels. Signal strength generally 70-80%, but quality anything down to 40%. Retuning hasn't helped. What has caused this and what can be done about it?

Jethro's 2 posts

jb38: Just an update. Couldn't tune any channel below 29. Now, awaiting the engineer...

Barry's 8 posts

Jethro: Please can you see the Freeview signals: too much of a good thing is bad for you | ukfree.tv - independent free digital TV advice page?

Briantist's 38,907 posts
Saturday, 24 September 2011

@Barry - the lowest Mux Channel No in use at Oxford is currently C29. From 28 Sep 11 it will be C53+ as the TX goes back to C/D range

mst's 19 posts
mst's:
map
M's Freeview map
terrain
M's terrain plot
waves
M's frequency data
M's Freeview Detailed Coverage
Sunday, 25 September 2011
S
Steve Hopkins
6:41 AM
Buckingham

Tuned to Oxford the ITV1/2 & Channel 4 losing signal & picture pixulating. Keep retuning the Sony Bravia TV but problem still same if not getting worse now consistantly saying programme not tuned. On top of hill in MK18 2DR and it's hopeless

Steve Hopkins's 4 posts
Steve's:
map
S's Freeview map
terrain
S's terrain plot
waves
S's frequency data
S's Freeview Detailed Coverage

There wasn't anything supposed to happen to Mux2 on C68 at DSO1, and from here it seems to be exactly same a before @75-80% signal strength (BBC mux @98%). It was always the weakest channel and was better before any DSO works at Beckley

So its either the weather, DSO changes elsewhere or Freeview box incompatibility C68 still on 2K mode till next week).

mst's 19 posts
mst's:
map
M's Freeview map
terrain
M's terrain plot
waves
M's frequency data
M's Freeview Detailed Coverage
Select more comments
Your comment please