Switchover starts in the Oxford area

Brian Butterworth published on UK Free TV
This week sees the first stage of the digital television switchover for 415,700 homes in the Oxford area - one year after the only true problem during the whole of the UK pre-switchover process, the Oxford transmitter fire.

From 6am Wednesday 14th September 2011, you must to a perform a "first time installation" retune (sometimes "Factory Reset" or "Shipping Condition") on your Freeview box or television set if you use the Oxford full service Freeview transmitter.

This is because the old low power "multiplex 1" BBC service (on C34) will be replaced by the high power BBCA multiplex on the old analogue Channel 4 frequency, C53. Analogue Channel 4 moves to C63 for two weeks. Also multiplex C will move from C48 to C34 for two weeks as well.

If you use the Ascott under Wychwood (3pm), Charlbury (noon), Guiting Power (9am), Icomb Hill (9am) or Over Norton (9am) relay transmitters from mid-morning on Wednesday 14th September 2011 you will be able to receive the BBC Freeview services (with the exception of HD) for the first time, and you will no longer be able to view BBC TWO on analogue.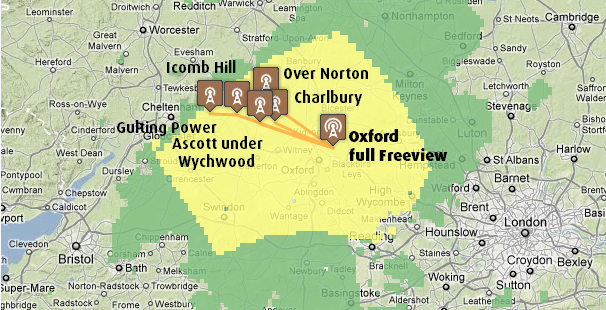 You MAY find that old equipment will no longer work - see TVs and boxes that do not support the 8k-mode

Another common problem at switchover is the ten-fold increase in signal from 10kW to 100kW will overload amplifiers and over-the-top aerial installations. If this is the case you will have to remove the booster or amplifier from the system, or perhaps fit an attenuator if you have no amplification.




On Wednesday 28th September 2011 will see the second stage of switchover, which provides the final Freeview configuration, including Freeview HD for all transmitters in this region.

On this date, you will need, once again, to do a "first time installation" as indicated above.

If you are over 75, you should already have been supplied new equipment by the Switchover Help Scheme.
Comments
Monday, 26 September 2011

I'm picking up 12 multiplexes at the moment on the Oxford (wideband) aerial (22, 24, 25, 27, 28, 32, 48, 51, 52, 53, 67, 68). According to the predictor by frequency , there's nothing transmitting on 67. What could I be picking up on this frequency?

Nicholas's 15 posts
Nicholas's:
map
N's Freeview map
terrain
N's terrain plot
waves
N's frequency data
N's Freeview Detailed Coverage

How odd it seems the new message for the 28th only says retune if you loose any channels, rather than definitely retune after 6am.

Why is that.

Robert's 75 posts
Robert's:
map
R's Freeview map
terrain
R's terrain plot
waves
R's frequency data
R's Freeview Detailed Coverage

@Nicholas

You seem to be picking up from Sandy Heath and Crystal Palace?. Sandy Heath currently uses C67 but presumably you get it below the digital quality threshold?

Postcode Checker - Trade View

Where did you find it say otherwise?



mst's 18 posts

@Robert - presumably there are some boxes out there that will auto-scan...

mst's 18 posts

MST I realise that but as I understood the original changeover info was that a factory reset was required both on 14th and 28th. Obviously it's good if we don't have to.

Robert's 75 posts
Robert's:
map
R's Freeview map
terrain
R's terrain plot
waves
R's frequency data
R's Freeview Detailed Coverage
Tuesday, 27 September 2011

@mst: Thanks for this link, confirming that Sandy Heath transmits on 67. The freeview predictor by frequency omits this:

Find out how to receive Freeview and Freeview HD | ukfree.tv - independent free digital TV advice

C66 analogue Channel 4 southwest 221° Hannington H
C68 analogue Channel 4 south 189° Midhurst H
multiplex 2 England Meridian North west 261° Oxford H
(LU14EH)

Nicholas's 15 posts
Wednesday, 28 September 2011

I have a Humax PVR 9200T Freeview box. This is an absolute pain at every re-tune. The first switchover lost BBC channels, at this one the ITV channels. The reset with the aerial removed doesn't help, but out of darkness came light. I did the reset with aerial removed bit, but did not do a re-tune, instead went to "Default Settings" and return to manufactures default. Replaced aerial and then a "Manual Re-tune" on C60, then an "Automatic Re-tune". All now back to pre-switchover. Appears the software version of the box has returned to an earlier version but I understand a new version will be on the airwaves next week. Maybe this is what I was being told to do all along but didn't grasp it.

Alan's 3 posts

Alan: Yes, "Default Settings" was what you should have done each time.

Briantist's 38,907 posts
Thursday, 29 September 2011

Re my previous post it did require a complete reset, which when it worked was great.



Robert's 75 posts
Robert's:
map
R's Freeview map
terrain
R's terrain plot
waves
R's frequency data
R's Freeview Detailed Coverage
Select more comments
Your comment please