Freeview signals: too much of a good thing is bad for you

Brian Butterworth published on UK Free TV
Most people will experience nothing but simplicity and joy with the digital switchover - the process that turns off the old five high power analogue signals, and the existing six low power digital services and replaces them with six new high power Freeview multiplexes.

For those with problems, there are generally three issues.


Eliminating other possible problems first
The first is that very, very old equipment will not function with the digital signals split into 6,817 sub-signals, as it was only designed to work with 1,705 sub-signals. This is known as the "8k
mode
issue" - see
TVs and boxes that do not support the 8k
It is also common that people do not clear out the old
channel list
(by selecting "first time installation" retune, "Factory Reset" or "Shipping Condition") before doing an "autoscan" for the available broadcast frequencies, and this results in everything from missing
channels
to no subtitles, programme guide, wrong channel numbers and no text services. If you can't find how to do it see either
Freeview Retune - list of manuals
or do it this way:
My Freeview box has no EPG, is blank, has no sound or the channel line up is wrong
.
A third problem is caused by having signals from more than one
transmitter
- see
Digital Region Overlap
.
The final very common issue is "too much
signal
".
Transmitters have much more digital power after switchover
At most transmitters, the digital signals after switchover are considerably more powerful than before. This was because when the analogue and digital services ran together, the digital services were kept low to prevent appearing as snowy
interference
on television sets using analogue
reception
.
Here is an example, from
Sutton Coldfield
, of how the signals change at switchover:

4,000kW of analogue signals are turned off, and the digital services increase in total power from 48kW to 1,200kW - that is an increase of 25 times in numerical terms, also know as +14dB. (The reduction of -7dB from the analogue strength is intended - the digital services require less power to cover the same number of homes).
This large increase in power should cause no effect for most people. A stronger signal does not increase the
picture
quality
(you need
Freeview HD
for that), sound levels - the only effect should be that more homes that are further away from the transmitter
mast
can receive a stable digital signal.
High gain aerials and signal boosters
However, many people have been tempted into buying one both high
gain
aerials and signal boosters.

High-gain aerials were very suitable for places where the Freeview signal before switchover was very weak indeed, but if you have one of these and you are located closer to the transmitter, you will probably now have a signal overload.
Generally speaking, signal
booster
devices are never
really
much use for Freeview reception, and much of the time they actually amplify the interference more than they do the signal, causing reception to get worse, not better.
How to tell if you have too much signal
There are almost as many ways for a Freeview box to display the "signal strength" and "signal quality" as there are types of Freeview box. Here are some of them: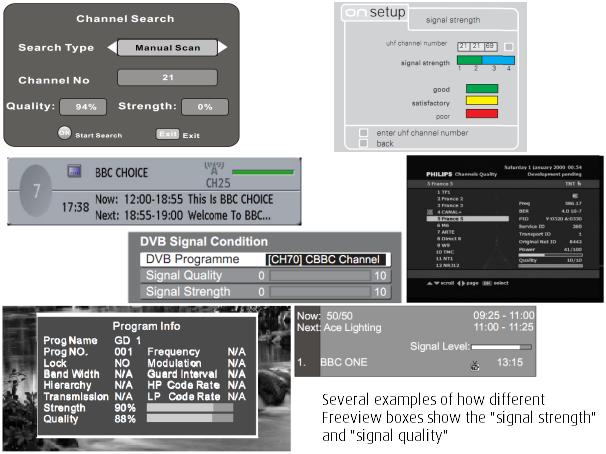 Speaking generally, there will be two indicators:
One is
signal strength
- this shows the power level of the signal entering the Freeview box. Often "0" is the lowest and "10" the highest, but sometimes it can be a percentage, sometimes coloured boxes and so on.
The signal strength should be around 75% - more than this indicates too much signal.
The other measure is the
signal quality
and this is much more important to high-quality Freeview viewing. Any measures that increase this to the maximum will provide for uninterrupted viewing, lower values will result in "bit errors" that cause the picture to freeze and the sound to mute out.
One problem with over powerful signals is the overload can sometimes show as a low signal because the receiver circuitry will enter a "blown fuse" state to protect itself.
How to deal with too much signal
First, if you have a booster or
amplifier
- remove it from your system. Don't just unplug the power, as this will result in
no signal
getting though the device.
If you can't just disconnect the
output
cable
and connect it to the input cable, you might need a coax female-female coupler to connect two male connectors together.

If you don't have a booster or amplifier, you might have to fit an attenuator onto the cable. They come in two types, either a "single attenuator", around five pounds, or a variable attenuator, for around ten pounds. The variable sort has a knob that can be turned to select the required level of signal dampening.
Comments
Thursday, 6 August 2015

Stuart: Try C58.

Dave Lindsay's 5,724 posts

Cheers Dave that's worked a treat!

Stuart's 3 posts
Sunday, 25 October 2015

Can't understand why our new television (HD Freeview Tuner) can't display Freeview HD images.Signal strength is 70% and signal quality is 100%.
Any ideas ?

Alistair Fyfe's 1 post
M
MikeB
7:41 PM
Macclesfield

Alistair Fyfe: Firstly, what the make/model? Remember that Full HD means the panel, not the tuner. Most of the time, people complaining about a similar problem to yours have bought the former, but not the latter.

You could try a reset - its not impossible for a TV to miss certain mux's the first time, especially if the aerial wasn't in properly.

Next, where are you looking on the EPG? The HD channels will start on 101. In fact you can normally tell if you have a HD tuner because there will often be a prompt on the EPG for BBC1 telling you a programme is also in HD.

Are you using the TV's tuner. Even if the TV has a Freeview HD tuner, if your using an external box and that box either lacks Freeview HD or your using a scart (rather than HDMI), then its not going happen.

If we get what TV you've bought, and a postcode (you can just pop it into the website), we can work out what sort of channels you should get, and if the equipment should be able to get them.

MikeB's 2,579 posts
MikeB's:
map
M's Freeview map
terrain
M's terrain plot
waves
M's frequency data
M's Freeview Detailed Coverage

Alistair Fyfe: What programme guide number does the indication of strength and quality refer to? e.g: 101, 102 etc. It would also be of assistance if the model number of the TV in question was known.

jb38's 7,179 posts
Wednesday, 25 November 2015

We have a Samsung UE55E8000 TV which we brought about 3 years ago but in the last few weeks the bit rate is at its highest level with a signal strength of 90% this is giving am extremely pixilated picture and no sound

Donna's 1 post

Donna : You havn't given a postcode, so we have no idea where you are in relation to the transmitter, but sounds about right! Samsungs do have sensitive tuners (and thats a lovely TV, btw), and 90% is too high.

If you've a booster, then see if you can take it out of the circuit - that might be enough. If not, and you need to kill that signal a little, look at my suggestions at the end of this thread: Which Freeview channels does the Tacolneston transmitter broadcast?

MikeB's 2,579 posts
Saturday, 9 July 2016

Hi,

I have a loft installation fitted professionally (High Gain) pointing toward Sutton Coldfield transmitter
The tv I'm using is a Samsung UE40HU6900. It's struggling with blocking. The bit rate error is too high at 1452. Signal strength is 34% Signal quality is 24% (Figures for Channel 4 HD). There is no type of booster on the system and I'm at ST5 postcode. Do you think I will need a booster? Or what else do you think is going on?

Tom's 1 post
R
Richard Cooper
3:45 PM
Norwich

Tom: Hi, Tom. In the ST5 postcode area, you are generally predicted to receive good reception of all Freeview channels from Sutton Coldfield and so a booster shouldn't really be necessary, especially as you have had a high gain aerial fitted. The first thing you should probably do is to check connections between each end of the fly-lead from the wall-plate tv aerial coaxial socket to the coaxial plug socket on your Samsung tv set. The connections inside those pesky little Belling and Lee coaxial plugs are NOTORIOUS for developing short circuits between the inner conductor and the outer braid of the coaxial fly-lead. Don't forget to check the one at the wall plate socket end ( which could be female) as well as the one going into the back of your tv (probably to try to convince male).A 'short' in the coax is a classic 'trick' of unscrupulous aerial contractors to try to convince viewers that they need a new aerial when they don't! Try this course of action first, then we can advise further if necessary. Richard, Norwich.

Richard Cooper's 466 posts
Richard's:
map
R's Freeview map
terrain
R's terrain plot
waves
R's frequency data
R's Freeview Detailed Coverage

Tom : Although the ST5 area is approximately 33 miles away from Sutton Coldfield, however the first part of the code is not precise enough for reception assessment purposes, basically because the field strength of the signal in this area is predicted as only being around 36dB, too low for reliable reception.

A full post code or alternatively one from somewhere nearby, e.g: a shop incl post office.

jb38's 7,179 posts
Select more comments
Your comment please