Freeview signals: too much of a good thing is bad for you

Brian Butterworth published on UK Free TV
Most people will experience nothing but simplicity and joy with the digital switchover - the process that turns off the old five high power analogue signals, and the existing six low power digital services and replaces them with six new high power Freeview multiplexes.

For those with problems, there are generally three issues.


Eliminating other possible problems first
The first is that very, very old equipment will not function with the digital signals split into 6,817 sub-signals, as it was only designed to work with 1,705 sub-signals. This is known as the "8k
mode
issue" - see
TVs and boxes that do not support the 8k
It is also common that people do not clear out the old
channel list
(by selecting "first time installation" retune, "Factory Reset" or "Shipping Condition") before doing an "autoscan" for the available broadcast frequencies, and this results in everything from missing
channels
to no subtitles, programme guide, wrong channel numbers and no text services. If you can't find how to do it see either
Freeview Retune - list of manuals
or do it this way:
My Freeview box has no EPG, is blank, has no sound or the channel line up is wrong
.
A third problem is caused by having signals from more than one
transmitter
- see
Digital Region Overlap
.
The final very common issue is "too much
signal
".
Transmitters have much more digital power after switchover
At most transmitters, the digital signals after switchover are considerably more powerful than before. This was because when the analogue and digital services ran together, the digital services were kept low to prevent appearing as snowy
interference
on television sets using analogue
reception
.
Here is an example, from
Sutton Coldfield
, of how the signals change at switchover:

4,000kW of analogue signals are turned off, and the digital services increase in total power from 48kW to 1,200kW - that is an increase of 25 times in numerical terms, also know as +14dB. (The reduction of -7dB from the analogue strength is intended - the digital services require less power to cover the same number of homes).
This large increase in power should cause no effect for most people. A stronger signal does not increase the
picture
quality
(you need
Freeview HD
for that), sound levels - the only effect should be that more homes that are further away from the transmitter
mast
can receive a stable digital signal.
High gain aerials and signal boosters
However, many people have been tempted into buying one both high
gain
aerials and signal boosters.

High-gain aerials were very suitable for places where the Freeview signal before switchover was very weak indeed, but if you have one of these and you are located closer to the transmitter, you will probably now have a signal overload.
Generally speaking, signal
booster
devices are never
really
much use for Freeview reception, and much of the time they actually amplify the interference more than they do the signal, causing reception to get worse, not better.
How to tell if you have too much signal
There are almost as many ways for a Freeview box to display the "signal strength" and "signal quality" as there are types of Freeview box. Here are some of them: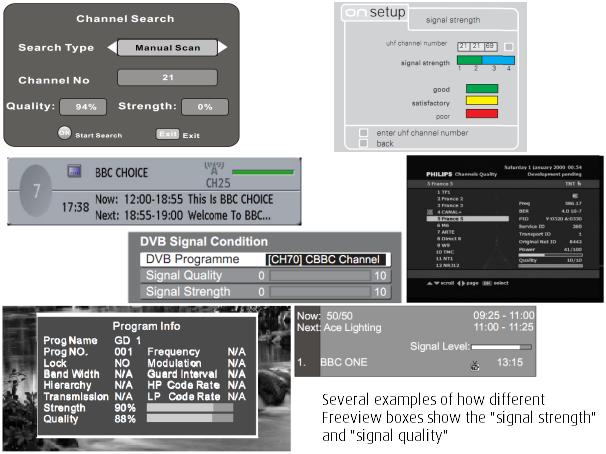 Speaking generally, there will be two indicators:
One is
signal strength
- this shows the power level of the signal entering the Freeview box. Often "0" is the lowest and "10" the highest, but sometimes it can be a percentage, sometimes coloured boxes and so on.
The signal strength should be around 75% - more than this indicates too much signal.
The other measure is the
signal quality
and this is much more important to high-quality Freeview viewing. Any measures that increase this to the maximum will provide for uninterrupted viewing, lower values will result in "bit errors" that cause the picture to freeze and the sound to mute out.
One problem with over powerful signals is the overload can sometimes show as a low signal because the receiver circuitry will enter a "blown fuse" state to protect itself.
How to deal with too much signal
First, if you have a booster or
amplifier
- remove it from your system. Don't just unplug the power, as this will result in
no signal
getting though the device.
If you can't just disconnect the
output
cable
and connect it to the input cable, you might need a coax female-female coupler to connect two male connectors together.

If you don't have a booster or amplifier, you might have to fit an attenuator onto the cable. They come in two types, either a "single attenuator", around five pounds, or a variable attenuator, for around ten pounds. The variable sort has a knob that can be turned to select the required level of signal dampening.
Comments
Saturday, 1 October 2011

bushistush: Well the one thing where PSB2 is different is by it having a negative offset on its transmission frequency, PSB1 being the opposite with a plus, and should the tuner be operating at a somewhat lower voltage than normal because of a power board defect (and the nature of problem will cause this) can result in the oscillator circuitry starting to act erratically which can cause crashing, as these type of circuits demand a proper stable supply.

This kind of effect can also manifest itself differently dependant on the signal strength being received, and if COM5/ ArqA doesn't do it even although it also has a negative offset, then that could be simply because its liable to be received at a signal strength with just enough of a difference not to cause the problem, as the signal strength of the incoming signal can also directly affect the oscillator operation, that being why a signal that's too strong can block reception, a common problem for people with larger aerials in areas close to transmitters that have switched to high power operation.

jb38's 7,179 posts
Sunday, 2 October 2011
B
bushistush
7:55 AM
Wallingford

Thanks jb38 - I'll do further testing on COM5/ ArqA and make sure this channel is as reliable as the channels without the negative offset. If COM5/ ArqA is ok do you think it might be worth trying an attenuator? Otherwise I guess I'll have to try repairing the power board... :(

bushistush's 5 posts
bushistush's:
map
B's Freeview map
terrain
B's terrain plot
waves
B's frequency data
B's Freeview Detailed Coverage

bushistush: Yes! regarding an attenuator, as its quite possible that the signal you are receiving is a touch too strong as you are only 12 miles away from the transmitter, this of course being dependant on the aerial system used, and which I am unaware about.

Needless to say, "if" this incorporates any form of booster it should be removed.

Regarding attenuators, variable types are usually the best as they can be adjusted to exactly what's required which eliminates the "hit and miss" element of fixed devices, but if fixed around 6db should suffice as you only want the edge taken off the signal.


By the way, the board referred to is generally just replaced as a complete item, as its relatively inexpensive. (as far as I can remember about £12.00 or so)

jb38's 7,179 posts

bushistush: Another little point I forgot to mention is that some older devices do not like operating on negative offset channels, so "if" COM5/ArqA doesn't work properly either then there isn't really any cure for the problem unless Bush have any software updates for that model.

I only say this to avoid you carrying out unnecessary tests, that is as well as wasting money on an attenuator.

jb38's 7,179 posts
B
bushistush
5:26 PM
Wallingford

Thanks for all the advice jb38 - I greatly appreciate it! I'm using a 20yr old roof aerial so not high gain wideband, and with a long cable. There's no booster. Even though, I suspect the signal strength may be too high as I used to get perfect reception before, and since full-power switchover bbc has shown a little bit of breakup occasionaly.

If the power board is only £12 then It might be worth getting, although a handful of capacitors would only be a quid or two, and a lot more fun to install! Haven't checked COM5/ArqA yet - but will let you know how I get on when I do...

Do you know if Bush could/would provide a software update, and how I might go about getting it? I'm loathed to phone there helpline...

btw, working on a sunday...?! Is this a volunteer site for enthusiasts? - I assumed it was provided by Freeview as part of their service...

bushistush's 5 posts
bushistush's:
map
B's Freeview map
terrain
B's terrain plot
waves
B's frequency data
B's Freeview Detailed Coverage

bushistush: As far as the site goes, its a volunteer site owned and operated by Briantist (Brian Butterworth) and isn't as far as I know connected in any way with organisations such as Freeview, myself as a long term engineer involved with all aspects RF work (TX & RX) purely sharing ones knowledge as they say, as does most others involved, with my own job always having been my hobby, much to the annoyance of my wife by me always having sizeable pieces of equipment laying around for hours on end.

I know what you mean about being hesitant at contacting Bush, but unfortunately(?) I don't really have any shortcuts to them, and any enquiries on something like this would have be made in the same matter as yourself. But as far as the board is concerned though I would have a fish about on Google for stockists of Bush spares, but should time allow I might have a look myself and come back with a link should I find what's required.

On the issue of reception, if your tuners power board is defective then the reception of a stronger signal might cause verges of instability to be lurking around, but I doubt that your signal is too strong now you have reported that there isn't any type of booster being used.

jb38's 7,179 posts
B
bushistush
9:30 PM
Wallingford

Well thanks again jb38 - It's a great site, and you've been more than helpful. Invaluable would be an understatement! :) Knowing there are sites like this, run by volunteers, goes some way to restoring my faith in humanity!

In terms of reception, I have now tested all channels on COM5/ArqA and they all work perfectly. I have also tested my set with a small indoor aerial, which I presume would be similar to using an attenuator with the roof aerial? My TV also crashed with this setup, only on PSB2 D3+4. Curious and curiouser... ah well, I'll look into fixing/replacing the power board. Or getting a decent TV! :)

Thanks again for all your help!!!

bushistush's 5 posts
bushistush's:
map
B's Freeview map
terrain
B's terrain plot
waves
B's frequency data
B's Freeview Detailed Coverage
Monday, 3 October 2011

bushistush: If it still crashes on PSB2 with the indoor aerial in "exactly" the same manner as before then it doesn't look very promising, because as you have said this will be giving a much lower signal to the tuner. The only reason I emphasised "exactly" is because an indoor aerial can make a signal break up even if there is no fault in existence with a TV / box, so this has to be kept in mind during evaluation of results.

Anyway, the sources of these power boards seems to be drying up with exception from suppliers who charge somewhat exorbitant prices for them, so capacitor replacement would be prove to be more cost effective.

On the link you will see a close up picture of the board, but click further to get a blown up view, and the capacitors concerned are C926 and the ones that surround it, although all should really be unsoldered and examined for electrolyte leaks, especially ones in the vicinity of heatsinks.

I don't think that clicking the link will activate it, so copy and paste it into your browser.

Web Store - I B Electronics Ltd


jb38's 7,179 posts
Tuesday, 4 October 2011

bushistush: Re: clicking on the link, just checked it and it does seem to activate on clicking, but please note that although the usual "click to view enlarged image" option isn't seen it will show as soon as you place the mouse pointer over the picture.

jb38's 7,179 posts
Thursday, 10 November 2011

I live in north Suffolk and receive my signal from Talcolneston.In 2008 we had a new TV aerial installed (I believe it is a high gain one) invoiced as a category 2 and also fitted was a signal amplifier. From this one aerial we run two TV's and a DVD recorder (bought new in 2009) all with built in freeview receivers.Yesterday was phase one switchover day. I retuned our two TV's and our dvd recorder. Tonight we were watching Channel 4 on the main TV a Samsung when we lost picture and sound and similarly on some of the ITV channels too. BBC channels working OK. I tried our LG TV in the kitchen and it was receiving Channel 4. I then tried the DVD freeview receiver through the Samsung. WIt could receive channel 4 but not BBC channels. Each failed channel either gives us a blank dark screen with no message or a mesage stating weak signal. I intend to check all the receivers and retune them again tomorrow if I still have missing channels. Will this problem settle down or should I be doing something else?

Graham Clarke's 3 posts
Select more comments
Your comment please