Are you really watching free TV in high definition?

Brian Butterworth published on UK Free TV
You need to ask yourself a series of questions if you want to be sure you are taking advantage of the free HD TV channels.

Given that, in the current week, ITV 1 HD gets only 2.6% of total viewing, compared to 36.5% to the channel in standard definition, and that BBC HD gets 1.2% of total viewing compares 26% for comparable channel BBC TWO, it seems that many people are not taking advantage of the improved pictures and sound that can easily be enjoyed.

So, you have to ask yourself five questions:


Q1 Do you have a high definition television set?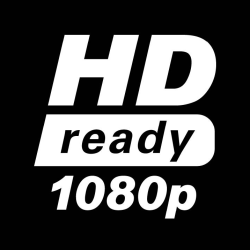 You need to check that your television is actually high definition. Almost all HDTVs are flat screen, but it does not follow that all flat screen televisions are high definition.
The best two clues to look for are the "
HD Ready
" or "Full HD Ready" logos, and also that the television set has HDMI connectors.
If you have the manual for your television set, it may describe HD as "720 line" or "1080 line". If these are not mentioned, you don't have HD and you will need a new television set.
See also
What does "Full HD Ready" actually mean? - ukfree.tv - independent free digital TV advice
Q2 Does your HDTV have built in Freeview HD or Freesat HD?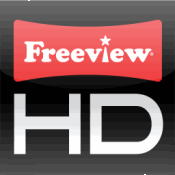 Most HD televisions sold in the UK are "HD Ready", which means that they are capable of showing high definition pictures, but only from an external box.
Some, more expensive, TV sets have
Freeview HD
or
Freesat
HD built in.
If your TV set has the Freeview HD logo, it can receive what are known as "DVB-T2" transmissions, which means you get HD direct from the TV
aerial
connection. If this is the case, see Q4. If the set is "HD Ready with Freeview" it means you can't.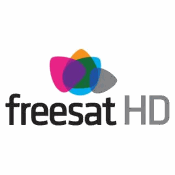 Some high end sets have Freesat HD built in, where you can watch the free high definition channels from
satellite
. For this to work you will have to use the satellite connection on the set. Remember that set will also have standard definition Freeview, so pictures from the normal TV aerial will not be in high definition.
Q3 If your HDTV doesn't have built-in reception - do you have a Freeview HD or Freesat HD box and the correct cables?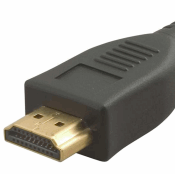 If you have an HD Ready television, you can connect it to an external set-top box to receive either Freeview HD or Freesat HD.
You must make sure that you connect the box to the television set using an HDMI
cable
. If you use a
SCART
lead you won't have HD.
Q4 Do you remember to switch to the HD versions of BBC One, ITV 1 or Channel 4
You do not automatically get to watch BBC One, ITV 1 (or STV) or
Channel 4
in HD.
You must select the special channel numbers for these
services
, as the usual channel numbers (1, 3, 4 and 8 on Freeview, 101, 103, 104 on satellite) will only show in standard definition.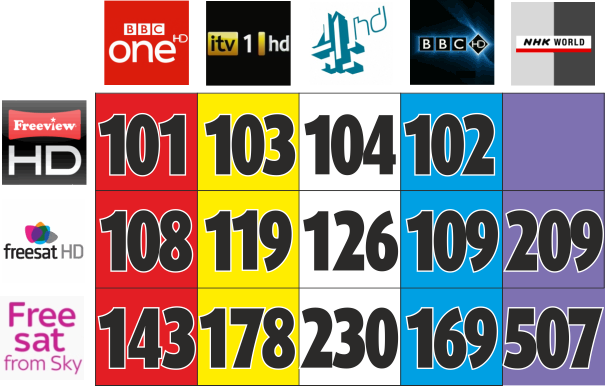 On Freeview HD, 50 must be selected for
BBC One HD
, 51 for ITV1 HD (or
STV HD
), 52 for
Channel 4 HD
(not in
Wales
), 53 for
S4C HD
(Wales only) and 54 for BBC HD.
On Freesat HD, you must choose 108 for BBC One HD, 109 for BBC HD, 119 for ITV 1 HD (or STV HD), 126 for Channel 4 HD and
NHK World
HD is on 209.
On
Sky
HD, you have to choose 140 for Channel 4 HD, 143 for BBC One HD, 169 for BBC HD, 178 for ITV 1 HD.
Q5 Is the HD channel actually showing an HD programme?
Only the BBC HD channel has a HD-only schedule. On BBC One HD, ITV 1 HD and Channel 4 HD non-HD programmes are shown "upscaled" to HD resolutions and look better than the pictures on the SD version of the channel.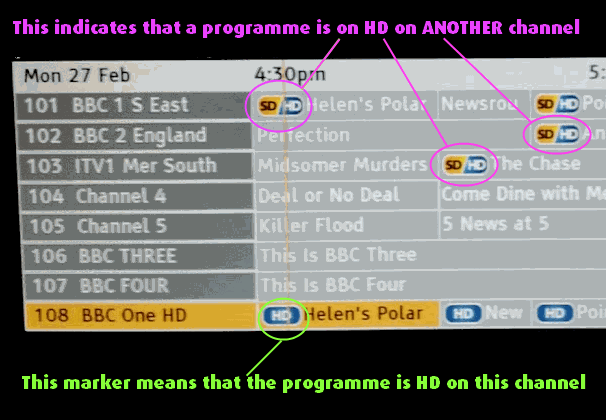 Check in the EPG (usually the INFO or GUIDE button on the remote) to see if the programme that is being shown has an HD marker in the listings.
Comments
Tuesday, 28 February 2012

I have been watching High-Definition TV since 1969 when I switched from 405 line black and white VHF to 625 line colour UHF TV.
But as 625 line TV ends this year and is being replaced with 576 line digital, I will be going low-definition.

Mark Agius's 374 posts
Mark's:
map
M's Freeview map
terrain
M's terrain plot
waves
M's frequency data
M's Freeview Detailed Coverage

The pictures on the 625-line analogue terrestrial channels (BBC2 1964, BBC1 and ITV1 1969, C4 / S4C 1982, C5 1997) weren't actually 625 lines anyway. Circa 25 lines were not used for the picture, which is why some of those spare lines were used to carry teletext data. 1970s black and white TVs tended to have height controls (whereas colour sets tend to lack them); if you mis-adjusted the height to display all 625 lines you'd have got dotted lines at the top; those were the non-picture lines. A correctly adjusted TV would have had the height set such that those non-picture lines would be omitted and only the picture lines would show top to bottom; i.e. not all 625 lines would be visible.

Nicholas Willmott's 80 posts

Nicholas Willmott: Which is why SD television is usually referred to as 576i, as 49 lines are not used on "625 line" television.

Briantist's 38,908 posts

HDMI connectors aren't an *absolute* requirement. HD Ready TVs were permitted to have a DVI connector rather than HDMI. They are also supposed to have analogue component inputs (five connectors: Y, Pb, Pr, left and right audio). You won't find any Freeview HD or Freesat HD equipment with either set of connectors, though.

If the TV does only have DVI, it must still support HDCP, the content-protection protocol, on that connector. Since, for video, HDMI is just a more compact DVI connector - it's electrically identical - you can get an adapter. You will also have to figure out how to connect up the audio, because unlike HDMI, DVI doesn't carry sound data. My TV appears to require a 3.5mm stereo jack connection while most set-top boxes or PVRs have a pair of phono jacks - these cables are readily available.

The thing you should *not* do is also connect the SCART cable. That just confuses things, mainly because the SCART connector has a SELECT signal. When the box is turned on, it puts a voltage on the SELECT pin; the TV switches to that connection automatically. HDMI also has a 'select' feature, so whether the TV selects the HDMI or SCART input will be down to how it prioritises the two functions. To eliminate this problem, so that it always uses HDMI, simply don't connect the SCART cable.

Mike Dimmick's 2,486 posts

Briantist: The additional 25 lines per field are not exactly unused, even in the original definition. They allow time for the raster beam to return to the top of the screen, and contain synchronizing pulses so that the TV can synchronize itself to the transmissions - so that the picture display starts at the right point and each subsequent picture displays at the same position, it doesn't 'roll' or slide.

One field on the 625-line system actually contains 287.5 lines. For the first field, the top line is only a half-line, starting half-way across the picture, and for the second field, the half-line is at the bottom, ending half-way across. The digital system extends these half-lines to a full line, making 576 lines.

Since the mid-70s, the field and frame blanking intervals have carried, primarily, teletext data, encoded so they don't disturb the legacy sync pulses. Some lines have been used to carry other signalling data like Programme Delivery Control.

The first half of line 23, the second half of which is the first visible half-line of the first field, can carry PALplus data, used to signal widescreen pictures. Channel 4 still use this system but it didn't catch on with the other broadcasters. Some digital TVs or digital transmissions that weren't set up properly might display these dots in the first half of the first line.

If you want the full, full detail, see http://pembers.freeserve.…tml.

The DVB specifications do offer ways to carry the data that would have been carried as legacy teletext or in the Vertical Blanking Interval, and for the set-top box to reconstruct them for an analogue TV. As I recall, they are used on satellite, but not on Freeview. One of the differences between the Irish Saorview system and Freeview is that Saorview boxes are supposed to support DVB-TEXT (EN 300 472) as well as MHEG-5 programs targeting the 'UK Profile' object model.

Anyway, this is getting seriously off-topic!

Mike Dimmick's 2,486 posts
T
Tony Hill
2:42 PM
Dorchester

Vis-a-vis HD and improved sound, etc I have two comments/questions:

- my Freesat box indicated BBC HD broadcasting in 5.1 sound all the time but my amplifier (and my ears) tell me that is usually 2.0 Why is this? Incidentally, BBC HD preview ALWAYS has 5.1 sound even though the programme when actually broadcast has 2.0!

- I cannot get sub-titles on ITV1 HD; is this so? Because of this I only watch football in HD on ITV1 - perhaps others similarly (I have to use sub-titles on ALL drama on all channels and absolutely ALL American programs)

Tony Hill's 65 posts
Tony's:
map
T's Freeview map
terrain
T's terrain plot
waves
T's frequency data
T's Freeview Detailed Coverage

Wasn't the EMI deveoped 405 line television system generally known as High Definition television, as opposed to the Baird mechanical system?

On the subject of frame sync pulses, I remember an entry in the Thames Tv Duty manager's log one evening: "Broads with rounded bottoms caused havoc tonight" referring to a fault with the SPG!

Arnie's 11 posts

Mike Dimmick: Re: DVI - I was trying to keep the article a comrehenbile list, rather than going into the detail for a lot of older equipment, which I covered on the Connecting it all up | ukfree.tv - independent free digital TV advice page.

Yes, I should have said "49 lines are not used for picture information" in my original post.

Briantist's 38,908 posts

Arnie: Yes, in their turn each new change in TV format has been called "high definition" when it started.

However, the current meaning is 720-line and 1080-line.

The next step, Ultra-HD is 4320-line.

Briantist's 38,908 posts

Tony Hill: Is your box connected to the amplifier you use for your 5.1 sound with either fibre-optic or single-coaxial SPDIF?

If not, you won't get anything other than 2.0 sound.

I can confirm that I was watching BBC HD last night for several hours and the DD 5.1 light was on my amp and the dialogue came from the central dialogue speaker and there was music and effects behind me...

ITV1 HD does not yet carry subtitles.

Briantist's 38,908 posts
Select more comments
Your comment please