10th April 2013 retune for Winter Hill, Keighley transmitters and relays

Brian Butterworth published on UK Free TV
From 6am on 10th April 2013, several multiplexes will change their transmission frequencies.

Notably the main transmitters will make changes. This includes the WINTER HILL transmitter, where the BBCA multiplex (including 1 BBC One North West, 2 BBC Two England, 7 BBC Three, 9 BBC Four, 70 CBBC Channel,71 CBeebies, 80 BBC News, 81 BBC Parliament, ) will move from C62- to C50 and the ArqivaA multiplex (11 PICK TV, 12 Dave, 17 Really, 29 E4+1, 32 Movie Mix, 46 Challenge, 48 Food Network, 62 TV Stars, 82 Sky News, 87 Community Channel,) will move from C61- to C49.

On the KEIGHLEY, BBCA will move from C61 to C49.

See below for a full list of transmission masts that will make changes.

When you now rescan, you MUST do a "first time installation" or "factory reset" scan, not an "add channels". Do the procedure you did on September 30th 2009. If you can't recall what this was, please see List of manuals for Freeview retune, or try the generic clear and rescan procedure.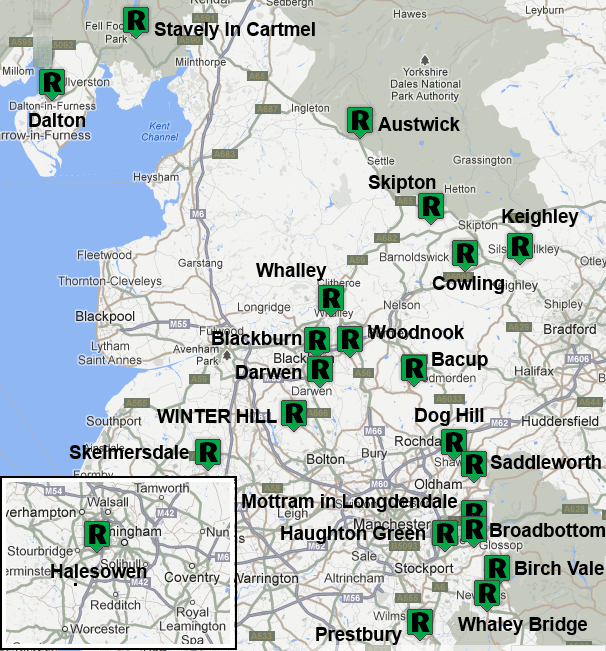 Please note that the relay transmitters will take some time (between 11am and 4pm) to come back to full service:

Austwick: PSB2 C49 to C39
Bacup: PSB3 C50 to C40
Birch Vale: PSB3 C50 to C40
Blackburn: PSB3 C50 to C40
Broadbottom: PSB3 C49 to C39
Cowling: PSB3 C49 to C39
Dalton: PSB3 C50 to C40
Darwen: PSB2 C49 to C39+
Dog Hill: PSB3 C50 to C40
Halesowen: PSB2 C61 to C49
Haughton Green: PSB3 C50 to C40
KEIGHLEY: COM6 C60 to C60- PSB1 C61 to C49
Mottram in Longdendale: PSB3 C50 to C40
Prestbury: PSB3 C50 to C40
Saddleworth: PSB2 C49+ to C39+
Skelmersdale: PSB1 C51 to C46 PSB2 C48 to C43 PSB3 C52 to C40
Skipton: PSB1 C49 to C39+
Stavely In Cartmel: PSB3 C50 to C40
Whaley Bridge: PSB2 C49 to C39
Whalley: PSB3 C50 to C40
WINTER HILL: COM5 C61- to C49 PSB1 C62- to C50
Woodnook: PSB2 C49 to C39

The changes at WINTER HILL will cause the following relays to have no PSB1 service for some time:

Backbarrow, Barrow Town Hall, Bidston, Bollington, Brinscall, Brook Bottom, Burbage, Buxton, Cartmel, Chaigley, Chatburn, Chinley, Congleton, Delph, Elton, Far Highfield, Glossop, Haslingden, Ladder Hill, Lancaster, Langley, Lees, Littleborough, Macclesfield, Manchester Hulme, Melling, Middleton, Millom Park, Moss Bank, New Church, Norden, North Oldham, Oakenhead, Over Biddulph, Parbold, Pendle Forest, Penny Bridge, Portwood, Ramsbottom, Ribblesdale, Romiley, Roose, Stockport, Storeton, Trawden, Urswick, Walton Le Dale, Wardle, West Kirby, Whitewell and Whitworth.

The changes at KEIGHLEY will cause loss of PSB1 for some time at the relays at:

Keighley Town, Oxenhope, Skipton Town and Sutton In Craven

If you get Freeview from these masts - DO NOT retune your Freeview equipment.
Comments
Friday, 10 May 2013

I just want a simple life. My Samsung Blue ray was working fine until they did whatever it was they did last month and now the Tv gets all channels ok but the Blue Ray says the signal on BBC 1 and BBC2 is weak and so we get no picture and consequently can no longer record broadcasts on those channels. What can't they leave well enough alone?

Dave Rice's 1 post

Diana Brennand: Its not really possible for anyone to offer advice on this type of problem without having knowledge of your post code, or at least one from nearby such as a shop / post office, as only then can access be gained to info on the transmitter that covers you area.

However you could probably rectify the situation by carrying out a signal strength test on the upstairs TV whilst its viewing BBC, the main idea being to note the mux transmitter number seen indicated along with the strength as this would then enable you to "manually tune" the downstairs TV into the BBC using the same channel as used by the upstairs TV.

jb38's 7,179 posts
Saturday, 11 May 2013

Dave Rice: If you are referring to reception from Winter Hill then many have experienced this problem, but though you should double check to make sure that the Samsung Blue ray is tuned to the same transmitter as the TV, this done by carrying out a signal strength test on the TV and noting the mux channel number being indicated along with the strength, then use the same procedure to cross check the mux number against that used in the Samsung Blue ray.

If the channel numbers are the same then the easy way to get over the problem is by fitting a booster on your aerial input circuitry, or alternatively use a two way powered splitter to feed both the TV and the Blue ray, because otherwise the aerial will require changing to another group.

Further info dependant on findings.

jb38's 7,179 posts
Sunday, 12 May 2013

I was having the missing BBC channels problem and no amount of retunes would bring them back. However, I've just retuned again and got them all back......but the signal is awful rendering the channels unwatchable!!!! Postcode is L39 4PL and we live in flats.

Andrew's 1 post
Andrew's:
map
A's Freeview map
terrain
A's terrain plot
waves
A's frequency data
A's Freeview Detailed Coverage

Andrew: do you know if anyone else is having a problem in your block if they are fine it could be in your flat. If you want someone to have a look at it you can call us on 558169

Mazbar's 384 posts

Andrew
Is your block of flats equipped with a communal aerial? If so, do others on your floor have the same/similar problems? Do everyone in the flats have the same problems?
Communal Aerials usually need attention from the engineers engaged by your managing agents and that would be needed if other people in the block have the same problem. If you each have your own separate aerials (that would be a lot of them probably all on the roof!) plus only your TV is affected and you have tried all the retuning advice on these pages, including the 'factory reset' and/or initial installation processes shown in the instruction manual for your TV, then you may need the help of a good local aerial contractor.

MikeP's 3,056 posts
Monday, 13 May 2013

Hi hope someone can help us.

our freeview tv started playing up a week or two before the winterhill retune (we live in bl6/horwich). since then our tv will only pick up some of the channels and they are totally unwatchable.

we went out and got a new bigger wide band arial. This has improved things slightly but we still have no BBC and most of the channels are still very blocky.

we have tried retuneing/turning off & retuning/ manual tuneing again ect several times but this has not cured the problem either.

we have even got a spear tv down (was goin to put it in the kids room but maybe not now) to try and that tv will not even pick anything at all.

we have asked several people near us if they to have had a problem but they all say its been ok but they all have sky/virgin.

Do we need to get a filter or something. our tv is only 18months old and cant really afford to get another one or sky..

Any advise you could give us would be helpful. Thanks.

rowie's 2 posts
Tuesday, 14 May 2013

i have done upteen re-scans as a new installation and cannot get bbc or sky news etc every thing was fine before they messed about with transmitter we are m283qw we dont have manual retune or sky so how do we get our tv licence money back as we cannot get any bbc, or are bbc going to compensate viewers or get out to people and sort this problem out i have cvhanged freeview boxes and still no bbc

gary's 1 post

gary: Information on getting a refund of your TV Licence is here:

TV Licensing - How to tell us you don't watch TV

Note the reminder at the top which says that it will be illegal for you to view live television, irrespective of broadcaster.

Dave Lindsay's 5,724 posts

Gary
You can't get a refund if you still watch ANY live TV feeds on any type of equipment that can show any live TV. The licence is a Broadcast Receiving Licence and allows you to operate any equipment that can display any live TV, even the commercial channels or anything from any TV satellite or internet service. Without a licence you can only legally use the 'catch-up' services usually available via the internet and only viewable after the initial transmission has finished.
Do read the links Dave Lindsay has given.

MikeP's 3,056 posts
Select more comments
Your comment please