10th April 2013 retune for Winter Hill, Keighley transmitters and relays

Brian Butterworth published on UK Free TV
From 6am on 10th April 2013, several multiplexes will change their transmission frequencies.

Notably the main transmitters will make changes. This includes the WINTER HILL transmitter, where the BBCA multiplex (including 1 BBC One North West, 2 BBC Two England, 7 BBC Three, 9 BBC Four, 70 CBBC Channel,71 CBeebies, 80 BBC News, 81 BBC Parliament, ) will move from C62- to C50 and the ArqivaA multiplex (11 PICK TV, 12 Dave, 17 Really, 29 E4+1, 32 Movie Mix, 46 Challenge, 48 Food Network, 62 TV Stars, 82 Sky News, 87 Community Channel,) will move from C61- to C49.

On the KEIGHLEY, BBCA will move from C61 to C49.

See below for a full list of transmission masts that will make changes.

When you now rescan, you MUST do a "first time installation" or "factory reset" scan, not an "add channels". Do the procedure you did on September 30th 2009. If you can't recall what this was, please see List of manuals for Freeview retune, or try the generic clear and rescan procedure.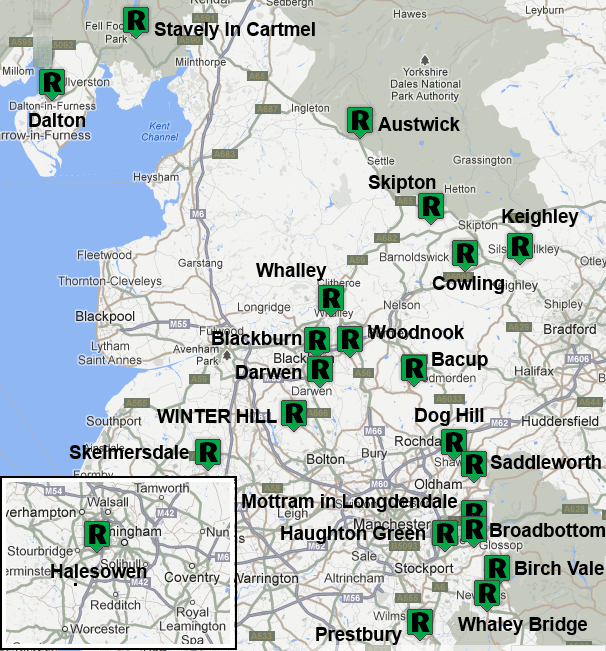 Please note that the relay transmitters will take some time (between 11am and 4pm) to come back to full service:

Austwick: PSB2 C49 to C39
Bacup: PSB3 C50 to C40
Birch Vale: PSB3 C50 to C40
Blackburn: PSB3 C50 to C40
Broadbottom: PSB3 C49 to C39
Cowling: PSB3 C49 to C39
Dalton: PSB3 C50 to C40
Darwen: PSB2 C49 to C39+
Dog Hill: PSB3 C50 to C40
Halesowen: PSB2 C61 to C49
Haughton Green: PSB3 C50 to C40
KEIGHLEY: COM6 C60 to C60- PSB1 C61 to C49
Mottram in Longdendale: PSB3 C50 to C40
Prestbury: PSB3 C50 to C40
Saddleworth: PSB2 C49+ to C39+
Skelmersdale: PSB1 C51 to C46 PSB2 C48 to C43 PSB3 C52 to C40
Skipton: PSB1 C49 to C39+
Stavely In Cartmel: PSB3 C50 to C40
Whaley Bridge: PSB2 C49 to C39
Whalley: PSB3 C50 to C40
WINTER HILL: COM5 C61- to C49 PSB1 C62- to C50
Woodnook: PSB2 C49 to C39

The changes at WINTER HILL will cause the following relays to have no PSB1 service for some time:

Backbarrow, Barrow Town Hall, Bidston, Bollington, Brinscall, Brook Bottom, Burbage, Buxton, Cartmel, Chaigley, Chatburn, Chinley, Congleton, Delph, Elton, Far Highfield, Glossop, Haslingden, Ladder Hill, Lancaster, Langley, Lees, Littleborough, Macclesfield, Manchester Hulme, Melling, Middleton, Millom Park, Moss Bank, New Church, Norden, North Oldham, Oakenhead, Over Biddulph, Parbold, Pendle Forest, Penny Bridge, Portwood, Ramsbottom, Ribblesdale, Romiley, Roose, Stockport, Storeton, Trawden, Urswick, Walton Le Dale, Wardle, West Kirby, Whitewell and Whitworth.

The changes at KEIGHLEY will cause loss of PSB1 for some time at the relays at:

Keighley Town, Oxenhope, Skipton Town and Sutton In Craven

If you get Freeview from these masts - DO NOT retune your Freeview equipment.
Comments
Tuesday, 16 April 2013

Paula: Your postcode resolves to a block of flats which makes me wonder if you are using a communal aerial system. If you are using a communal aerial system then this may need adjustment following the change of frequency for BBC and for COM5 (Pick TV, Dave, Sky News etc).

Dave Lindsay's 5,724 posts

I have done a new setup on my tv a couple of times and I am still unable to get bbc1 or bbc2 and a couple of other channels please help if you can _ I have set up my tv downstairs which has changed with no problems

k siv's 1 post

carol Johnson: As your query is basically one involving reception then a post code is really required, or at least one from somewhere nearby such as a shop / post office etc, this then enabling access to info on the channels used by station that covers the area.

That said though, if neighbours on the same communal aerial system as your mother have reported that all is OK with them, then check that the jumper lead between the TV and the wall plate (if used) is OK.

The other point being, that its always best to carry out a factory reset on the TV "before" carrying out an auto tune, this also being called "default setting" or "first time installation" dependant on the brand involved.

jb38's 7,179 posts

since april 10 we have not been able to recieve any bbc or sky news channel on our freeview tv.We have successfully re scanned the video and can watch all channels through this.We have tried numerous times to re scan the tv and successfully get all other channels except bbc and sky. I have done a check of the signal strength and it is excellent.I have done various types of scans as thou the tv is new but to no avail.Also sometimes all channels on the tv get lost when i turn off,even itv channels? I have tried to store/save them but I cannot figure out what is happening.We have not disturbed the aerial or done anything different. Its all happenend since 10 april change over.We have a phillips 32" tv.

david's 2 posts

david: When you refer to having carried out various types of scans does this also include "reinstall all services" accessed from the service set up menu?

It would also have been assistance if you had provided a post code or at least one from somewhere nearby e.g: a post office or shop, plus maybe you could indicate the actual model number of the Philips TV in question.

jb38's 7,179 posts
Wednesday, 17 April 2013

David, I am no expert but our 2007 Philips 37PFL7662 has been unable to store the BBC and Arqiva channels (Sky News, Pick TV etc) that have been moved. It does tune in to them when you "reinstall all services" and has a perfect picture but after 2 minutes it just goes and a "No signal" message appears. I spoke to Digital UK (use one of the numbers on SayNoto0870 rather than 0845) and they said they had received many enquiries of a similar nature from Philips TV owners. Philips claimed that the TV tuner was not designed for the current Freeview signal and had trouble storing the channels where the BBC and other services have moved to. Their advice- get a box to plug in to the TV. Upstairs box is fine - so signal must be OK. Transmitter Winter Hill Postcode Manchester M22. Seems like the issue is affecting more modern Philips TVs as well?

Richard's 3 posts
Thursday, 18 April 2013

My post code is CH605SR.
On retuning on 10 April,my BBC channels
went to BBCWales.The retune helpline has been
unable to restore my local BBC North West Channel. Also my Red Button facility does
not appear to work after the retune.
What can you suggest?

John's 1 post

John: Pull the aerial out for the first 50% of the scan with the aim being to miss out scanning of the Welsh channels (from Moel-y-Parc).

If you are missing any of the North West (Winter Hill) ones then manual tuning will allow you to add them if it is available on your device. In order, they are:

49 - ITV3 etc
50 - BBC etc

If you don't have manual tuning then you will have to scan again and this time plug in a bit sooner. If you're too soon then it will have the opportunity to scan C45 and C39 which are BBC Wales and ITV Wales respectively.

Your objective is therefore to get the aerial plugged in once its past 45 and before 48. If you've got manual tuning and you are a little late, you can add the channels manually.

Dave Lindsay's 5,724 posts
Friday, 19 April 2013
J
Julian Morley
1:32 PM
Chester

jb38: I posted a question on Friday 12 April, which no one has picked up. According to this website, I have a clear line-of-sight 55km to Winter Hill, but since the re-tune I have only a 7 signal strength on my 6-year-old Panasonic TV and the picture is unwatchable. My more modern digital recorder has a full signal and receives fine.

However, I gather from your posts and others that Winter Hill is now transmitting the key multiplex at a lower frequency, which doesn't propagate as well and which is now close to the limit of what a C/D group aerial will receive. Both of these are likely to reduce the signal actually received. Is this a correct understanding of what has been said?

If so, how do I identify a C/D group aerial? If it one, is the first step to change it?

Julian Morley's 3 posts

Julian
Take a look at the BBC factsheet, http://www.bbc.co.uk/rece…pdf.
A group C/D aerial will have a green colour code somewhere and a good example covers channels 48 to 68, cheap ones may not do so well though at the ends, so Ch48/9 might not be so good. As the change has reduced the signal quality of the pictures, you may benefit from changing the aerial. A Group E aerial will cover all the current channels easily, they are identified with a brown colour code. Note that there is no difference between an aerial for UHF digital TV reception or any other form of UHF TV signals.

MikeP_UK's 3,056 posts
Select more comments
Your comment please