10th April 2013 retune for Winter Hill, Keighley transmitters and relays

Brian Butterworth published on UK Free TV
From 6am on 10th April 2013, several multiplexes will change their transmission frequencies.

Notably the main transmitters will make changes. This includes the WINTER HILL transmitter, where the BBCA multiplex (including 1 BBC One North West, 2 BBC Two England, 7 BBC Three, 9 BBC Four, 70 CBBC Channel,71 CBeebies, 80 BBC News, 81 BBC Parliament, ) will move from C62- to C50 and the ArqivaA multiplex (11 PICK TV, 12 Dave, 17 Really, 29 E4+1, 32 Movie Mix, 46 Challenge, 48 Food Network, 62 TV Stars, 82 Sky News, 87 Community Channel,) will move from C61- to C49.

On the KEIGHLEY, BBCA will move from C61 to C49.

See below for a full list of transmission masts that will make changes.

When you now rescan, you MUST do a "first time installation" or "factory reset" scan, not an "add channels". Do the procedure you did on September 30th 2009. If you can't recall what this was, please see List of manuals for Freeview retune, or try the generic clear and rescan procedure.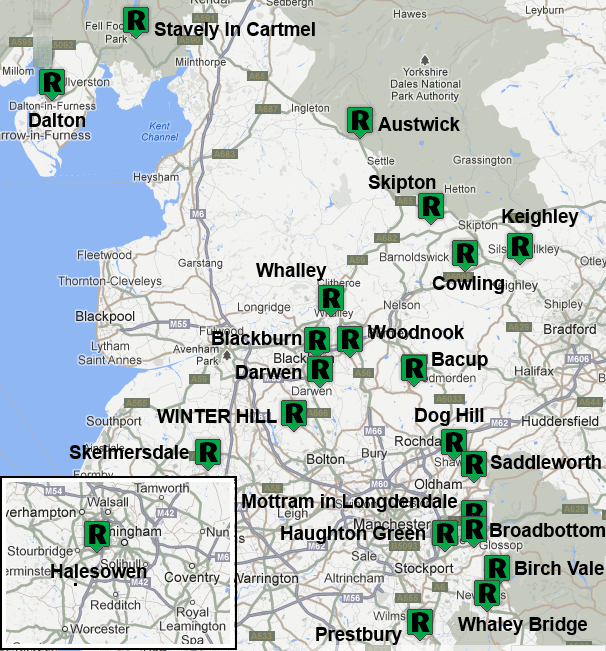 Please note that the relay transmitters will take some time (between 11am and 4pm) to come back to full service:

Austwick: PSB2 C49 to C39
Bacup: PSB3 C50 to C40
Birch Vale: PSB3 C50 to C40
Blackburn: PSB3 C50 to C40
Broadbottom: PSB3 C49 to C39
Cowling: PSB3 C49 to C39
Dalton: PSB3 C50 to C40
Darwen: PSB2 C49 to C39+
Dog Hill: PSB3 C50 to C40
Halesowen: PSB2 C61 to C49
Haughton Green: PSB3 C50 to C40
KEIGHLEY: COM6 C60 to C60- PSB1 C61 to C49
Mottram in Longdendale: PSB3 C50 to C40
Prestbury: PSB3 C50 to C40
Saddleworth: PSB2 C49+ to C39+
Skelmersdale: PSB1 C51 to C46 PSB2 C48 to C43 PSB3 C52 to C40
Skipton: PSB1 C49 to C39+
Stavely In Cartmel: PSB3 C50 to C40
Whaley Bridge: PSB2 C49 to C39
Whalley: PSB3 C50 to C40
WINTER HILL: COM5 C61- to C49 PSB1 C62- to C50
Woodnook: PSB2 C49 to C39

The changes at WINTER HILL will cause the following relays to have no PSB1 service for some time:

Backbarrow, Barrow Town Hall, Bidston, Bollington, Brinscall, Brook Bottom, Burbage, Buxton, Cartmel, Chaigley, Chatburn, Chinley, Congleton, Delph, Elton, Far Highfield, Glossop, Haslingden, Ladder Hill, Lancaster, Langley, Lees, Littleborough, Macclesfield, Manchester Hulme, Melling, Middleton, Millom Park, Moss Bank, New Church, Norden, North Oldham, Oakenhead, Over Biddulph, Parbold, Pendle Forest, Penny Bridge, Portwood, Ramsbottom, Ribblesdale, Romiley, Roose, Stockport, Storeton, Trawden, Urswick, Walton Le Dale, Wardle, West Kirby, Whitewell and Whitworth.

The changes at KEIGHLEY will cause loss of PSB1 for some time at the relays at:

Keighley Town, Oxenhope, Skipton Town and Sutton In Craven

If you get Freeview from these masts - DO NOT retune your Freeview equipment.
Comments
Saturday, 13 April 2013

I understand from a reply above that UKfreetv is not responsible for the transmitters or the current problem.
Please can anyone say who we can complain to.
I am in Preston - had to buy a newer TV aerial and digibox at the digital changeover and now whilst I have retuned and get all the channels I want several of them are Corrupting with distorted sound and blocky picture.
I dont see why I should have to pay for new equipment and thus subsidise the fatcat digital phone companies. Some of the billions
the government got selling MY bandwidth should be put into correcting these problems.


Dave's 2 posts

jb38: a good point about C/D aerials - this coupled with possible ageing aerial connections and coax down-leads means 49/50 could be borderline for some, although my parents' 1980s aerial and coax are working fine.

Dave in Preston: Curious as to why you had to buy a new aerial for digital switchover as the aerial group for Winter Hill before and after digital switchover was the same C/D.

Ian's 7 posts
M
Mark Morris
8:16 PM
Preston

Love how this retune has totally ruined Saturday night primetime, the picture ranged from a few minutes of watchable TV to green/purple fuzz then black few intermittent minutes. Fantastic! All because the Government and their quangos think 4G is gonna save this country!

Mark Morris's 5 posts

Since the Winterhill retuning, our BBC channels have become too weak to display. I have tried all the recommended methods of retuning (factory reset and retuning without the aerial plugged in). The channels are in the TV as UHF 50 for BBC but just a black screen and poor signal indicator showing. The TV is an LG lcd about 4 years old. Our bedroom TV that uses the same aerial but using a cheap Freeview box, has successfully retuned. I have emailed LG, and they have replied with a vague email saying be patient as there are some unresolved issues with the BBC retuning process. Does anyone here know who to approach to get this resolved?

David H's 4 posts
M
Mark Morris
8:53 PM
Preston

Just submitted a complaint to BBC, as one of the five shareholders of Freeview they are partly responsible for the service. Now if I couldn't receive a Freeview service in the first place I could let this go, but it's different when the quality of service was good prior to the retune!
I'm gonna try and find a complaint method for Arqiva who do run the transmitters and there MUX is also affected!

Mark Morris's 5 posts
Sunday, 14 April 2013
J
J Whyman
1:04 AM
Coventry

jb38, sorry for not replying sooner. Does doing a factory reset mean any recorded programs not yet watched will be lost? I am guessing the answer will be yes.

J Whyman's 4 posts

J Whyman: Although the term "factory reset" might suggest that it really refers to everything other than the hard drive, such as all the personal settings that have been made, programmes "set" for recording as well as wiping the tuners memory completely clean of everything stored in it.

As far as PVR's are concerned whether Freeview or Freesat, I cant think of any brand where a factory reset has any effect on the hard drive or indeed any other action a user can take that would wipe the hard drive, "except" (on some that allows it) by selecting "format hard drive" whereby anything recorded would then be lost whether its been viewed or not, and even at that a warning message would always appear on the screen informing the user that by pressing "yes" to the question "do you want to format the hard drive" will result in everything stored being lost.

jb38's 7,179 posts

We Have been very busy,with the Winter Hill re-tunes,here in the North Wales coast area,the busiest in fact,since the re-tunes of November and December,2009.I even had a re-tune service call,in Menai Bridge,Anglesey,where the Winter Hill signal strength gain,was averaging 55-60db,on all six mux's.
Initially,on Wednesday,i started by putting all units into shipping or factory reset condition and doing a fresh install. Out of curiosity,i tried just one LCD,a Vestel derivative,where i just manually re-tuned channel's 50 and 49 and it worked. since then,i now just try manually re-tuning,the two missing multiplexes and it has worked in all but one case,where the channel 49 multiplex just wouldn't update.
In the instances where the Moel y Parc multiplexes are being received instead of the Winter Hill one's,i use an aerial group C/D pass filter.Now that the ITV,Channel Four MUX,has moved from 49 to 39,from Moel y Parc,the filter is ideal for use with units that only have Autotune,such as the Panasonic DMR-EZ45's.
Manufacturer's such as Fringe,stock these unit's.
They are meant for masthead use,prior to amplification,but i found that they will introduce sufficient attenuation of the Group A and lower B frequencies.

As i write this,we are still receiving re-tune request's,from viewer's and it is a welcome boost to what was becoming a poor trade to be in,in terms of financial gain.
Like other's who have posted replies here,i am also charging £20.00 for a Winter Hill re-tune,a reduction on my normal £25.00.

David Roberts's 23 posts
J
J Whyman
10:51 AM
Coventry

jb38, you are brilliant, I have a Humax and 'the back to factory setting' came under Default. Automatically then found 91 channels instead of the 83 I got when I initially re-turned. Fantastic. I have noticed however interference when watching that the picture freezes occasionally and the sound and picture go out of sync, ah well, the reports of the West Midlands not being adversely affected means no one asked me as part of those statistics. Good Luck everyone else with their channel problems.
Thanks again

J Whyman's 4 posts

J Whyman: Pleased to hear that the "default" setting procedure was successful, but as far as the picture freezing problems are concerned I did notice one or two others having recently made complaints of a similar nature, but though just purely for test purposes you should carry out a signal check on one of the programmes that suffers from this problem "whilst you are viewing it", this achieved by pressing: Menu - System - Signal detection (called condition on some Humax's) and check if the quality indicator is showing erratic readings, this indicating that your reception is on the iffy side for reasons other than the box.

By the way you can check all of Sutton Coldfield's six muxes by carrying out the same procedure "whilst viewing" the following undermentioned programmes, plus also ensuring that the mux "CH" number indicated on the signal strength screen (usually at the top) corresponds with the following "mux" channels (NOT epg. guide numbers) listed below, this confirming that all programmes are being received from the same station and not an odd one being picked up from elsewhere.

BBC1 (Ch43) / ITV1 (Ch46) / HD (if applicable Ch 40) / ITV3 (Ch42) / Pick TV (Ch45) - Film 4 (Ch39).

jb38's 7,179 posts
Select more comments
Your comment please