10th April 2013 retune for Winter Hill, Keighley transmitters and relays

Brian Butterworth published on UK Free TV
From 6am on 10th April 2013, several multiplexes will change their transmission frequencies.

Notably the main transmitters will make changes. This includes the WINTER HILL transmitter, where the BBCA multiplex (including 1 BBC One North West, 2 BBC Two England, 7 BBC Three, 9 BBC Four, 70 CBBC Channel,71 CBeebies, 80 BBC News, 81 BBC Parliament, ) will move from C62- to C50 and the ArqivaA multiplex (11 PICK TV, 12 Dave, 17 Really, 29 E4+1, 32 Movie Mix, 46 Challenge, 48 Food Network, 62 TV Stars, 82 Sky News, 87 Community Channel,) will move from C61- to C49.

On the KEIGHLEY, BBCA will move from C61 to C49.

See below for a full list of transmission masts that will make changes.

When you now rescan, you MUST do a "first time installation" or "factory reset" scan, not an "add channels". Do the procedure you did on September 30th 2009. If you can't recall what this was, please see List of manuals for Freeview retune, or try the generic clear and rescan procedure.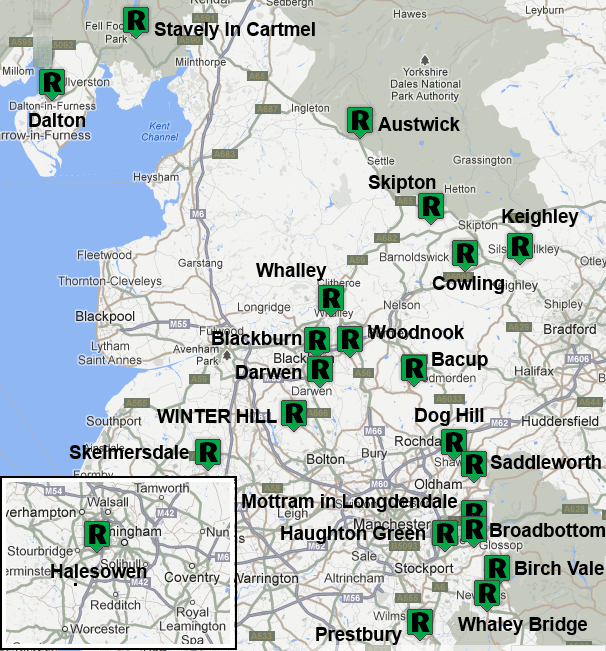 Please note that the relay transmitters will take some time (between 11am and 4pm) to come back to full service:

Austwick: PSB2 C49 to C39
Bacup: PSB3 C50 to C40
Birch Vale: PSB3 C50 to C40
Blackburn: PSB3 C50 to C40
Broadbottom: PSB3 C49 to C39
Cowling: PSB3 C49 to C39
Dalton: PSB3 C50 to C40
Darwen: PSB2 C49 to C39+
Dog Hill: PSB3 C50 to C40
Halesowen: PSB2 C61 to C49
Haughton Green: PSB3 C50 to C40
KEIGHLEY: COM6 C60 to C60- PSB1 C61 to C49
Mottram in Longdendale: PSB3 C50 to C40
Prestbury: PSB3 C50 to C40
Saddleworth: PSB2 C49+ to C39+
Skelmersdale: PSB1 C51 to C46 PSB2 C48 to C43 PSB3 C52 to C40
Skipton: PSB1 C49 to C39+
Stavely In Cartmel: PSB3 C50 to C40
Whaley Bridge: PSB2 C49 to C39
Whalley: PSB3 C50 to C40
WINTER HILL: COM5 C61- to C49 PSB1 C62- to C50
Woodnook: PSB2 C49 to C39

The changes at WINTER HILL will cause the following relays to have no PSB1 service for some time:

Backbarrow, Barrow Town Hall, Bidston, Bollington, Brinscall, Brook Bottom, Burbage, Buxton, Cartmel, Chaigley, Chatburn, Chinley, Congleton, Delph, Elton, Far Highfield, Glossop, Haslingden, Ladder Hill, Lancaster, Langley, Lees, Littleborough, Macclesfield, Manchester Hulme, Melling, Middleton, Millom Park, Moss Bank, New Church, Norden, North Oldham, Oakenhead, Over Biddulph, Parbold, Pendle Forest, Penny Bridge, Portwood, Ramsbottom, Ribblesdale, Romiley, Roose, Stockport, Storeton, Trawden, Urswick, Walton Le Dale, Wardle, West Kirby, Whitewell and Whitworth.

The changes at KEIGHLEY will cause loss of PSB1 for some time at the relays at:

Keighley Town, Oxenhope, Skipton Town and Sutton In Craven

If you get Freeview from these masts - DO NOT retune your Freeview equipment.
Comments
Friday, 12 April 2013

Problem now solved. Martin

Martin's 2 posts

Update after my comment yesterday (Thurs).
Thought I'd try again today. Did factory reset and retune (eyes shut now as umpteenth go past three days) and LO and Behold: Success! Bonus is there are more channels than I've had before (in 2 years). So if you gave up yesterday try again today. And even though this should not have happened I say thanks to whoever got of their bum to check and fix the problem, thanks. pec

P. Coughlin's 2 posts
R
richard green
1:48 PM
Rotherham

right all i know is that if i move the areial lead to my tv from the wall socket i get a signal on uhf 44,47 an 48 but it will constantly flucktuate from good to bad and then not pick up anything when i manage to get some reception it still jumps or says no signal but if i mess with the cable are stand near i get better signal but still not all pickin up all channels im really getting to the point im gonna break the tv its stressin me out

richard green's 11 posts

Hi,just a quick update to say that my problem remains and has in fact got worse as I had 75 channels yesterday and now, after factory reset etc, I only have 45. Fair to say that, like Richard Green, I am pretty cheesed off with this issue right now.

Paul's 2 posts
R
richard green
2:33 PM
Rotherham

i had 40 never got full an now i have 8 bad signal channels no bbc or owt what ill do is stop payin for tv n if they wont there money they can sort it i aint payin for somethin i dont get its unfair wouldnt go to asda an pay for a cheese sandwhich that you dont get why pay for tv when i dont get it

richard green's 11 posts

UK Free TV
Can you not sort out the continuing probs with signal from Winter Hill.
Countless retunes illicit no answer.
BBC 1/2 is now Wales whilst BBC NW is in the 800's BUT WITH an intermittent reception. Its disgraceful what we are having to accept.

Tom Linson's 2 posts
R
richard green
3:31 PM
Rotherham

i feel like im being duiped by the tv licensing because its costing me money for a service that isnt provided you have to pay for your arieal to be fitted by someone which varies from £40-£255 or something plus buying a tv which well arent cheap but then ontop of that you have to pay £145 a year for something you already paid for but if theres a problem with the signal its not there job to sort it im meant to be paying for tv not static so in my eyes i pay them so they should sort it or give a reduced rate since i dont get all i pay for plus since i dont have any bbc it should be free since thats where my money goes

richard green's 11 posts

I am on the Keighley transmitter and despite numerous retunes and resets I have lost all BBC channels Help me someone !!!

Jean Sanderson's 1 post

Tom Linson, you seem to be under the illusion that this site (ukfree.tv) is responsible for the transmitters. It is an independent information and informal support site. See ukfree.tv is managed by Brian Butterworth | About us | ukfree.tv - 10 years of independent, free digital TV advice

Depending on the age of your TV/box, you should be given the option to choose the region. If not, unplug the aerial and wait until the scan reaches the 40s to plug it back in. This should stop it scanning and finding the Welsh channels.

Ian's 7 posts

richard green: You should have good reception of all services according to the reception predicter. If your aerial points NW and is mounted with the rods horizontal you should be tuned to Emley Moor. If it is pointing roughly SW with the rods vertical you should receive signals from Crosspool. Emley Moor Frequencies are C44, 47, 48, 51 and 52. Crosspool frequencies are C24, 27, 39, 42, 45. Make sure that the TV is tuned to the transmitter that the aerial is pointing to. Also check that cables and connectors are in good condition and of course that the aerial appears to be in place.

KMJ,Derby's 1,811 posts
Select more comments
Your comment please