Freeview interference from 4G-at-800 London tests start Monday 15th April 2013

Brian Butterworth published on UK Free TV
At800, who are tasked with preventing interference to Freeview from the new 4G mobile internet signals, will move this week to the second stage testing.

About 170,000 household and businesses in Southwark, Lewisham, Greenwich and Tower Hamlets have already been mailed to tell them to call the at800 hotline - 0333 3131 800 if they experience problems.

The approximate test area is: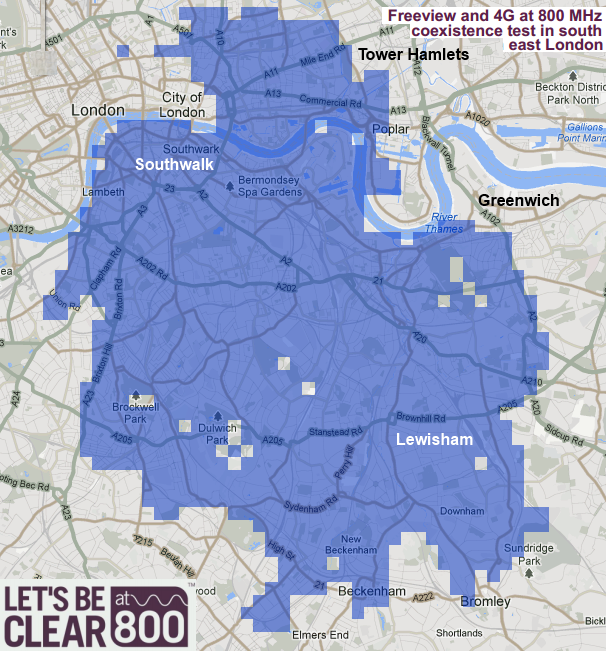 At800 has a team of professional aerial installers and testing units in the area that will respond to calls from viewers, visit addresses reporting problems and will restore Freeview viewing.

Callers to the helpline will be asked for your postcode, the type of interference and the time the interference occurred. This will allow at800 to restore your service as soon as possible.
Comments
Friday, 30 August 2013

Hi MikeB, thank you for the link re LNA. I guess it's best left set at ON.

At the moment (17:40) I can watch the BBC. ITV, C4 and C5 channels but having issues with VIVA which keeps pixelating with sound dropuouts.

I checked the signal quality/strength and it was mostly between 5 to 10 (quality) and ~24 (strength). Irritating to (try to) watch this channel at the moment.

The other channel I encounter the pixelation & sound dropout issues with is E4. This generally occurs later in the evening/nights. I will check tonight to see how the quality/strength looks like compared to the readings I posted earlier this afternoon.

I just looked a little bit further and found some additional information that means nothing to me but may do to the experts.
This info gives details on Service ID, ON ID, TS ID, Netword ID, Pre & Post Viterbi, C/N, UEC and AGC. On this same screen are the same 2 signal bars I saw under manual tuning. Quality is perpetually fixed at 0 while strength fluctuates between 22 and 24. I'm not too certain if it is specific to the channel in the background but it does seem to be the case.

Not sure if any of the above would be useful to anyone and if it could help pinpoint the issue with the low quality and strength indicators.

Thanks in advance.

Trevor's 6 posts
Saturday, 31 August 2013

Trevor : On the assumption that you are receiving Freeview from the Crystal Palace transmitter then the night time / daytime scenario should not really come into the equation when located at only 5 miles away from the transmitter, that is unless you are screened in any way from it, unable to check same without a more precise location being given, i.e: post code or one from nearby.

However as far as these signal strength / quality readings are concerned, as they all appear to be on the low side this makes me curious as to what they represent relative to the maximum that's possible to be indicated on your scale? I am also rather puzzled by you seeing LNA being mentioned, as Sony does not indicate that the 26EX553 has this facility albeit that the 523 does, and so maybe you could confirm the model number.

Taking it that your set does have an LNA facility, then what you should do is to repeat the previous signal check test but this time with the LNA switched off and noting if any significant differences are seen in the readings.

I would also be interested to know that if whilst viewing the signal test screen you removed the aerial and replaced it with a short length of wire (about 6 feet) or (if available) even set top aerial, whether or not anything would be indicated?

By the way this LNA (low noise amplifier) facility is Sony's way of saying "booster" as that's all that it is, but though with the useful feature of being able to select which channel you wish to be boosted, as in many areas one or two multiplexes are receive at a somewhat lower strength than the others and if a normal booster is fitted into the system this obviously amplifies everything including the channels its not really required for.

The only reservation I do have about the LNA / booster facility on some Sony models is as far as its actual gain is concerned as this is not mentioned, my suspicions being that it could possibly be of a very mild level.

jb38's 7,179 posts
Tuesday, 3 September 2013

Hi jb38. Thanks for your points above.

I definitely have the model I mentioned - the TV system information and detail on the sticker at the rear confirms this.

Re LNA, when I switch it off on the channel (I tested on Ch 26 on ITV+1), the signal was immediately dropped and I got the "No signal" message. On switching it on, signal & sound although often pixelated with dropped sound, were restored.

I don't have a set-top ariel to perform a test. When you say short length of wire, what type of wire exactly are you referring to?

May I ask a silly question? Re manual tuning is frequency better to use than channel? Or are they inseperably linked?

Thanks.

Trevor's 6 posts

Trevor: As far as manual tuning is concerned the channel number is suffice, as although two of CP's muxes (HD & COM6) are transmitting with a negative offset of 200Khz under the set frequency for the channel, this on a modern set is neither here nor there and as such can be disregarded.

On the subject of using a short length of wire, any wire such as twin flex used on some table lamps or even bell wire, the point of the test being to get an idea of strength of the signal in your area as although you should in theory be receiving a strong signal from CP, however in reality you might not be as witnessed by the large number (approx 7) of low powered PSB fill in transmitters located within a few miles of your area.

Just a little point I was wondering about, I noticed in your original posting that you had mentioned "we" when referring to the problem, is this an indication that your neighbours who are also on the same communal aerial system as yourself are also experiencing similar difficulties? however no matter what you should select a programme channel on the TV whose reception is a bit iffy, then without touching anything else remove the aerial and connect a short length of wire into the middle receptacle on the aerial socket and see the picture returns.

Please note though, that should you be located on a ground floor then this test might not work.

When referring back to the strength / quality indications previous made, are they being given against a possible maximum indication of 100% on the scale that you are observing them on?

jb38's 7,179 posts
Monday, 25 November 2013

Hi jb38,

Apologies for disappearing for the better part of almost 3 months.

Thought I'd post back on what I've done since the last post - which isn't that much to be honest.

I went to Argos and bought an internal digital antenna - it's a flat one (is the correct name antenna or aerial for the indoor variety?). Code: 107/0929

I hooked it up hung it on the wall above the TV. I discovered that the Freeview HD channels were now working where previously they stated 'No video' so that was a plus.

Also noticed that the channels I was suffering drop-outs on seemed to have been cured of their ails....or so I thought.
It wasn't long before the 'lost signal' message started to appear although to be honest it occurs less often than before so that's an improvement.

The indoor aerial/antenna is powered and has some sort of T-junction connection between the aerial coaxial entering in on one side, and the TV coaxial exiting the other side. On this T-junction is a small switch (can't recall what's written on it). Some times when I get the lost signal message I flick the switch to the off position. It doesn't really fix the issue but sometimes it does restore the picture. I can't help wondering if that is just a bit of the proverbial red herring.

So I'm wondering whether the issue I was getting using the external (communal) antenna was that it wasn't updated to cope with the drain of sharing he signal or whether it was internal i.e. possibly the type and/or length of coaxial cable used to send signal from the living room to our bedroom via the hallway and one other bedroom, per my first post.

Any thoughts?

Kind regards.

Trevor's 6 posts
Select more comments
Your comment please