Want to better understand the current TV faults? See the all new UK Free TV page

Brian Butterworth published on UK Free TV
See: All transmitters with faults and engineering

Following from your suggestions, I have made changes to the icons used to show which Freeview transmitters have fault or engineering status associated with them.

Previously, you had to look quite hard to see which transmitters had current faults, and which had faults listed for the last few days.

The new format for the page looks like this.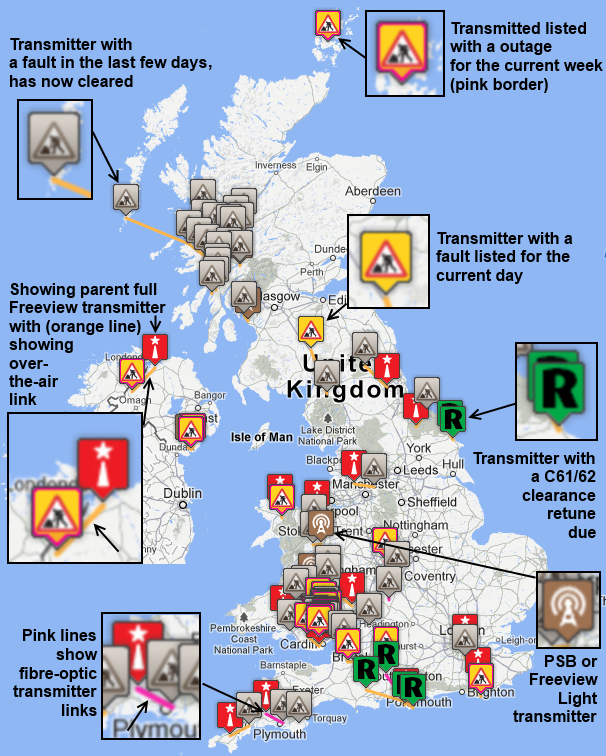 Only the sites with "live" faults are shown with the yellow symbol (those with Digital UK's "this week" status, a pink border).

I hope the above listed changes will help you to understand where the current faults and system outages are.

The new symbols carry though to other pages that shows transmitter symbols.
Comments
Tuesday, 19 February 2019

Jean Reynolds: BBC Two Scotland has closed and will be replaced next week by the new BBC Scotland channel, which will be available on satellite (Sky/Freesat) across the whole of the UK, as well as on Freeview in Scotland (i.e. everyone who could previously receive BBC Two Scotland will get the new BBC Scotland channel). Viewers in Scotland now get the same version of BBC Two as those in England.

StevensOnln1's 2,789 posts
Wednesday, 20 February 2019

Graham Alan Baker:

There is no fault with the Mendip transmitter, I know that for certain as that's the transmitter I use.

Have you checked your aerial system? Check all the cables and connections. Unplug all coaxial plugs/sockets and refit.

Then check the signal strengths as shown on the manual tuning page of your TV, but DO NOT RETUNE. The ideal strengths should be between 60% and 85%. If they are stronger that may be the cause and you need to add an attenuator to reduce it.



MikeP's 3,055 posts
Thursday, 2 May 2019

what do I do when it still says no signal after engineers repairs

carmen harris's 1 post

carmen harris: Ask the engineer why they didn't fix the problem?

StevensOnln1's 2,789 posts
Thursday, 16 May 2019

Das betrifft nur die NA Version des Spiels.

Tandy's 1 post
Friday, 13 September 2019

My neighbours are on freeview but have no sound on BBC1 and BBC2, im with SKY and have no problems

Gordon Cessford's 1 post
Friday, 11 October 2019

Is the transmitter serving Walsden;W. Yorks faulty?

nigel Fox's 1 post

Nigel Fox:

Please see https://ukfree.tv/transmi…den.

MikeP's 3,055 posts
Saturday, 1 February 2020

Is there a problem with the signal in lockerbie as I have lost some channels

Lorna Mawson's 1 post
Sunday, 2 February 2020

Lorna Mawson:

I'm assuming your reception is from the Caldbeck transmitter which is SSE of you. Neither Freeview nor the BBC are reporting any problems with the transmitter.

What channels have you lost and when did you lose them or notice you lost them, when did you know they last worked?

I'd suggest you check all your coax plugs, connections, flyleads etc, unplug connectors check for corrosion or other problems and reconnect them. Flyleads are a common problem, try swapping/changing them. See what signal strengths and quality you are getting for the multiplexes shown in your TV's tuning section. Also check that your downlead looks undamaged (especially if it is old) and that your aerial seems intact and pointing in the correct direction.
Problematic connections, water ingress etc. can seem to affect reception of just an individual or several multiplexes.

Chris.SE's 1,306 posts
Select more comments
Your comment please