Expecting 4G interference? Tests now show that you have a one in 300 chance

Brian Butterworth published on UK Free TV
Looking back the the original posting, Ofcom moves to protect Freeview interference from 4G mobile, we can see the Ofcom suggested that:

Of the 16.3 million UK homes with a standard (unamplified, unshared) Freeview reception, 110,000 (0.67%) would be effected.

Of the 5.2 million homes using communal aerials systems, 550,000 (10.6%) will have problems.

Of the 5.6 million homes using amplified Freeview reception, 100,000 (1.8%) will experience problems.

Today, at800 have published the results of the tests in London, Brighton and Hove and York - at800 updates estimate of likely impact of 4G at 800 MHz on Freeview:

"Following tests conducted across the country, at800, the organisation responsible for protecting Freeview when 4G at 800 MHz is rolled out across the UK, has provided a new estimate of the likely scale of the impact. If national rollout reflects the results seen during its tests, at800 expects no more than 90,000 households, with Freeview as their primary TV service, to experience disruption caused by 4G at 800 MHz. Whatever the level of disruption, at800 is ready to restore Freeview to viewers.





at800 has now sent postcards to households in London and the surrounding areas in preparation for the activation of 4G at 800 MHz masts over the coming weeks and months. at800 is also sending postcards to other areas of the UK ahead of masts switching on. at800's mailing does not mean that 4G services will be available to consumers. For information about the availability of 4G services, people should contact their mobile operators.

In London, in particular, Freeview received from the Crystal Palace transmitter is unlikely to be affected by mast activation because of the strong terrestrial television signal and its relatively large frequency separation from 4G at 800 MHz. However, at800 is sending postcards and running a publicity campaign to ensure anyone who does experience new disruption to their Freeview service knows how to get in touch."

So with 26.50 million TV households in the UK (see Monthly universe summary - BARB) 90,000 represents 0.340% of them - that's a ONE IN THREE HUNDRED chance.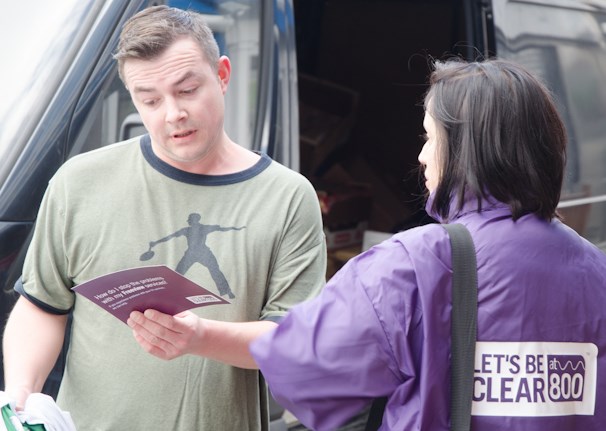 It seems that you are most likely to need a filter if:

a) you are a long way from a high power Freeview transmitter; and

b) you are very close to a 4G mobile phone mast; and

c) you are using a booster.

That's good news for Freeview viewers.



If you have had a postcode from at800 - see Received a postcard from at800?
Comments
Wednesday, 11 September 2013

MikeB, Jack Luxon: I am inclined to agree with Ian from notts's line of thought, insomuch that if the heading on the "post a question etc" box appears in any way as being a questionnaire then its almost guaranteed that it would be ignored by most posting a question.

I personally would be quite happy if the post a question etc box had a heading such as : - "PLEASE NOTE! queries involving Freeview reception MUST be accompanied by a post code or alternatively one from nearby, e.g: a shop / post office".

The latter "alternatively" being included to cover those who are reluctant to reveal their exact whereabouts, not of course that the average post code location would do as in most cases "approximate" is the order of the day.



jb38's 7,179 posts
Thursday, 12 September 2013

MikeB: The main thing is that some idea of postcode is included and that punters are aware of the Digital UK website so they can see for themselves which transmitter(s) are available.
It's useful to see that Christine Garrett's neighbours have the same problem which indicates nothing wrong with anything in or on her house. Perhaps she might try contacting the BBC?

Jack Luxon's 33 posts
Friday, 13 September 2013
I
Ian from notts
7:33 AM
Nottingham

Jack Luxom, MikeB- I agree with the main point of a postcode being asked for, but within 2 posts the list of requests had grown!!
People who do comeback with a postcode have got the attention of someone who is willing to help, And are willing to take on the info given also.
I would have thought people posting on this site have, At least, Read through some of the posts to begin with ?

Ian from notts's 253 posts
Ian's:
map
I's Freeview map
terrain
I's terrain plot
waves
I's frequency data
I's Freeview Detailed Coverage

Ian from notts: I think your right that too many questions means people just bypass the whole page, yet certain questions would make everyones life easier.

Christine Garrett's question is the classic case in point - although the location was mentioned, a postcode would have been far easier, with Digital UK/Terrain info coming up immediately.

If you look at 'connecting it up', large numbers of people ask a question that could have been easily answered by looking at the top of the page (OK - it needs a bit of an update, but still..), and if you have a look at the most popular questions, the Sky one is first. Yet there have been loads of people asking this very question!

If we can get a postcode with reception questions (and some others), that really helps, and remind people that there is a good chance that a question has been asked before, and that they should look at FAQ's first.

MikeB's 2,579 posts
Saturday, 14 September 2013

Since the retuning in august which added film4+1 amongst others the signal on BBC channel's has been occasionally pixelated and ITV c5 not quite so bad. It definitely seems worse when it is raining.I have used a booster for the last 2 years and has been fine except at the digital changeover for a short while.Is the transmitter running at a lower power since last retune?.I live in Swaffham and use tacolneston.

Philip Nelson's 1 post

I am now unable to get any bbc channels. I use Tacolneston mast. I have rescanned about 5 or 6 times.

Slim's 1 post
Slim's:
map
S's Freeview map
terrain
S's terrain plot
waves
S's frequency data
S's Freeview Detailed Coverage

Slim: since your 5km from the transmitter with nothing in the way, I would suggest your signal strength is far too high - look at 'too much of a good thing', bypass booster, etc.

MikeB's 2,579 posts
J
John Jillions
12:42 PM
Pembroke Dock

Hi

I live in Pembroke Dock, Pembrokeshire, and have to tune into Redruth transmitter because of my position
Up until now I have received all Freeview channels okay but as from yesterday I now get no BBC channels at all
I have two TVs, both with their own aerials so I know it isn't a fault with those

Any help?

Thanks

John Jillions's 2 posts
John's:
map
J's Freeview map
terrain
J's terrain plot
waves
J's frequency data
J's Freeview Detailed Coverage

John Jillions: My reply was to J Skelton's posting concerning reception problems associated with Anglia's Sandy transmitter, however on the subject of your particular problem the Preseli transmitters are listed similarly to that of Sandy insomuch that engineering work has been taking place since last Monday the 9th of September.

On the subject of Redruth though, this station is not shown as being possible to receive at your location and that includes as far as DX (long distance) reception is concerned.

jb38's 7,179 posts
Sunday, 15 September 2013

John Jillions: Your post brings back memories. I used to live in Pembroke from 1967-1971 (army service) obviously before the days of digital. Our nearest BBC2 transmitter was at Swansea. Hoping to find it I bought a double 18 element aerial, no luck however I was able to pick up BBC2 from Caradon Hill in Cornwall sometimes. Reception depended on weather conditions and also the state of the tide. I seem to recall that if it was foggy and the tide was high monochrome reception was just about watchable. If not we had to make do with BBC1 and ITV 405 line with some programmes in a strange language and no sub-titles.

Jack Luxon's 33 posts
Select more comments
Your comment please