Expecting 4G interference? Tests now show that you have a one in 300 chance

Brian Butterworth published on UK Free TV
Looking back the the original posting, Ofcom moves to protect Freeview interference from 4G mobile, we can see the Ofcom suggested that:

Of the 16.3 million UK homes with a standard (unamplified, unshared) Freeview reception, 110,000 (0.67%) would be effected.

Of the 5.2 million homes using communal aerials systems, 550,000 (10.6%) will have problems.

Of the 5.6 million homes using amplified Freeview reception, 100,000 (1.8%) will experience problems.

Today, at800 have published the results of the tests in London, Brighton and Hove and York - at800 updates estimate of likely impact of 4G at 800 MHz on Freeview:

"Following tests conducted across the country, at800, the organisation responsible for protecting Freeview when 4G at 800 MHz is rolled out across the UK, has provided a new estimate of the likely scale of the impact. If national rollout reflects the results seen during its tests, at800 expects no more than 90,000 households, with Freeview as their primary TV service, to experience disruption caused by 4G at 800 MHz. Whatever the level of disruption, at800 is ready to restore Freeview to viewers.





at800 has now sent postcards to households in London and the surrounding areas in preparation for the activation of 4G at 800 MHz masts over the coming weeks and months. at800 is also sending postcards to other areas of the UK ahead of masts switching on. at800's mailing does not mean that 4G services will be available to consumers. For information about the availability of 4G services, people should contact their mobile operators.

In London, in particular, Freeview received from the Crystal Palace transmitter is unlikely to be affected by mast activation because of the strong terrestrial television signal and its relatively large frequency separation from 4G at 800 MHz. However, at800 is sending postcards and running a publicity campaign to ensure anyone who does experience new disruption to their Freeview service knows how to get in touch."

So with 26.50 million TV households in the UK (see Monthly universe summary - BARB) 90,000 represents 0.340% of them - that's a ONE IN THREE HUNDRED chance.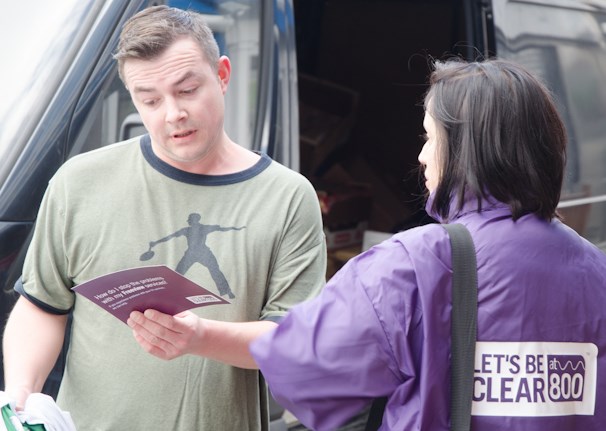 It seems that you are most likely to need a filter if:

a) you are a long way from a high power Freeview transmitter; and

b) you are very close to a 4G mobile phone mast; and

c) you are using a booster.

That's good news for Freeview viewers.



If you have had a postcode from at800 - see Received a postcard from at800?
Comments
Sunday, 20 October 2013

anyone else seeing problems on sandy heath bbc1/bbc news (channel 27)? we're in cb5

tw's 1 post

tw: Yes - we have lost all bbc signals from sandy heath, and we live very close to it

JC's 1 post
Wednesday, 23 October 2013
C
colin
9:24 AM
King's Lynn

i recieve my signal for bbc from the belmont transmitter and have lost all bbc freeview channels on both my t/v's please could you tell me why

colin's 1 post
colin's:
map
C's Freeview map
terrain
C's terrain plot
waves
C's frequency data
C's Freeview Detailed Coverage

colin: Your problem is possibly connected with the engineering work currently being carried out at the Belmont transmitter, as a "liable to interruption" notice was posted on the engineering notice board as starting from Monday 21st.

That said, it would still be advisable to double check on this by making an enquiry with a neighbour to find out if they are being similarly affected.

jb38's 7,179 posts
Wednesday, 30 October 2013

Hi. Get my signal from Rowridge and have lost/unwatchable signal for all BBC channels since last weekend.

Ian's 1 post

Ian:

Do you have more than one tv connected to the aerial?

If so, are they all having issues?

what is your location?

postcode and street name?

regards

jamie stevens's 207 posts
jamie's:
map
J's Freeview map
terrain
J's terrain plot
waves
J's frequency data
J's Freeview Detailed Coverage
Thursday, 31 October 2013

We went to Freeview just before digital switchover and we have been having problems ever since. We have two TVs and we have had boosters installed and de-installed by our aerial supplier who has tried all sorts of things. The signal is strong but intermittently it drops out to no signal, the TV freezes or we get interference and this can last for seconds at a time. Sometimes we have given up watching a programme because it is happening so frequently. We are really fed up about this. We use to have cable but can no longer afford it and now we appear to be stuck with this. Both TV's in our house react the same at the same time.

Linzi's 1 post

Linzi: a postcode and type of equipment?

MikeB's 2,579 posts
Saturday, 2 November 2013
L
LouiseB
3:54 PM
Gillingham

I find it quite ironic that the muxes I have been receiving poorer and poorer reception from for the last few weeks (months in come cases - and completely disappearing at times since 28th October!) are the ones with reported interference from 4G when tuned to Crystal Palace; BBCA, BBCB and ArqA!
But yet according to at800 website I live well outside of the interference area but yet I am surrounded by phone masts, from multiple operators on all sides.

LouiseB's 8 posts
LouiseB's:
map
L's Freeview map
terrain
L's terrain plot
waves
L's frequency data
L's Freeview Detailed Coverage
M
Michelle gass
8:47 PM
Ayr

Hi, our reception has been breaking up since the storm down south. We live in Ayr, South Ayrshire, any ideas?

Michelle gass's 1 post
Michelle's:
map
M's Freeview map
terrain
M's terrain plot
waves
M's frequency data
M's Freeview Detailed Coverage
Select more comments
Your comment please