Using UHF channels C61 to C69? Time to retune

Brian Butterworth published on UK Free TV
Since 1964, the UHF band (channel 21 to channel 68) has been used exclusively for television services.

The main use, of course, has been over-the-air signals to bring five analogue (and latterly lots of extra digital) TV channels, but a secondary use has been for what is called "RF modulation".

In the days before SCART cables, and long before the not ubiquitous HDMI connections, if you wanted to get a signal from a device such as a video recorder, a games console, home computer or a satellite decoder to a TV set, the only option was to "modulate" it.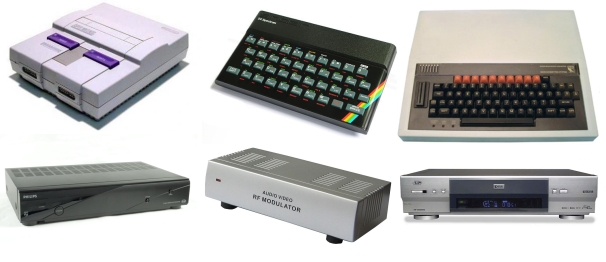 If you are still using a device with an RF modulator, you need to check that the channel allocated is not in the C61-C69 range. If it is, then you need to change it for two reasons: to stop an "illegal broadcast" interfering with 4G devices, and to stop 4G transmissions interrupting your video.





Who owns the 800MHz band? It's not you.

The most common devices are Sky Digital boxes produced from October 1998 to about 2010. See How do I change the RF output channel on a Sky Digibox? .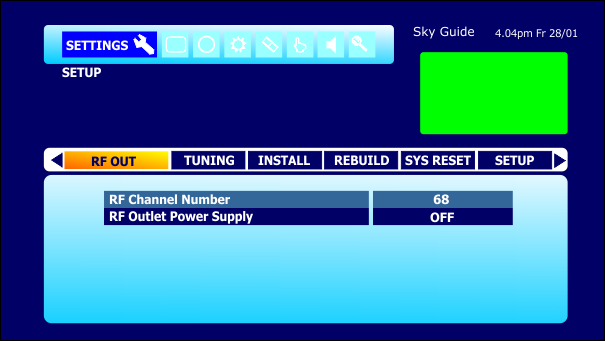 Please don't forget you will need to retune your TV as well as the RF modulator!

If you want to know the best channel to use, enter your postcode into "site settings" box, and see the text that appears there, as shown in this example:



Comments
Sunday, 2 August 2015

My area, just south of Luton, recently became fully covered for 4g. It took me a month to realise that the interference I was experiencing on my Sky box RF Out lines was caused by this.my Sky Plus HD box is 3 years old and had the RF Out channel pre-established to 68. This is now allocated to the 4g telephone companies. Most warnings about 4g interference surrounded users of Free view and never mentioned those using the Sky RF Out channel to feed their bedrooms and kitchens etc.

The solution is simply to reset the Sky RF out channel to another number AWAY from the 60- 69 range used for 4g.

Remember then to Re-Tune your TVs using the Sky RF Out feed.

john's 1 post
Thursday, 10 September 2015

Surely its still OK to use Channel 65 though since the 4G networks are using it as a "duplex gap" ?

Mike's 5 posts
Friday, 11 September 2015

Mike:

It's best to avoid channels 60-69 altogether. Adjacent channels can cause interference as well as co-channels.

MikeP's 215 posts
Wednesday, 2 December 2015

Hi I've been having these issues for a couple of months, I've changed ref settings but get nothing, I'm in Milton Keynes can you help with a channel number that will work please?

Thanks Andy

Andy's 1 post

Andy:

You have not told us what issues you are experiencing nor given a post code to assist locating which specific transmitter you might be using.

MikeP's 215 posts
MikeP's:
map
M's Freeview map
terrain
M's terrain plot
waves
M's frequency data
M's Freeview Detailed Coverage
Thursday, 10 December 2015

Hi

Please can you tell me how to access the site settings window you refer to above, so that I can obtain the best Sky box RF out channel number relative to my post code to enable me to receive sky television on a second tv?

Regards

John

John's 1 post
John's:
map
J's Freeview map
terrain
J's terrain plot
waves
J's frequency data
J's Freeview Detailed Coverage
Wednesday, 16 December 2015

Hi
I am also experiencing picture interference on my RF2 line from Sky+HD box to TVlink in a bedroom. Picture interference is snowy horizontal lines appearing intermittently across TV.

Have replaced TV link and gone with F Connectors to improve but have noticed RF2 channel on 68 at present and wanting to know which need change to, before retuning the second TV.

Postal code SL5 area......prefer not to openly display full postal code, but in Ascot, Berkshire.

Thanks
Ajay

Ajay's 2 posts

Ajay: I would give 38 a try, as a couple of test codes carried out in the reception predictor from the Ascot area indicates that this channel is not used by any transmitter receivable in the area, Crystal Palace indicated as the station covering the Ascot area.

You should though try checking if the interference vanishes by removing the normal aerials connection into the Sky box, or the I.O port modulator if your Sky+HD box is of the later variety, as if it doesn't, then either the interference is being picked in the cable connecting the Sky box to the 2nd TV, or the problem is possibly being caused by an iffy connection in one of the coax connectors.




jb38's 7,179 posts
Thursday, 17 December 2015

jb38: Thanks for getting back to me jb38.

I have changed the RF2 channel in the settings on my sky+HD box from 68 to 38 and saved the settings.

The issue has now gone away...nice clear picture.

The picture is not sharp by any means, but it is clear of any snowy lines or interference.

My setup at home doesn't include an external aerial, so is simply sky dish, with cable, connected to TV via hdmi can then RF2 upto a sky tv link.

My mind is telling me that there must be something in the cabling or connectors preventing a much sharper image......although I know that I am never going to get a HD picture on a RF2 line.



Ajay's 2 posts
Sunday, 3 January 2016
D
dave haughton
2:07 PM
Stockport

hi, where do i go to input the post code in site settings, i can't find it anywhere? trying to find the best channel for postcode sk2 5el

dave haughton's 1 post
dave's: ...
Select more comments
Your comment please