A bakers dozen of changes: Freeview channel number changes from 3 September 2014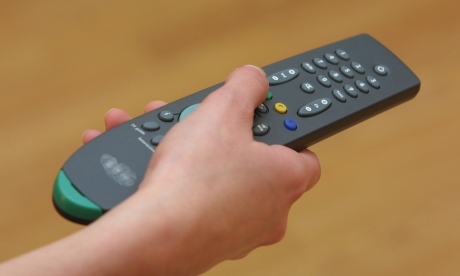 Brian Butterworth
published on
UK Free TV
These changes have been long coming, and have even been subjected to formal review on behalf of Sky.

From the afternoon of Wednesday 3rd September 2014, Freeview viewers will find that 13 channels will have new numbers.




Depending on the sophistication of (which means "how long you have had") your Freeview equipment, the channels will either change number automatically, or require a retune.

If you have Freeview+ box - the ones the can record programmes - you should find that the channel number changes will not cause any scheduled recordings to change.

You may need to do a "first time installation" to ensure the channel numbers are correct. See My Freeview box has no EPG ... or the channel line up is wrong if you don't know what to do. Another option is the list of retune instruction leaflets and manuals on the Freeview Retune - list of manuals page.

The new channel numbers do provide better logic on the whole, however BBC News HD is in the HD section, whereas CBBC HD and CBeebies HD are not.

Sadly the Freeview channel number system is unable to match Freesat HD and Sky EPGs which both provide the ability to find HD channels in place of the standard definition channels.
All free TV channels
I have recently updated the ever-popular
All free TV channels
page.
As well as ensuring that all the channel numbers are up-to-date (there has been a small number of changes to some Sky Guide numbers) I have split the table to have three new sections.
The first, as shown below, lists all of the High Definition channels first.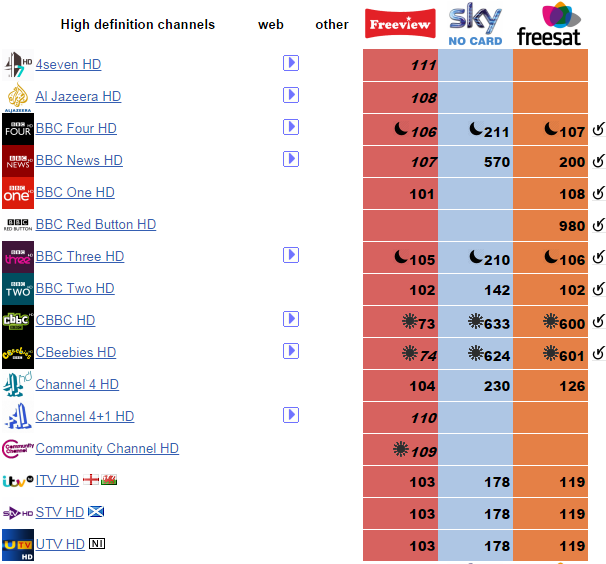 A third section now splits the Local TV channels from the "Main TV channels" section, and there is a "Where Local TV broadcast" section for channels that are provided alongside
local TV on Freeview
.
Good luck with your retune.
Comments
Wednesday, 3 September 2014

I live in Runcorn (Winter Hill area). I have retuned two TVs and lost Channels 3, 4, 5 and 6. These are still working fine on the TV I haven't retuned yet. Anyone any ideas?

John Grogan's 2 posts

I have 5 Freeview units up to today they were all the same programs and numbers, now after rescans all are different.
I think they not got something right at Transmitters/Freeview so hopefully they will get things corrected tomorrow.

David's 306 posts

I live near melksham in wiltshire. I did get some new channels and about a dozen of them have been moved to different channel numbers. These were the kids channels and all the news channels.

Mike's 2 posts

I wish I had left well enough alone and not re-tuned as now I have ITV, Channel 4 and Channel 5. Though I do have the plus 1 channels the picture on them is breaking up and has poor sound quality. And to even get those channels I have to tap in the channel number directly as my remote keeps freezing when the freeview menu is opened. I've also had the freezing of the BBC channels the past couple of weeks though it seems to settle after being on said channel for five miniutes or so. Sometimes I long for the old pre digital days because never had the almost daily/weekly problems with the TV as I have these days.

Karen's 6 posts

Gerry L: The latest information available on Ofcom's website confirms that the frequencies are as listed here.

If you don't have HD equipment, you should tune in UHF channel 28 for the BBC's SD channels, UHF 25 for ITV1, C4 and C5. The COM multiplexes are on 21, 24 and 27 respectively.

If you do have HD equipment, BBC One, Two, Three and ITV1 and 4hd are on UHF 22. BBC Four, BBC News, C4+1HD, 4Seven HD, Community Channel HD and Al Jazeera's channels are on UHF 32.

The local services are not on air. Ofcom have not yet even issued an Invitation To Apply for the Cheltenham or Hereford service areas.

Mike Dimmick's 2,486 posts

Karen: Whats your postcode? Its sounds like you've picked up another transmitter accidently, which is giving you a worse signal. If you put in your postcode to the site, you'll find which transmitter you should be on.

MikeB's 2,579 posts

Mike: I'm on the Lancaster transmitter which is a feeder of Winter Hill. I often get really poor reception on the plus 1 channels which is why I prefer to avoid using them. I just don't understand why it's all the none BBC channels I have having issues with today when it was the BBC ones which changed.

Karen's 6 posts

Karen: Check whether there is another copy of the services elsewhere in the guide - typically at channel 800 and up. If there are, you live in a service overlap area. If they're more reliable than those at 1, 2, 3 etc, it's probable that your box uses the naïve tuning algorithm: it simply stores the first version it encounters, rather than the best version. If you want to put the best versions at the proper channel numbers, you're likely to have to do a manual retune. Check your box's manual to see how to do this. You can find a collection of manuals and retune advice at
Digital UK - Retuning Instructions .

Mike Dimmick's 2,486 posts

Mike: There are some repeats of BBC channels at 800 but there are no repeats of ITV channels. As for the manuals none of those match my Matsui TV (built in freeview) but I do still have the manual that came with it. I always try a manual retune of certain clusters if they are missing but right now it can not find any channels for cluster 24 (ITV, Channel 4 & 5) and I am currently trying an auto retune but it has got stuck on 8%.

So I think I will call it a night and will try again tomorrow. Thank you Mike and MikeB for your kind replies.

Karen's 6 posts
Thursday, 4 September 2014

I had enormous retuning problems this morning with my various Freeview devices. My Panasonic PVR couldn't see any channels, my Humax 9200T insisted on putting BBC on 800-up channels, and my 8000T couldn't see BBC at all.

I eventually found that the daisy-chain RF cable from my Sky box to the rest of the chain of devices was faulty, and degrading the signal just enough that previously-tuned channels had been just about OK, but a retune decided they were too marginal to use.

Those having problems following yesterday's events might be suffering from the same issue. I twigged when I looked at the analogue output from the Sky box and saw how snowy it was. Those without any remaining analogue devices will have to rely on the signal strength and quality diagnostics from their equipment.

Jellyroll's 1 post
Jellyroll's:
map
J's Freeview map
terrain
J's terrain plot
waves
J's frequency data
J's Freeview Detailed Coverage
Select more comments
Your comment please