Can I receive UK free-to-view TV in Southern Spain?

Brian Butterworth published on UK Free TV
You will only be able to get the services on the Astra 2A satellite (and then only Transponders 1, 2, 5, 6, 9, 10, 13, 18, 22, 37) and ASTRA 2B (transponders 14, 17, 21, 25, 26, 29, 30, 33, 34, 38):

ScreenShop
Price-Drop TV
TV Travel Shop
TV Travel Shop 2
TCM UK
CNN International
Travel Channel
Travel Deals Direct
BBC Parliament
S4C Digidol
S4C2
You TV
Goldshield Vitality
Create and Craft
Zee Music
Ideal World
ITV News Channel
QVC UK
Bid-up.TV
Sky News
TV Shop UK
Reality TV
TV High Street
The Shopping Genie
TV Warehouse Select
Shop America
TV Warehouse
Vector Direct
JML Direct
Game Network UK
Yes
Shopsmart TV

You will not be able to get any of the BBC and ITVs are all on the Astra 2D satellite: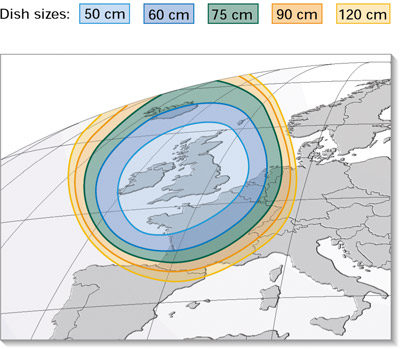 Channel 4 is on Astra 2A: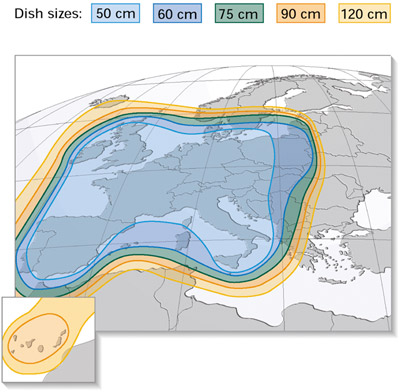 You may be able to get five, but you will need a Sky card to decode it.
Comments
Saturday, 24 March 2012

Have a sky box no card in our apt in puerto banus Marbella.
Want to put something like Humax box in so we can record bbc and itv channels.
Can you give me an indication of costs please.
Alan Byrne

Alan Byrne's 2 posts
Saturday, 14 July 2012

We live in Mijas and receive UK TV through an old Thomson branded Sky DV3 digibox with no card. We have a 1.2 metre dish with twin LMB (just renewed). One Outlet goes to our Thomson box and the other goes to a Spain purchased Antares receiver & a TV in our daughter's room.
We view through our Sky box and a Mitsai DV3 HDready TV with in-built DVD player, HDMI & VGA sockets.
We would like to change our Thomson receiver, as it is forever giving us problems, for another which still receives BBC & ITV channels and others, as my wife likes her 'soaps', Daybreak etc. and we would like to be able to record broadcast programs from time to time. We do not want a subscription service, such as Sky or BBCiPlayer, just free-to-air.

Am I right in thinking we need a Freesat receiver for our purposes?
Is there a website that I can use to see what channels are available in our area?
If we changed to a 4 channel LNB with two channels going to each receiver, would this improve the signal quality, as noted in a response to Brenda Singfeild earlier. Could you give me an indication of the cost of a 4 channel LNB?
Do all receivers have two 'RF in' sockets to take two coax cables from the LNB?
By having two RF-in sockets does this automatically mean that one would be able to watch one channel and record another at the same time through the one receiver?
Would you go as far as to suggest, or recommend, an appropriate receiver for our requirements?
If we buy a receiver online, say from Amazon.co.uk, can it be set up for the region in which we live in southern Spain? Or, is it necessary to purchase a receiver in Spain?

Sorry for there being so many questions.

bruce williams's 1 post
Monday, 16 July 2012

Hi, I life in a appartment within a community and receive a lot of Digital channels BBC 1 etc, I wish to take a HDD recorder with dual tuner out with me from the UK, will I be able to recorder on this in Tenerife

James's 1 post
Sunday, 22 July 2012

bruce: Yes Freesat+ receivers allow you to record. if you want to kwno what channels your Freesat receiver will gte, simply take the sky card out of your sky receiver - the sky box will then receive just the "free to air" channels - ie the same channels as a freesat box would receiver. Or simply look at the hcannels on your daughters box! Only those reciever with twin tuners for recording will have two inputs for connection the LNB. The twin input would llow you towatch one channel and record another at the same time. Humax Freesat HD+ are ideal. For best "deals" on Freesat boxes in the UK, go to joinfreesat.co.uk, and look at the right hand side of the screen, with all the receivers and the best prices from UK stores.

satandpcguy's 89 posts

James you will only be able to use the twin inputs, if you have two cable feeds from the community system.

satandpcguy's 89 posts

Bruce - Just to add to Satandpcguy's response. You can put in any UK post code to a "Freesat" receiver. A Spanish or other Euro postal code is of no use. Choose the UK regional code that suits your preferred viewing. The Humax has one of the mosts sensitive tuners and is ideal for Spain with the correct dish setup but if you have some break up try a Channel Islands post code.

Les Nicol's 991 posts
Monday, 3 December 2012
P
Paul Lister
5:06 PM
Shrewsbury

When I clicked The Wrekin - my nearest transmitter - the little icon was bouncing up and up and down up and down... Has the volcano erupted or is there something else I should know? When we first got digital tv, I had Film 4, then I didn't, then I did, now I don't. This would seem to be related to the icon bouncing up and down up and down... I'd be grateful for your thoughts on this but with zero jargon, please. I'm an old man and can only understand old-fashioned plain English. Thank you.

Paul Lister's 6 posts
Paul's:
map
P's Freeview map
terrain
P's terrain plot
waves
P's frequency data
P's Freeview Detailed Coverage
Wednesday, 5 December 2012

Have lost 105 channel 5.

Don't know why.

glynn spence's 1 post
Friday, 7 December 2012

I have been hearing that we are going to loose UK TV in Southern Spain soon is this true ?

Linda's 1 post
Thursday, 21 February 2013

Hi
like many expats i read in the uk spainish papers that we are about to lose uk tv in spain, due to the upgrade in the astra satilite, how true is this and if so what other alternative do we have to get uk tv

norman's 1 post
Select more comments
Your comment please