Can I receive UK free-to-view TV in Southern Spain?

Brian Butterworth published on UK Free TV
You will only be able to get the services on the Astra 2A satellite (and then only Transponders 1, 2, 5, 6, 9, 10, 13, 18, 22, 37) and ASTRA 2B (transponders 14, 17, 21, 25, 26, 29, 30, 33, 34, 38):

ScreenShop
Price-Drop TV
TV Travel Shop
TV Travel Shop 2
TCM UK
CNN International
Travel Channel
Travel Deals Direct
BBC Parliament
S4C Digidol
S4C2
You TV
Goldshield Vitality
Create and Craft
Zee Music
Ideal World
ITV News Channel
QVC UK
Bid-up.TV
Sky News
TV Shop UK
Reality TV
TV High Street
The Shopping Genie
TV Warehouse Select
Shop America
TV Warehouse
Vector Direct
JML Direct
Game Network UK
Yes
Shopsmart TV

You will not be able to get any of the BBC and ITVs are all on the Astra 2D satellite: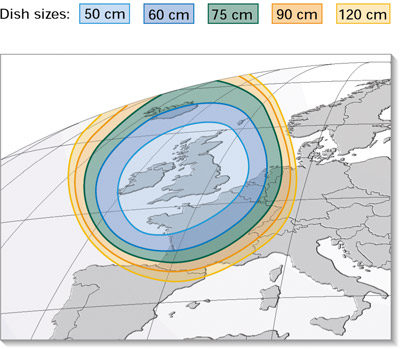 Channel 4 is on Astra 2A: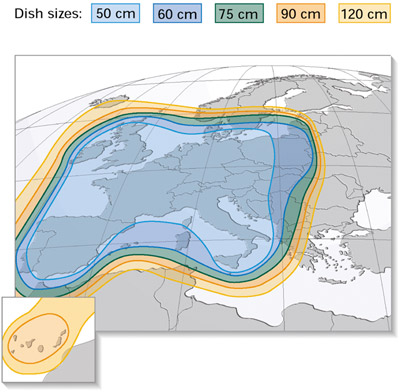 You may be able to get five, but you will need a Sky card to decode it.
Comments
Tuesday, 5 January 2016

Going to live in Cutar, Malaga what is the best way to receive Sky. ie Sky Sports. Currently subscribe to Sky for full package in UK. Who do you recomend to install and cost.
Thank you

Roger Depper's 1 post
Wednesday, 6 January 2016

Roger Depper:

Officially, Sky do not provide their services outside of the UK and do not recognise any address not in the UK as being valid for the provision of the Viewing Card.

There are ways round that involving the use of a valid UK address for the card to be sent to and then fowarded on, but there are questions about the legality of doing that.

To receive the Sky satellite signals means the use of a very large dish compared that for most of the UK, a 1.8 metre dish often being considered the minimum but it does depend on the exact location.

You might be better off trying Freesat or other more local satellite services - but you may have the live without the footy.


MikeP's 3,056 posts
Monday, 28 March 2016

Hi, can I have advice please, have a holiday place in mijas pueblo and want to get British to whilst we are there( few times a year) only want basic channels- itv, Bec etc etc. We have no internet but there is already a dish on the wall- what's the cheapest way to do this please, really want to avoid paying monthly costs and Internet as not there enough to justify monthly costs- many thanks

Justine's 1 post

Hi. I would like to get basic BBC and Channel 4 in eastern Almeria. I have good with fi. Options?

Jerry's 1 post
Friday, 29 April 2016

Hi,i think the easy way to get uk tv abroad is pay someone in the uk to stream it on the internet,the other way
is get the largest dish you and buy a few preamp modules,put say 4 inline and search the sky.The third way
is where someone in the fringe zone will stream it on internet or pay someone to record your programmes
on dvd and send them to you.Possibly if you get a 5metre dish,search the sky for it.I'd be willing to provide the dvds if the
costs were recovered .If you had friends in various countries,you could set up a relay using 5.8ghz video senders.

nicholas's 120 posts

Hi,the best advice is get the largest dish available,hook up 4 preamp modules and then search,otherwise
get someone to stream via internet or record dvd on payment basis.If you live in spain,go mobile and try and track it the furthest then try bigger dishes,more preamps

nicholas's 120 posts

Nicolas:

Please check the satellite footrpint coverage before making your suggestions. Mijas POueblo is outside of the even the 5 metre dish reception area!

You also need to check the legality of what you suggest as may areas do not allow such large dishes anyway. Plus there are legal and copyright iussues.


MikeP's 3,056 posts
MikeP's:
map
M's Freeview map
terrain
M's terrain plot
waves
M's frequency data
M's Freeview Detailed Coverage
Sunday, 1 May 2016

Thanks mike for yr,I have not been able the check the maps but i have a 50yr knowledge of tv reception,the legal
is that it recorded for private homes so it should be ok,i am unaware of planning issues,i've been advising
on the technical issues only,perhaps you might be allowed 2 or more dishes,you could connect in series,all my comments are on the technical side only but what is done in the private home remains private,i am not
suggesting bootlegging, which is illegal, but these channels are free to air,the easy method is to stream yr
programmes via internet.Some areas in northern spain could use private deflector installions,if placed in
trees,nobody would be interested but i'm only advising on the technical side

nicholas's 120 posts

Hi,just to say reception other the northern coasts of spain would be difficult,one way is to take dish/receiver
in yr car and find out just far the signal goes,find out the planning aspect,etc,but you can run two or more
in series,as said before,you've need the trace the signal field,southern areas maybe impossible as the
beam has designed to collapse to stop reception of same.Good luck,anyhow

nicholas's 120 posts

Hi,in respect of these questions,try 4 or more preamp modules in series,it might go beserk ,ensure the
metals are earthed and quality coax.Just give a try.

nicholas's 120 posts
Select more comments
Your comment please