How do I change the RF output channel on a Sky Digibox?

Brian Butterworth published on UK Free TV
Press the [SERVICES] button and then press [4] [0] [1] then [SELECT]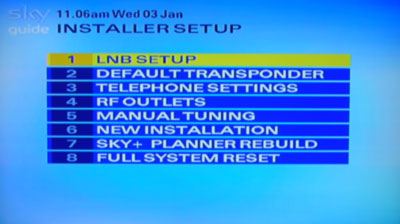 Then press [4] to go to the RF output menu.




You can now change the value so that it does not clash with an analogue TV channel or a Freeview multiplex.


HD and "new EPG" boxes
If you have a HD box, press [SERVICES] button and then press [0] [0] [1] then [SELECT]. Nothing is shown on the TV screen until you press the Select button.
Then use the [RIGHT] arrow button on the remote until this screen is shown, and press SELECT to change the values: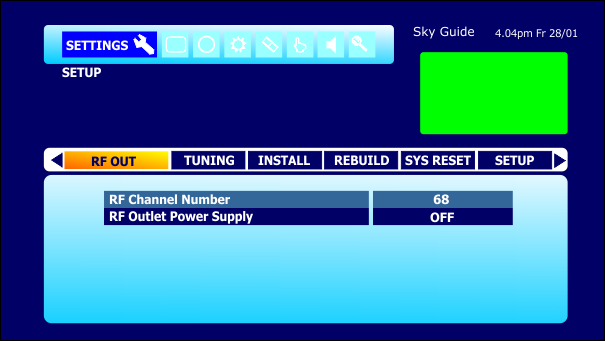 Comments
Thursday, 12 January 2012

I did get a chance to have another look last night and i would say the aerial is pointing towards the Dover area , our post code is ME17 2QH , anyway the spare booster I had made no change to the tv's upstairs. But I did check the teletext page where the test card is for digital . Both the TV down stairs and the TV in the loft receive digital and both display the teletext test card , however when I tried teletext on one of the tv's on the first floor you could see that teletext was not displayed very well on the tv , I would say that it kept breaking up and you could not make out all the letters. I am not sure how much gain I require to sort this out as if I am unable to get a teletext page up , not much chance of digital. I did check some of the connections as there are 2 connections between the ground floor and the first floor , but not any change there. At the moment on the first floor I can get 4-5 very snowy pictures on analogue. The 2 options i can think of would be to ask what is the best booster to purchase to see if this would change things or to run a new cable with a booster to the first floor. Please let me have your thoughts. As a guide on the new Panasonic tv in the loft there is a signal bar as you change from one digital station to another and i would say this is at about 25% on most channels and the odd one at 50% , but we have not switched over to digital in our area yet.

Lee's 6 posts
Lee's:
map
L's Freeview map
terrain
L's terrain plot
waves
L's frequency data
L's Freeview Detailed Coverage

Just to let you know the Sky on the tv on the first floor is the best picture but is still snowy , would it be worth a try to try a different signal rather than channel 68 and see if I get a decent picture that way , this may help to decide if there is a cable connection problem or not from the ground floor to the first floor?

Lee's 6 posts
Lee's:
map
L's Freeview map
terrain
L's terrain plot
waves
L's frequency data
L's Freeview Detailed Coverage
Friday, 13 January 2012

Sharon: Hi Jb just seen your post. Thanks for reply. I live in NG8 area. After I put my post on, I tried setting at No. 40 but could not get any picture. I then went back to 21 and got snowy one again. I have re-tuned other tvs on analogue, but if I go on 68 I dont get anything. Will try your suggestion by going down 5 channels at a time. Do I need to retune the analogue channels everytime I try a different number?

Sharon's 3 posts

back again! Have retuned to 65 and done new analogue scan. Picture wonderful., Thank you so much.

Sharon's 3 posts

Sharon: Pleased to hear you managed OK, and thanks for giving an update as I always appreciate knowing the outcome of anything suggested.

jb38's 7,179 posts
Monday, 30 January 2012

We used to get on old tv in bedroom terretial tv and sky from arial lead coming from sky box downstairs on one channel. We could only change sky channel downstairs. Now we have new digital tv we cannot find sky channe. Can only see digital channels.
Post code CO5

Vivien's 1 post

Vivien: If the TV is only a digital one and does not have analogue channels, then it won't show the output of the Sky box.

Post the make and model number and we may be able to confirm either way.

Dave Lindsay's 5,724 posts
Saturday, 4 February 2012

hiya jb. eventually got this working. it was down to the poor cabling that i bought from the market (bought a thicker one for cheaper on ebay) so all good now. is there any way of getting the hd on to 2nd tv (i went and purchased a 20m hdmi cable and a splitter) tinking i would just do that but obviously i would need to change the 2nd tv to hdmi output (1,2 or 3) therefore not getting the rf2 output. thinking this cannot be done

ross walker's 20 posts

ross walker: Pleased that you managed to sort the cable problem out, as some cables around are barely good enough for anything other than being used for audio transmission of the non RF variety.

When you say HD to the second TV is this the 42PQ3000 you are referring to? and are you meaning feeding the HD from the Sky box to the aforementioned TV? as if you have fitted the HDMI splitter into the Sky boxes socket and the other end of the HDMI lead into the TV (42PQ3000) and selected whatever socket number you have used as the input via the remotes "input" button, then in theory it should be OK.

That said though HDMI signals do not always lend themselves to be sent over an exceptionally long cable without problems cropping up.

Anyway maybe you could confirm if this is what you are doing.

jb38's 7,179 posts
Sunday, 5 February 2012

hiya jb,yeah its too the 2nd tv lg42.managed to use my splitter from sky hd box to 2nd tv. but now the problem is the main tv gets cut off (looks as if they both need to go on output on hdmi splitter)ive purchased 1output 3 input splitter. take it this is all i need and thats me up and running

ross walker's 20 posts
Select more comments
Your comment please