How do I change the RF output channel on a Sky Digibox?

Brian Butterworth published on UK Free TV
Press the [SERVICES] button and then press [4] [0] [1] then [SELECT]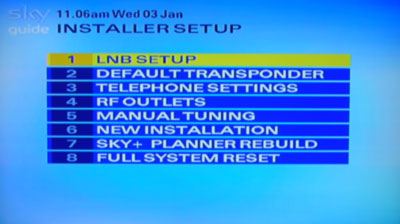 Then press [4] to go to the RF output menu.




You can now change the value so that it does not clash with an analogue TV channel or a Freeview multiplex.


HD and "new EPG" boxes
If you have a HD box, press [SERVICES] button and then press [0] [0] [1] then [SELECT]. Nothing is shown on the TV screen until you press the Select button.
Then use the [RIGHT] arrow button on the remote until this screen is shown, and press SELECT to change the values: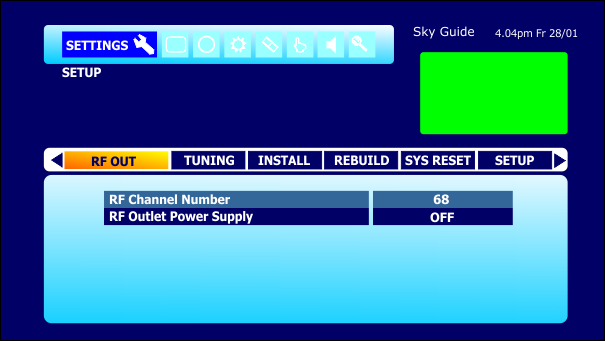 Comments
Tuesday, 10 January 2012
S
stan anderson
11:37 PM
High Wycombe

could I ask..Best RF output frequency for HP11 1jp please..oUR main TV gets crystal palace fine but we do NOT feed that to the SKY box and this makes it easier for my wife in the bedroom with a Sky remote. I gather the lower the frequency the less cable losses..
We do pick up stray and at low level.. the frequencies from the HW Relay in the 50s channels..Many thanks



stan anderson's 1 post
stan's:
map
S's Freeview map
terrain
S's terrain plot
waves
S's frequency data
S's Freeview Detailed Coverage
Wednesday, 11 January 2012

stan anderson: Anywhere between 40 - 50 or over 60 should be OK for anyone in the Crystal Palace coverage area.

I wouldn't worry too much about cable losses at higher frequencies, that is when dealing anyway with a Sky boxes RF output, as you have to balance that against the output level from the modulators which in many Sky boxes is found to be better at the higher frequency end of the scale.

jb38's 7,179 posts
R
ross walker
11:43 AM
Glenrothes

hiya jb. yeah i receive freeview on my lg 3d tv directly from the ariel in to the wall and also receive freeview if i connect my 2nd lg to the ariel in the wall(communial so we have a socket that goes direct to it) i was thinking maybe because i dint switch off box when i first done it, i may have shorted something. and when i change the rf2 channel, do i need to switch of the hd box or just keep it on afterwards. as i say i have tried everything thats being said but just cant get anywhere. my postcode is ky7 6xx and i have tried all they channels on done an outtune and manual. Maybe just isnt meant to be. I really only want it for my little boy but may have to try alternative methods

ross walker's 20 posts
ross's: ...

ross walker: Thanks for that update as it helps clarify the situation insomuch by knowing that you can actually receive Freeview on your main TV, but which unfortunately raises another question, being, when you say that the No2 TV can also pick up Freeview from the aerial socket in the wall is that on a "second" socket located where the No2 set is located? or are you meaning if you take the TV through to where the No1 set is and try it out on its socket?

No matter what though, it narrows a few things down that I wasn't sure about concerning your set up, as I very much doubt if you have actually damaged anything, (not impossible though!) but I do have doubts about the extension cable you are using as its the common factor to not being able to receive anything from either the Sky box or a Freeview signal, especially as you have mentioned that there is a joint on it, which I take it was made using a co-ax coupler between two co-ax plugs, or alternatively if none was at hand very carefully joined and bound with tape.

Is it not possible for you to borrow a portable TV from somewhere? this so that you can sit it next to the Sky box for purposes of testing its RF output (done on RF1 unless you switch the power off on 2) using a co-ax jumper between both, as this would give instant feedback as to whether or not the Sky boxes modulator was working OK as I am beginning to have my doubts about it.

You could though use the main TV to do the same test, as you could connect a co-ax jumper between the Sky boxes RF2 (RF2 power selected to off) and the main TV's aerial socket, then after selecting "analogue" let it carry out a scan to pick up the Sky box, this said taking it that your Hi-tech main TV still has an analogue reception capability.

On that subject though, I take it the Sky box isn't an Amstrad DRX595? as these latest issue boxes do not have RF modulators fitted in them.

jb38's 7,179 posts

hiya jb. What is a coax jumper. I have connected tv 2 to coaxial cable wher it joins so theres no split and just does the same. Yeah i have a seperate ariel in the room for the 2nd tv to gain freeview. I got the box around 6 months ago and i will need to check the model number off it. I do have an older sky hd box. I will try the little portable i have tonight and see if this works.

ross walker's 20 posts

ross walker: All I mean is a co-ax cable jumper lead. The reason I mentioned your extension lead joint is because in your original posting (under the other heading) you said you had a 15m cable with one split, then in brackets mentioned "needed 20", which to me suggest a cable joint.

Anyway try giving the portable TV an analogue scan (if Freeview & analogue capable) when coupled into the Sky boxes RF output as this is by far the best test of all, as you are then by-passing everything that can cause a problem.

If you find that you can receive the Sky box OK, then whilst you are at it carry out a Freeview test on the portable, that is "if" its capable of Freeview as well as analogue reception, if it is, leave the connections as they are and connect "another" jumper lead from the wall socket (used for main TV Freeview) into the Sky boxes aerial input, then after changing the portable over to DVB (Freeview) have a check to see if you can get Freeview on it, which of course you should do if its capable of receiving it and was previously was used for that purpose. (i.e: tuned to Craigkelly)

If though the portable isn't capable of Freeview reception, then take the jumper lead connection on the portables aerial socket out and connect into the main TV's aerial socket, as the Freeview signal from the wall socket will be passing through the Sky box and back into the main TV, so just select Freeview channels on the main TV as though it was connected directly into the wall socket, if it doesn't work at all (any channels) then its the Sky box at fault.

Remember, use RF1 for these tests or switch off the power on RF2, as if you don't the Sky boxes eye power is liable to be running into a short circuit.



jb38's 7,179 posts

hiya.getting somwhere.its been narrowed down to cabling.brought the tv through with some difficulty and it tuned in ok with a 2 metre coaxial.tried it back in room and nothing.so looks as if i am going to have to buy new cabling.unless its a poor wire thats connected in back of sky.

ross walker's 20 posts

ross walker: Well, that most certainly could be classed as good news! anyway now you have narrowed it down to the cabling and before you go out and purchase some more I would like you to carry out a signal level check on your main TV whilst its on Freeview with its aerial plugged into the normal wall plate, do it on BBC1 noting the signal level shown, then do the same on ITV1 and finally ITV3, giving an update on the results.

The reason for me requesting this is, that "if" your Freeview signal isn't that powerful in the first place then the extension cable could be pulling the signal down to just under the TV's reception threshold, hence even although the signal might still there its not at a high enough level to resolve a picture.

By the way with digital reception you cannot always tell a weak signal by looking at the picture, especially if its weak but stable, as its only on analogue TV that a weak signal will always show up as a speckly picture.

If though a weak signal does apply, then the two way powered splitter I originally mentioned would cure that, one output to the TV and the other to the Sky boxes aerial input.

The main thing now is to carry out the signal check, as the results obtained will determine the best policy to take.

jb38's 7,179 posts

i done a check with the cable to connect it to the ariel socket in room with tv 2 and didnt pick up freeview.then tried smaller cable in sam socket straight after and picked up the free view.so i am presuming its the cable.youv been suh a help.ill let you know tomorrow how i get on

ross walker's 20 posts

ross walker: OK, thanks!

jb38's 7,179 posts
Select more comments
Your comment please