How do I change the RF output channel on a Sky Digibox?

Brian Butterworth published on UK Free TV
Press the [SERVICES] button and then press [4] [0] [1] then [SELECT]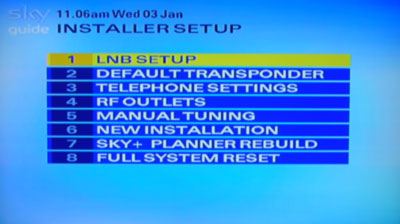 Then press [4] to go to the RF output menu.




You can now change the value so that it does not clash with an analogue TV channel or a Freeview multiplex.


HD and "new EPG" boxes
If you have a HD box, press [SERVICES] button and then press [0] [0] [1] then [SELECT]. Nothing is shown on the TV screen until you press the Select button.
Then use the [RIGHT] arrow button on the remote until this screen is shown, and press SELECT to change the values: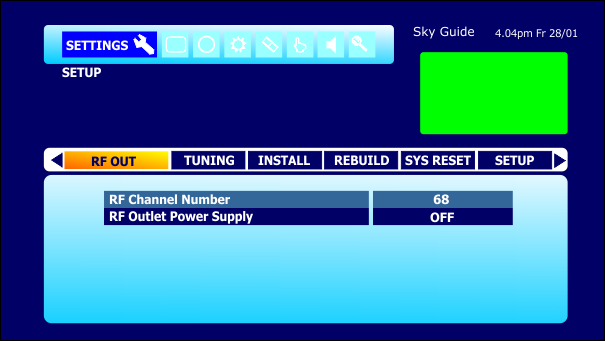 Comments
Thursday, 1 December 2011

Dave,

thank you - the problem righted itself but has now returned again ! i tried the test as recommended in your link ( see posting dated 24 November 11.50am and channels are still missing (nothing before Channel 9 - BBC4 i.e. multiplexes 1,2 and A are missing) the link suggests that the problem may be solved by "you may need to replace your aerial with a wideband type, purchase a larger aerial or you may have interference from a VCR, games console, Sky Digibox or similar" How do I know which one - it will be expensive to cover all of these options !

Incidentally, a new aerial and cable was fitted last year - why has it suddenly become inadequate ?

many thanks again

Colin's 3 posts
Colin's:
map
C's Freeview map
terrain
C's terrain plot
waves
C's frequency data
C's Freeview Detailed Coverage
Friday, 2 December 2011

Colin: Unable to find the previous posting you mention, however I did notice on another posting of yours that you say the signal is fine according to the BBC test, but its really a case of what you see indicated (strength / quality) if you carry out a signal check on your TV, this usually accessible via the tuning menu section.

You should do this whilst you are receiving OK and then once again when its not, as even although there is no picture you will still see indications of level etc on the checker menu, maybe you could try this and give an update on the results of both tests.

jb38's 7,179 posts

I am hoping you will be able to help. I have set up the magic eye by inserting the coaxial lead into RF out, i have turned the RF on by the sky box on freequancy 68. I have also inserted the other end into the magic eye and then inserted the magic eye into the back of the new TV. I am able to change channel on the sky original TV throught the sky box, but receive no sound or picture on the new TV. Are you able to give me any advice of how to make this happen? The new TV had also been retuned for diginal and analogue chanels. Thanks in advance.

John's 1 post
John's:
map
J's Freeview map
terrain
J's terrain plot
waves
J's frequency data
J's Freeview Detailed Coverage

John: If you can change the channel on the Sky box via the magic eye next to the new TV then that's inclined to indicate all is OK up to that point, what you should now do is to make sure that the new TV is actually set to its "analogue" tuning menu, (not DVB) and then carry out an auto-tune on this and let it find the Sky boxes analogue RF output.

jb38's 7,179 posts
Monday, 12 December 2011

why cant I get the to the rf output through services when I get to services press 4 and try and press 0 nothing happens any suggestions please

Trevor's 1 post
Friday, 16 December 2011

Hi everyone,
I have connected the RF2 outlet on my Sky HD box to a second tv in the bedroom. Picture and sound is coming in perfect. I can change the channel downstairs and it changes upstairs.
My problem is that i have tried to connect a Digilink to the coxial cable on the upstairs tv to allow me to use the remote upstairs.
The Digilink connector is supposed to take power from the RF2 outlet but the led is not lit on the digilink. When i place the diglink directly into the RF2 outlet as outlined in the trouble shooting in the instructions, its lights up.
The instructions are telling me there must be a problem with my coxial cable or connectors.
I assume that if the picture and sound is coming in fine that my cables and connectors are good--is this right??? The cable lengthn as about 12 metres.
Any suggestions (or criticisms) welcome.
Thnaks for any help!

John O'Connor's 1 post
Tuesday, 20 December 2011

John O'Connor: press services 401 go down to number 4 rf outlet put rf outlet to on save new settings if you have a hd sky box press services 001 then go down to no4 then do same as above it worked on my sky box hope this as been helpful if not just google install sky digilink

p batley's 12 posts
Thursday, 22 December 2011

Ihave problems getting bbc1 to channel 5 it works ok in bedroom all other channels are good

annemarie's 1 post
Friday, 23 December 2011

Recently changed our Tv's
A new Toshiba in the kitchen and a new
Panasonic in the living room.

I connected the Toshiba via the RF2 outlet on the digibox, inserted the Toshiba code into a new RHC, it all worked fine until a week ago. The main TV has no problem, however we cannot get any picture on the TOshiba, just 'No signal'.

Our local TV shop say that Sky have changed the frequency from the RF2 outlet?

Can you throw any light on this problem?

David Jarrold's 1 post

David Jarrold: Taking it that you are referring to using the RF2 output on a Sky box to feed through to the Toshiba TV, did you check and make sure that the Toshiba is set on "analogue" to pick up the Sky boxes RF output? also unless you are using a magic eye for remote channel changing its RF1 you should be using.

Sky cannot change the RF channel number on any Sky box as its only the user than can do that, so if you haven't altered anything then carry out another scan on the Toshiba whilst its set on analogue and it should find the RF2 output channel from the Sky box.

This all being said of course assuming that its just not that the connection between both devices that's broken.

jb38's 7,179 posts
Select more comments
Your comment please