How do I change the RF output channel on a Sky Digibox?

Brian Butterworth published on UK Free TV
Press the [SERVICES] button and then press [4] [0] [1] then [SELECT]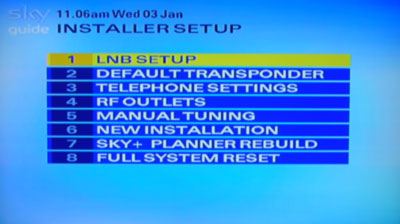 Then press [4] to go to the RF output menu.




You can now change the value so that it does not clash with an analogue TV channel or a Freeview multiplex.


HD and "new EPG" boxes
If you have a HD box, press [SERVICES] button and then press [0] [0] [1] then [SELECT]. Nothing is shown on the TV screen until you press the Select button.
Then use the [RIGHT] arrow button on the remote until this screen is shown, and press SELECT to change the values: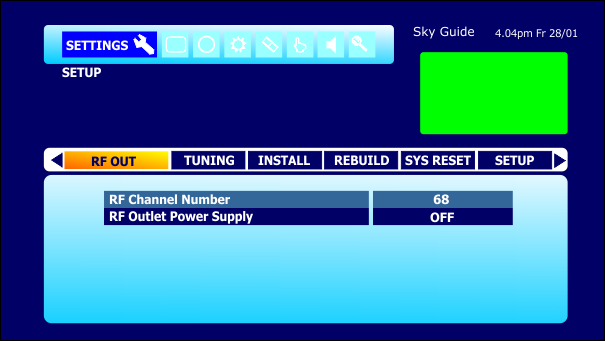 Comments
Wednesday, 10 June 2015

Thank you MikeP & JB38 for your responses. My location is Crawley Down, (nr East Grinstead) West Sussex. However, I (we) cannot get to the settings for the RF channel output. It's an Amstarad (HD) model number R010.070.91.00P / version 4F3005. Also, disconnecting the RF aerial as suggested solves the problem! So, hopefully all we need do is to change the RF output channel - so help there please. Many thanks to both of you.

Brian Porter's 5 posts

Update - RF output channel is 35. Have put free 4G filter in loft on aerial input side of masthead amp. It has improved things considerably so we're on the right track but the picture is still down in quality a fair bit. Is there a different amplifier for the loft/masthead? Again, many thanks for your help folks.

Brian Porter's 5 posts

I meant different filter needed for the loft/masthead amp? Also don't understand why the interference if we'll away from the 60 & above RF channels.

Brian Porter's 5 posts
Monday, 13 July 2015

I am trying to turn on the power for RF2 I know the procedure but what ever I do it only shows manage my account details

tr 79's 1 post
Tuesday, 18 August 2015

Read your article today and changed my sky +box channel to 37 (from 68). It works and my 4g phone connection does not interfere with the Sky RF out TV picture anymore in the other room! Brilliant.Thanks.

NVHappy's 1 post
Wednesday, 18 November 2015

I am on Sky and have been having interference on the picture and sound for 12 months sky have been out but failed to solve the problem An independent engineer has been and alter the rf channel to 28 ,all interference has now stopped .The engineer said it was from our 4g mobile phones. Now Sky say they will not attend my equipment and will not guarantee any further visits as rf channel 28 isa illegal on their equipment . Have you any thoughts on matter

j .b.smith's 1 post

j .b.smith:

It would appear that you are using the RF Out connection from your Sky box rather than any SCART or HDMI connection. In which case there is no legal requirement for any particular channel to be used, it normally being chosen to avoid causing or receiving signals from other sources and hence causing or suffering interference. I very much doubt Sky would have officially said it was illegal to use ch28 for your RF output, the RF modulator, where fitted, is capable of being tuned to any UHF channel from 21 to 68 (though I am uncertain whether that applies to the 'add-on' RF boxes needed by many Sky HD boxes to provide an RF output). It is more likely that a 'call centre' operative has misunderstood the issue.

4G signals are transmitted currently in the range ch60 to 68, so if your RF output had been set close to anything in that range you will have experienced some interference from such if they are in reasonable proximity to your location. By adjusting the RF output channel to one well outside that range will have helped alleviate the problem. But you also need to avoid the channels used by any Freeview transmitter in your area, a list for each transmitter is provided elsewhere on this website. Else you can put you post code into this site and then see the details of the recommended transmitter for your area.

MikeP's 215 posts
MikeP's:
map
M's Freeview map
terrain
M's terrain plot
waves
M's frequency data
M's Freeview Detailed Coverage
Friday, 8 January 2016

Hi, I'm trying to use the RF OUT so that I can view my sky upstairs. I'm using a aerial power booster which gives me full power for freeview, however, the analog is picking up the channel but has interference, I have switched on the RF out power. Could it be the channel setting which is on 68 which is the problem? Is so what channel should it be on? I live in rainham, essex

Sunny's 1 post
Saturday, 9 January 2016

Sunny: If there any mobile phone masts in your area? you might possibly be picking up interference from 4G transmissions, and so nowadays its best keeping away from channels in this range. I would try setting the Sky boxes RF output channel on 38, as this channel is not used by any Freeview transmitters within your reception area.

However on the subject of the aerial booster, and especially "if" of the higher powered variety, unfortunately these devices are capable of causing a high level of noise (grain) on the analogue based picture, the easy way to tell if this applies in your case or not being by switching off the booster whilst viewing some "Sky" programme on the upstairs TV.





jb38's 7,179 posts
Saturday, 16 January 2016

Hi All,

What is the difference between the 2 RF outputs on the back of my SKY+ HD box? My house is wired with a Loft Box, and I have the 2 dish cables coming in to the lounge and in to the SKY box, then a cable going up to the Loft Box. I have tried this in RF1 and RF2 and don't really notice any difference.

I would say my picture quality in the other rooms fed by the Loft Box are OK - probably standard def quality.

When I put the cable in one of the other rooms through a Freeview Box I reckon I get a better picture on nonHD channels using that than I do coming from the Sky box. If I connect the Freeview coax output 'back' to the TV Aerial Input for the Sky TV - then the Sky picture is horrendously grainy. Sound about right??

I'm currently using RF Channel 41 - in Londonderry, Northern Ireland.

Thanks!!

Gary's 1 post
Select more comments
Your comment please