BBC One (SD)
Aims to speak to everyone in the UK through programming that celebrates the richness and diversity of life in new and surprising ways.
Main TV standard-definiton channels
How to Watch: BBC One (SD)
Below is a list of all the television and radio channels that you can watch in the UK using one of the free services: DAB (for radio), Freeview, Sky No Card - Sky without a viewing card (Freesat from Sky (or fSfS)) and Freesat.. Where a channel can be watched for free, the channel number is listed below. In addition, if you can watch (or listen) immediately online, press the button in the "web" column.

As some channels are exclusive to one service alone, you may need to get receive more than one service to get all the channels you want. The coverage for Freeview differs too - those channels not provided by the public service "Freeview Light" transmitters the current coverage shown thus

(54%)

, taken from Connected Nations Report 2017: Data analysis' Key: wb_sunny daytime; watch_later nighttime; account_box funded from the TV License; flags show Freeview channel limits.
Main TV standard-definiton channels
Regional content
: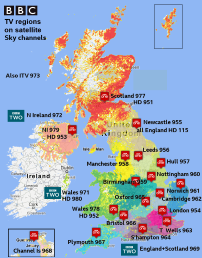 BBC nations and regions TV network - 14 English regions plus Wales, Scotland and Northern Ireland - for regional news. See
BBC nations and regions - overview map - interactive maps
. .
media.info
: For full details of broadcaster contacts, see the
media.info BBC One (SD) page
.
Official site
: See the
BBC One (SD) website
.
From Wikipedia
: The channel's annual budget for 2011/12 is 1,166.6 million.3 Along with the BBC's other domestic television stations, and many European broadcasters and some in Asia, it is funded principally by the television licence fee, and therefore shows uninterrupted programming with no commercial advertising at any time. It is currently the most watched television channel in the United Kingdom, ahead of its traditional rival for ratings leadership, ITV1. This system used a vertically-scanned image of 30 lines just enough resolution for a close-up of one person, and with a bandwidth low enough to use existing radio transmitters. - en.wikipedia.org
read more about BBC One (SD) on wikipedia
(summary by
Clipped
).
Freeview multiplex
: BBC One (SD) is on
multiplex PSB1
in
.
About BBC One (SD)
Free channel of the day: BBC One

Brian Butterworth published on UK Free TV
How is the free channel paid for?
The £1,402m BBC One budget is funded by the £3,596m Television Licence Fee, and represents 39% of all BBC spending - that's about £1.11 per week per person.
Is the channel live, pre-recorded, new content or repeats?
BBC One has live presentation, and both national and regional are broadcast live. In addition the daily The One Show (7pm) is live, as are sporting events. All other programmes are pre-recorded and are almost always commissioned by the BBC and having their first showing.
What's the channel's unique selling point?
The
channel
is customized for viewers in Scotland,
Wales
and Northern
Ireland
, as to a lesser extent in the English regions, and has the most extensive television regional news service in the UK.
The programme schedule highlights
Weekdays has national news from 6am-9am, 1pm, 6pm and 10pm and regional news at 1:30pm and 6:30pm. There's a daily soap, Doctors at 1:45pm, and EastEnders (Mon/Fri 8pm, Tue/Thurs 7:30pm) and Holby City (Wed 8pm).
The rest of the schedule is mixed, with factual (Mon 7:30pm, 8:30pm) and entertainment and factual/entertainment mix shows (such as Motorway Cops). Thursday night has politics from 10:35pm onwards, Friday night being entertainment only.
The bits to avoid
The morning schedule of Cash In The Attic, 11:30am and Bargain Hunt, 12:15pm are formalistic.
This channel carries a subtitles service for the deaf, hard of hearing and quiet environments.
Comments
Saturday, 5 August 2017

Andrew Maynard: Now that we have your coverage prediction, it seems most likely that your TV has picked up Crystal Palace during the retune, which is only 62 degrees away from the direction of Bluebell Hill, and since Crystal Palace broadcasts on lower frequencies this is probably why your TV has stored Crystal Palace channels in preference to Bluebell Hill. If you click on the DigitalUK Trade link below your post, it gives you the UHF channel numbers used by Bluebell Hill, which you can enter into your TV's manual tuning function to restore the South East region for BBC/ITV.

StevensOnln1's 3,567 posts
Sunday, 6 August 2017

Many thanks for the advice.

Andrew Maynard's 4 posts
Monday, 5 March 2018
J
John Tetley
7:29 PM
Louth

I cannot receive any bbc channels on freeview apart from bbc hd. I get all other freeview channels with no problems. I am in saltfleet lincolnshire and using belmont transmitter. I have tried manual scan and bbc1 is set to channel 22 at 482 mhz. Any ideas please?

John Tetley's 1 post
John's:
map
J's Freeview map
terrain
J's terrain plot
waves
J's frequency data
J's Freeview Detailed Coverage

John Tetley: There are no reported problems with the Belmont transmitter and UHF C22 is the correct channel for the PSB1/BBCA mux. What signal strength and quality do you get for BBC1? Have you checked for any loose or damaged cables or connections behind your TV?

StevensOnln1's 3,567 posts
Monday, 14 May 2018

Why am I experiencing problems (breakup) with BBC television channels but no others?

Elizabeth Will's 1 post

Elizabeth Will: Possibly a loose connection, possibly interference, possibly some other reason. Start by checking for any loose or damaged cables or connections behind your TV. To offer any specific advice we need to know which transmitter you're using, so please provide a full postcode which will enable us to see which transmitters you can receive, where you are in relation to them and your predicted coverage etc.

StevensOnln1's 3,567 posts
Wednesday, 6 June 2018

Have experienced 4 days of no BBC reception , very annoying , could this be weather related ? Only just got BBC back on. Located just north of Beverley, East Yorkshire, mast head amplifier and signal booster fitted. Anybody else had problems ?

Geoff B's 2 posts

Geoff B: Have you checked for any loose or damaged cables or connections behind your TV? Please provide a full postcode so that we can see your predicted coverage.

StevensOnln1's 3,567 posts
G
Geoff B
6:36 PM
Driffield

Yes I have checked every connection, YO25 9SU. And thank you for the response .

Geoff B's 2 posts
Geoff's:
map
G's Freeview map
terrain
G's terrain plot
waves
G's frequency data
G's Freeview Detailed Coverage
Friday, 8 June 2018

Since the May change over I have been unable to access BBC channels on freeview. I have checked all cables, done several retunes including initial one. I receive my signal from the Oxford transmitter. Postcode HP225NW

Lyn's 1 post
Select more comments
Your comment please