BBC One HD
Aims to speak to everyone in the UK through programming that celebrates the richness and diversity of life in new and surprising ways.
Main TV standard-definiton channels
How to Watch: BBC One HD
Below is a list of all the television and radio channels that you can watch in the UK using one of the free services: DAB (for radio), Freeview, Sky No Card - Sky without a viewing card (Freesat from Sky (or fSfS)) and Freesat.. Where a channel can be watched for free, the channel number is listed below. In addition, if you can watch (or listen) immediately online, press the button in the "web" column.

As some channels are exclusive to one service alone, you may need to get receive more than one service to get all the channels you want. The coverage for Freeview differs too - those channels not provided by the public service "Freeview Light" transmitters the current coverage shown thus

(54%)

, taken from Connected Nations Report 2017: Data analysis' Key: wb_sunny daytime; watch_later nighttime; account_box funded from the TV License; flags show Freeview channel limits.
High definition channels
Regional content
: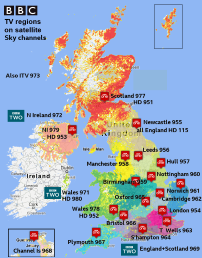 BBC nations and regions TV network - 14 English regions plus Wales, Scotland and Northern Ireland - for regional news. See
BBC nations and regions - overview map - interactive maps
. .
media.info
: For full details of broadcaster contacts, see the
media.info BBC One HD page
.
Official site
: See the
BBC One HD website
.
From Wikipedia
: The channel's annual budget for 2011/12 is 1,166.6 million.3 Along with the BBC's other domestic television stations, and many European broadcasters and some in Asia, it is funded principally by the television licence fee, and therefore shows uninterrupted programming with no commercial advertising at any time. It is currently the most watched television channel in the United Kingdom, ahead of its traditional rival for ratings leadership, ITV1. This system used a vertically-scanned image of 30 lines just enough resolution for a close-up of one person, and with a bandwidth low enough to use existing radio transmitters. - en.wikipedia.org
read more about BBC One HD on wikipedia
(summary by
Clipped
).
Freeview multiplex
: BBC One HD is on
multiplex PSB3
in
.
This channel carries a subtitles service for the deaf, hard of hearing and quiet environments.
Comments
Wednesday, 6 May 2020

Richard P: There are no regional versions of BBC One HD in England, this is down to the huge cost of equipping not just the regional news studios, but the whole transmission chain in each region for HD, in order to show only 1-2 hours of regional news and other non-national programmes each day. It will probably only be when a date is set for BBC One SD regions to close that we will start to see anything other than perhaps a handful of the larger/more highly populated regions be made available in HD.

StevensOnln1's 3,570 posts
Thursday, 7 May 2020

StevensOnln1: Thanks for the info StevensOnin1. Richard.

Richard P's 2 posts
Saturday, 6 November 2021

Rupert Jones:

There is no such thing as a "digital" aerial! Aerials are aerials that pick up RF signals whether they be digital or analogue.
What make and model of aerial is it? What is the brand and version of the cable (markings on it should advise).

How long have you had the problem, when did it start and is that the reason you replaced the aerial?
Please provide a full postcode so we can look at predicted reception in your locale, it may be that you are in an area with marginal reception of the HD multiplex for some reason.

Chris.SE's 3,940 posts
Monday, 8 November 2021

I've lost my HD channels. Signal strength on all non-HD channels is very good. Have bought a new digital aerial with a reception frequency range of UHF 470-698MHz. Rewired entirely with new coax cable too. Neither of these have fixed the problem.
My transmitter is Wenvoe which transmits BBC1HD at 682MHz.
Connected TVs to BT YouView box and direct to antenna cable - same outcome on both set ups.
Please help.

Rupert Jones's 1 post

Rupert Jones:

Perhaps you could try answering the questions in my previous reply to you!

I don't know for certain what happened to the content of your last post, my guess is because you posted another identical post, the software on this site automatically removes duplicate posts.

Chris.SE's 3,940 posts
Friday, 1 April 2022

This site is pointless. If you live in the uk ONLY then you can watch all UK TV channels anywhere without problem - there's no need for any 'information page'. However if you are one of the 99.999% of people who do NOT live in the UK then this information is useless as all UK TV channels are blocked for viewing out of the UK. The BBC, who are in receipt of huge public funds to provide "free-to-air" TV pay big salaries to groups of individuals to block their publicly funded programs from viewing by the public !!! It's long overdue for the BBC to be broken up and privatised as they compete unfairly with other TV channels who have to pay tax on their income - unlike the BBC .

The ONLY way to view UK TV online is via filmon.com, hoolatv.com or TVmucho.com all the tens of thousands of other websites bragging about watching TV online don't work (and that includes the laughably called "BBC iPlayer" and BBC "Sounds" - both of which have never worked.

The French resistance would be at a loss now as BBC Radio / World Service (sic) is no longer broadcast in Europe (unless you subscribe and pay for a special service via a local cable broadcaster)

BBC Radio can be heard using the online service at: BBC - All stations for BBC and NOT via the BBC !

David's 1 post

David:

Well things like iPlayer aren't supposed to work outside the UK. So thanks for an interesting post - not - nobody forces you to read or post here, there are plenty of people who value the help that they get on here. Bye.

Chris.SE's 3,940 posts

David: This website exists primarily to provide technical help with TV and radio reception problems (which plenty of people suffer with), the links to watch a channel online are just provided for convenience, this website does not provide any streaming or catchup services itself. Most BBC radio stations can be listened to online throughout most of the world, the only restrictions tend to be related to sports rights such as football and the Olympics where the BBC only hold UK broadcast rights and cannot broadcast their coverage internationally. The BBC do not hold the rights to broadcast most TV programmes outside of the UK & Ireland and therefore have no choice but to restrict iPlayer to allow access to UK viewers only.

StevensOnln1's 3,570 posts
Sunday, 20 November 2022

It looks like all BBC channels are set to become HD only on satellite next year. The BBC have already announced that HD versions of all BBC One regions will launch on Freeview and satellite early in 2023 (Virgin Media and Sky Glass already have all BBC regions/channels in HD). However a new information slate (which is currently hidden ahead of appearing on Freeview LCN 799 in a few days time) states that BBC One SD will be reduced to a single national version on satellite without any regional news, ahead of all BBC SD channels closing on satellite later in the year. Therefore anyone still using an old Sky Digibox, Sky+ box, Freesat SD, or any other non-HD capable satellite receiver will need to upgrade their equipment in order to continue receiving BBC channels.

Freeview viewers in England will also find the national version of BBC One HD on 101 will be replaced with regional versions of BBC One HD in early 2023, however no timescale has been announced for any BBC SD channels to close on Freeview at this time. This will bring an end to the red screen during regional news programmes on BBC One HD. Freeview viewers will continue to receive regional news in SD as well as HD.

StevensOnln1's 3,570 posts
Monday, 21 November 2022

If you are looking for free streaming services do not use google to find them. Use Duckduckgo. I found BBC one free streaming on the first page. Watching England atm. Google is evil do not use it!

Paul's 1 post
Select more comments
Your comment please