BBC Two
Inspiring documentaries, drama, comedy and entertainment for mainstream audiences that aims to engage the heart while expanding the mind.
Main TV standard-definiton channels
How to Watch: BBC Two
Below is a list of all the television and radio channels that you can watch in the UK using one of the free services: DAB (for radio), Freeview, Sky No Card - Sky without a viewing card (Freesat from Sky (or fSfS)) and Freesat.. Where a channel can be watched for free, the channel number is listed below. In addition, if you can watch (or listen) immediately online, press the button in the "web" column.

As some channels are exclusive to one service alone, you may need to get receive more than one service to get all the channels you want. The coverage for Freeview differs too - those channels not provided by the public service "Freeview Light" transmitters the current coverage shown thus

(54%)

, taken from Connected Nations Report 2017: Data analysis' Key: wb_sunny daytime; watch_later nighttime; account_box funded from the TV License; flags show Freeview channel limits.
Main TV standard-definiton channels
Regional content
: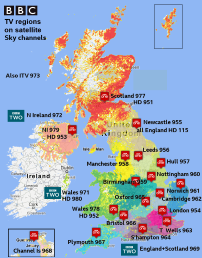 BBC nations TV network - English, Wales, Scotland and Northern Ireland - for some regional programmes. See
BBC nations and regions - overview map - interactive maps
. .
media.info
: For full details of broadcaster contacts, see the
media.info BBC Two page
.
Official site
: See the
BBC Two website
.
From Wikipedia
: It covers a wide range of subject matter, but tending towards more 'highbrow' programmes than the more mainstream and popular BBC One. Like the BBC's other domestic TV and radio channels, it is funded by the television licence, and is therefore commercial-free. It is a comparatively well funded public service network, regularly attaining a much higher audience share than most current public service networks worldwide. - en.wikipedia.org
read more about BBC Two on wikipedia
(summary by
Clipped
).
Freeview multiplex
: BBC Two is on
multiplex PSB1
in
.
About BBC Two
Free channel of the day: BBC Two

Brian Butterworth published on UK Free TV
How is the free channel paid for?
The £528.3m
BBC Two
budget is funded by the £3,596m Television Licence Fee, and represents 14.7% of all BBC spending - that's about 42p per week per person.
Is the channel live, pre-recorded, new content or repeats?
BBC Two has live presentation, but almost all programmes are pre-recorded, with the exeption of The Daily Politics and Newsnight. Almost all shows are commissioned by the BBC and most have having their first showing.
What's the channel's unique selling point?
A healthy diet of lifestyle programmes, documentaries, comedy, quiz programmes and
drama
.
The programme schedule highlights
6pm quiz, 6:30pm popular history, 10pm entertainment, 10:30pm Newsnight.
The bits to avoid
The afternoon schedule (The Weakest Link, Flog It!) is lacking the imagination of peak time programmes.
This channel carries a subtitles service for the deaf, hard of hearing and quiet environments.
Comments
Sunday, 8 April 2012

Peter: Try changing the position of the HDMI cable relative to the receiver, as sometimes poor screening allows interference from the HDMI cable to block reception of some frequencies.

KMJ,Derby's 1,811 posts

Jules: If the version of your recorder is fitted with both Freeview and analogue tuners, make sure that you do not select the analogue channel which no longer receives BBC2. Also, did you clear the channel list before doing a scan for channels? Is there a BBC2 in the 800's of the channel list? It might be worth doing a complete scan with the aerial unplugged, so that "no channels" are found, then do a scan with the aerial plugged in. This apparently solves the problem of the receiver failing to see certain channels when scanning.

KMJ,Derby's 1,811 posts
Monday, 9 April 2012

I have lost the BBC2 CHANNEL between my video and Freeview. I simply need to re SETUP the channel or Frequency for the Video.

Can anyone provide me with THE CHANNEL NUMBER and/or FREQUENCY for BBC 2 LONDON. I can receive the programme on my TV but need to fine tune the video.

Any information would be appreciated.

Robert's 1 post

Robert: BBC TWO has closed on analogue. You will not be able to receive the channel on your VCR as it has no digital tuner.

This is the perfect time to take the VCR to the recycling centre and buy a Freeview+ or Freeview+HD recorder.

Briantist's 38,907 posts
Monday, 18 June 2012
K
Kevin Watkins
1:59 PM
Leigh-on-sea

MY MUM HAS LOST BBC1 & 2 FROM HER TV WHICH HAS BUILT IN FREEVIEW - RE-TUNING BRINGS THEM BACK (PERFECT PICTURE & SOUND) BUT WHEN YOU TURN THE TELLY OFF AND ON AGAIN THEY DISAPPEAR -

Kevin Watkins's 1 post
Kevin's:
map
K's Freeview map
terrain
K's terrain plot
waves
K's frequency data
K's Freeview Detailed Coverage

Kevin Watkins: When retuned, some equipment seems to store some of the channels in temporary memory rather than in persistent storage. Do a 'first time installation', 'factory reset' or 'default setting' to ensure all existing channel information is fully cleared out, before retuning. This option may be on a 'Software Update' or 'Service' menu rather than on the tuning menu.

See TV Re-tune for guides on how to retune specific equipment.

Mike Dimmick's 2,486 posts
Tuesday, 5 February 2013

just wondering if there was a break in transmission of BBC2 from Emley Moor on mid to late evening 4 February - otherwise my recorder's on the blink!

Malcolm's 1 post
Friday, 1 March 2013

I have BBC2 via skye card but just lately the sound gets very tinny or gets almost covered by noise. Any advice would be helpful Transmitter is Heasthfield/ Thank you

Robin's 1 post
Robin's:
map
R's Freeview map
terrain
R's terrain plot
waves
R's frequency data
R's Freeview Detailed Coverage

Robin: Could you please clarify as to whether you are using a Sky box or a Freeview TV / box? as its your reference to BBC2 via a Sky card as well as mentioning Heathfield that I find confusing as there is no connection between them.

However, no matter what mode you are using "if" the receiver is being coupled into a TV via a scart lead then make sure that both scart connector plugs are firmly seated into the sockets on each device, this done by removing the plug at each end (in turn) and then reinserting it.

jb38's 7,179 posts
Select more comments
Your comment please