ITV 1 (SD)
The heart of popular culture.
Main TV standard-definiton channels
How to Watch: ITV 1 (SD)
Below is a list of all the television and radio channels that you can watch in the UK using one of the free services: DAB (for radio), Freeview, Sky No Card - Sky without a viewing card (Freesat from Sky (or fSfS)) and Freesat.. Where a channel can be watched for free, the channel number is listed below. In addition, if you can watch (or listen) immediately online, press the button in the "web" column.

As some channels are exclusive to one service alone, you may need to get receive more than one service to get all the channels you want. The coverage for Freeview differs too - those channels not provided by the public service "Freeview Light" transmitters the current coverage shown thus

(54%)

, taken from Connected Nations Report 2017: Data analysis' Key: wb_sunny daytime; watch_later nighttime; account_box funded from the TV License; flags show Freeview channel limits.
Main TV standard-definiton channels
Regional content
: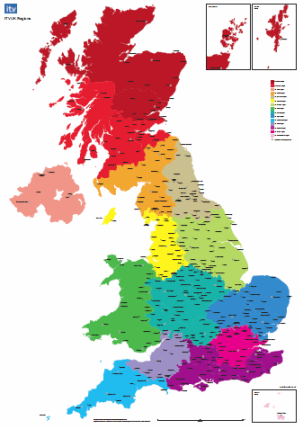 Channel 3 network for adverts and regional news. See
ITV, UTV and STV regions - overview map - interactive maps
. .
media.info
: For full details of broadcaster contacts, see the
media.info ITV 1 (SD) page
.
Official site
: See the
ITV 1 (SD) website
.
From Wikipedia
: The ITV1 brand was introduced by Carlton and Granada in 2001, alongside the regional identities of their eleven regional companies. However in line with other terrestrial channels, ITV1's audience share has fallen in the era of multi-channel television. ITV existed in a region-heavy form from its inception to the 2000s, although the switch was gradual. - en.wikipedia.org
read more about ITV 1 (SD) on wikipedia
(summary by
Clipped
).
Freeview multiplex
: ITV 1 (SD) is on
multiplex PSB2
in
.
Comments
Saturday, 15 December 2018

Hi, I'm SL68QN and have been experiencing really bad interference particularly with ITV, Channel 4, Channel 5, ITV 2, ITV3, Channel4 +1, More 4....and more
I've tried a retune. Checked all connections which are fine. I replaced my antenna and coax a few months back and it was all working fine until a couple of weeks ago. Could it be 4g interference all of a sudden or is there a known problem? Can someone please help?

Dan's 3 posts

Dan:

Using that post code you are predicted to be using Crystal Palace transmitter, see Coverage Checker - Detailed View which will be good for most of the available channels except COM7 which will be very poor and COM8 which will be variable.

During this last week there has been some engineering works at Crystal Palace resulkting in a possible weak signal, see http://www.digitaluk.co.u…rks. That may well be the cause of your problems.

You should not retune as all that will do is delete some channels that are already correctly tuned.

Best advice is to wait until the engineering work has been completed. Arqiva never say when that will be.





MikeP's 3,056 posts
Friday, 2 August 2019

Reuben France: I hope they bring back the old ITV corporate look in January 2020.

Reuben's 1 post
Monday, 9 September 2019

Recently my Humax PVR has failed to record scheduled ITV programs. Other Channels seem fine.
I'm in the Warrington WA4 area if that's relevant.

Has anyone any suggestions? I can see ITV live so presumably the channel frequency is fine or do I need to manually change the frequency and if so what is it?

Many thanks in advance

Richard's 1 post
Tuesday, 10 September 2019

Richard:

Your partial postcode doesn't indicate which transmitter you may be receiving. A full postcode is needed to give any more constructive comment. There maybe several transmitters receivable at your location and if you are tuned to the "wrong one" and so the signal may be marginal which could possibly lead to this sort of issue.

Chris.SE's 3,715 posts
Tuesday, 15 October 2019

Hi why has channel 20 drama and itv3+1 gone off our freeview tv? just the last 2 days

crosschris's 3 posts

crosschris:

Without knowing which transmitter you are receiving, a full postcode would be needed to help with that, no-one can offer any advice other than perhaps have a look at coax connector connections (unplug and re-plug them in, check for corrosion etc.), and make sure your aerial is ok and coax ok, then perhaps check your tuning and consider a reset (retune with aerial unplugged) and then plug it back in and retune again.

Chris.SE's 3,715 posts
Friday, 20 December 2019

Hi, I have 2 TVs on Freeview both receive ITV Yorkshire, I recently purchased a new TV tuned it and can only get ITV Granada, retuned numerous times but still Granada.
I live in the DN7 area of Doncaster, so believe I should be on the Emly Moor transmitter.
Also all TVs are off the same aerial.
any ideas much appreciated as Granada news not of much use to me.
Regards
TJ Tierney

Trev Tierney's 1 post
Saturday, 21 December 2019

Trev Tierney:

See the comments in the post immediately before yours.

Chris.SE's 3,715 posts
Tuesday, 24 December 2019

Trev Tierney: Are you watching the HD channel 103 which shows Granada news If you want Calendar YTV that should be on ch 3

Nigel's 1 post
Select more comments
Your comment please