ITV 1 (SD)
The heart of popular culture.
Main TV standard-definiton channels
How to Watch: ITV 1 (SD)
Below is a list of all the television and radio channels that you can watch in the UK using one of the free services: DAB (for radio), Freeview, Sky No Card - Sky without a viewing card (Freesat from Sky (or fSfS)) and Freesat.. Where a channel can be watched for free, the channel number is listed below. In addition, if you can watch (or listen) immediately online, press the button in the "web" column.

As some channels are exclusive to one service alone, you may need to get receive more than one service to get all the channels you want. The coverage for Freeview differs too - those channels not provided by the public service "Freeview Light" transmitters the current coverage shown thus

(54%)

, taken from Connected Nations Report 2017: Data analysis' Key: wb_sunny daytime; watch_later nighttime; account_box funded from the TV License; flags show Freeview channel limits.
Main TV standard-definiton channels
Regional content
: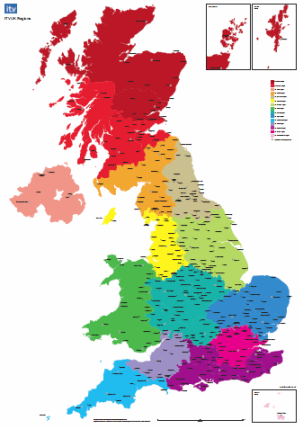 Channel 3 network for adverts and regional news. See
ITV, UTV and STV regions - overview map - interactive maps
. .
media.info
: For full details of broadcaster contacts, see the
media.info ITV 1 (SD) page
.
Official site
: See the
ITV 1 (SD) website
.
From Wikipedia
: The ITV1 brand was introduced by Carlton and Granada in 2001, alongside the regional identities of their eleven regional companies. However in line with other terrestrial channels, ITV1's audience share has fallen in the era of multi-channel television. ITV existed in a region-heavy form from its inception to the 2000s, although the switch was gradual. - en.wikipedia.org
read more about ITV 1 (SD) on wikipedia
(summary by
Clipped
).
Freeview multiplex
: ITV 1 (SD) is on
multiplex PSB2
in
.
Comments
Monday, 22 July 2013

Dawn: This usually happens because the channels affected are on the highest frequency and therefore found last during the scan. By the time it gets to them there is no more memory due to having filled it up with signals from "other" (unwanted) transmitters. The trick is usually to unplug the aerial during part of the scan so as prevent it from picking up some of these other signals.

Knowledge of your location may allow us to determine whether this may indeed be the case and suggest which portion of the scan you should unplug your aerial.

Dave Lindsay's 5,724 posts

Dave Lindsay:

My parents, who have an LA14 postcode and presumably use Winter Hill, are unable to watch ITV due to picture break-up. I have retuned the set but there is no improvement; moreover, their set is tuning to ITV Wales with the ITV North West signal appearing on channel 800. This is also unuasable; their set is fed direct from a newish aerial with no other equipment in the line.

Paul Smedley's 2 posts

Paul Smedley: If ITV on logicial channel number (LCN) 003 is the wrong region (and therefore the wrong transmitter) then other services carried on the same multiplex (same signal) which include Channel 4 and Channel 5 may also be wrong. They may also have S4C on LCN4 and Channel 4 on LCN8 because it is tuned to a Welsh transmitter.

Identify what is being picked up. There may be another "ITV North West" in the 800s.

Bring up the signal strength screen on LCN800. It should give you the UHF channel number it is tuned to.

Barrow Town Hall broadcasts vertically on C41. Lancaster, which may be available, also broadcasts vertically but on C24. Winter Hill's ITV (PSB2 multiplex) is on C59 and therefore will be found after these two. I imagine that ITV Wales at that location is likely to be picked up from Moel-y-Parc which is on C39.

You may be able to wipe what's stored. This could perhaps be achieved by running the automatic tuning scan through with the aerial unplugged. Then if manual tuning is available, tune in the five standard definition channels of Winter Hill:

PSB1 | BBC One = C50
PSB2 | ITV = C59
COM4 | ITV3 = C58
COM5 | Pick TV = C49
COM6 | Film4 = C55

If the set has a HD tuner in-built then PSB3 carries those services and is on C54. It uses DVB-T2 signal mode rather than DVB-T and this may need specifying on the manual tune screen.

Or you may be able to have the aerial lead unplugged for unwanted signals. Try starting it off unplugged and plugging in at 50%. This can be a trial and error procedure so if it doesn't achieve success first time (e.g. you are missing some channels) then post back and I will make a suggestion of what I would do.

(Obviously the options availavle may depend on the design of the set.).

Dave Lindsay's 5,724 posts

Dave Lindsay

Many thanks for the advice, Dave; I'll do as you suggest when I next visit my parents.

Regards Paul.

Paul Smedley's 2 posts
Thursday, 26 December 2013

I am trying to register with ITV player, so that I can see Downton Abbey (25 Dec) and it tells me that my postcode is invalid - can you suggest what I should do as I'd really like to see the programme.

Carol Gunner's 1 post

Carol Gunner:
I take it that you live in a new development? The Post Office are often slow to add new postcodes into their database that many organisations rely upon to validate post codes. Sadly, that doesn't always work properly because of the admin delays.
I suggest you contact ITV directly and seek their assistance in registering for ITV Player.

MikeP's 3,056 posts
Sunday, 30 November 2014

For the past week ITV, Ch4 and Ch5 have not been available, I have rescanned and they do even appear on the guide anymore. I have never had this problem before so it is a bit of a mystery. I live in Kenilworth and point the aerial at the Sutton Coldfield transmitter. Is there any obvious reason for this problem?

Regards.

Brian Hartshorn's 1 post

Brian Hartshorn: If you put your postcode into the site (although I'm at a loss to tell you where at the moment), you can check the state of the transmitter, distance, etc. However, if your subddenly missing muxes, and you've retuned, then possibly you've a problem with your aerial - perhaps a loose connection, frayed, etc.

MikeB's 2,579 posts
Saturday, 14 February 2015

Mike, Last week was getting very bad reception through BT hub,picture breaking up on BT Vision it suggested pressing Help,when I did this I was getting ITV Wales in stead of Granada, ITV wales gives me all south Wales info instead of local North west News.How do I fix this please
Ron ParkerRon Parke

Ron Parker's 1 post
Wednesday, 30 September 2015

Why can I receive ITV4' as in TV Times, on Channel 24 on my HDD Recorder BUT only on Channel 899 on my TV set ?

Derek Remington's 1 post
Select more comments
Your comment please