ITV 1 (SD)
The heart of popular culture.
Main TV standard-definiton channels
How to Watch: ITV 1 (SD)
Below is a list of all the television and radio channels that you can watch in the UK using one of the free services: DAB (for radio), Freeview, Sky No Card - Sky without a viewing card (Freesat from Sky (or fSfS)) and Freesat.. Where a channel can be watched for free, the channel number is listed below. In addition, if you can watch (or listen) immediately online, press the button in the "web" column.

As some channels are exclusive to one service alone, you may need to get receive more than one service to get all the channels you want. The coverage for Freeview differs too - those channels not provided by the public service "Freeview Light" transmitters the current coverage shown thus

(54%)

, taken from Connected Nations Report 2017: Data analysis' Key: wb_sunny daytime; watch_later nighttime; account_box funded from the TV License; flags show Freeview channel limits.
Main TV standard-definiton channels
Regional content
: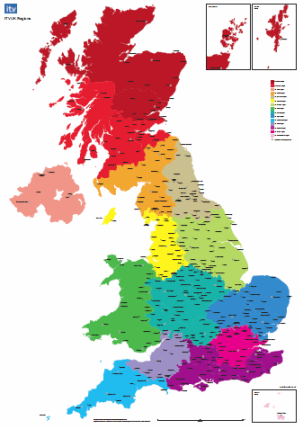 Channel 3 network for adverts and regional news. See
ITV, UTV and STV regions - overview map - interactive maps
. .
media.info
: For full details of broadcaster contacts, see the
media.info ITV 1 (SD) page
.
Official site
: See the
ITV 1 (SD) website
.
From Wikipedia
: The ITV1 brand was introduced by Carlton and Granada in 2001, alongside the regional identities of their eleven regional companies. However in line with other terrestrial channels, ITV1's audience share has fallen in the era of multi-channel television. ITV existed in a region-heavy form from its inception to the 2000s, although the switch was gradual. - en.wikipedia.org
read more about ITV 1 (SD) on wikipedia
(summary by
Clipped
).
Freeview multiplex
: ITV 1 (SD) is on
multiplex PSB2
in
.
Comments
Wednesday, 11 April 2012

Simon Darlington: It is perhaps worth pointing out that King's Lynn is not a full Freeview transmitter. It only carries Public Service channels which are BBC, ITV1, ITV2, Channel 4, E4, More 4, Channel 5, HD and a few others.

If you would like all channels, then you will need either a second aerial (and perhaps third aerial, depending on how it's done) *or* if possible, a single aerial on Tacolneston which provides Anglia programming.

This is the same as King's Lynn as King's Lynn is a relay of Tacolneston; that is it receives its signal from Tacolneston and re-transmits it.

Dave Lindsay's 5,724 posts
Friday, 15 June 2012

since buying a new Hitchachi tv for my bedroom, including freeview, I have lost ITV1 - it tunes into ITV3 for the number 3 channel on the remote.
Tried manually tuning and re set channels again but still no ITV1.
Have proper aerial connection and my other set downstairs works fine on freeview.
Any suggestions and what is the frequency for ITV1 from Dover transmitter?

Veronica Wells's 1 post

Veronica Wells: If you are using a set-top aerial in your bedroom, then by their nature they can be hit and miss.

Take the set downstairs so as to connect it to the fixed aerial for the purpose of tuning it. Then, having tuned it, take it back upstairs and move the aerial to best effect.

If having taken it downstairs, and it still puts ITV3 on logical channel number (LCN) 3, then this sometimes happens where a receiver is not set for UK. Even if ITV1 is not picked up, ITV3 should still assume LCN 10 if the country setting is correct.

For the frequency/UHF channel number for ITV1, whilst on that channel, bring up the signal strength screen on the downstairs TV to see what it is tuned to.

Dave Lindsay's 5,724 posts
Thursday, 28 June 2012

I should be receiving my signals from the Bluebell Hill transmitter. However, after retune on 27th June, I now receive BBC1 for London and Anglia regional news for ITV. I have made several attempts to get back the stations that I have lost but been unsuccessful. Please will you advise how I can get back the regional programmes that I have lost.
Thank You

IJB97's 1 post

IJB97: Unplug the aerial for the first 30% of the automatic tuning scan to miss out signals from Crystal Palace.

Dave Lindsay's 5,724 posts
Sunday, 18 November 2012

ITV1 isw to drop the 1 and become ITV.
See http://www.radiotimes.com….jpg ?imageUrl=/uploads/images/original/20528.jpg&width=580&height=350&quality=85&mode=crop">http://www.radiotimes.com…crop

ITV Logo
http://www.radiotimes.com….jpg

Mark A.'s 374 posts
Sunday, 6 January 2013

Digital text is ending on ITV and Channel 4 on 7/01/2013.
See Youtube youtu.be/AxwQY_r59TQ
or text page 362

Mark Agius's 374 posts
Tuesday, 21 May 2013

My ITV3, QVC and various channels have disappeared. I live in Salisbury. I have retuned all my tvs but they disappear again a few days later. There is no message asking me to retune they just disappear. What is causing this problem? Most of my channels remain the same - I can access them through my BT vision box so assume it is an aerial reception problem. All of my sets are on separate outside aerials.

Pauline's 1 post

Pauline: It might be worth noting that Digital UK have given notice that TV transmissions from Salisbury are liable to interuption this week as from 21st May 2013. If your tuners do an automatic re-tune during the night, or when a change in signal is detected this might explain why the channels disappear, or maybe become tuned to an out of area signal which drops below the threshold for reception later in the day. The fact that retuning brings them back shows that you are still able to receive them on your aerial. The aerial might need attention if the signal strength and/or quality on the SDN mux (C50) is seen to be poorer than on the other muxes, otherwise your existing aerials should be ok for the current frequency allocation.

KMJ,Derby's 1,811 posts
Monday, 22 July 2013

Hello
Each day i have to re tune my freeview channels because ITV is missing. Once I do the install its there, but when i turn the TV off it disappears again. Is there a solution to this issue.

Dawn's 1 post
Select more comments
Your comment please