ITV 1 HD
ITV HD has arrived, offering everything you know and love about ITV1 but in even shinier, brighter high definition. So now you can get even closer to all your favourite shows, whether it's The X Factor, Coronation Street or Ray Mears' Wild Britain. High Definition TV offers the very latest in picture quality with sharp images, rich colours and amazing detail. It's the closest you'll get to the action, without being there.
Main TV standard-definiton channels
How to Watch: ITV 1 HD
Below is a list of all the television and radio channels that you can watch in the UK using one of the free services: DAB (for radio), Freeview, Sky No Card - Sky without a viewing card (Freesat from Sky (or fSfS)) and Freesat.. Where a channel can be watched for free, the channel number is listed below. In addition, if you can watch (or listen) immediately online, press the button in the "web" column.

As some channels are exclusive to one service alone, you may need to get receive more than one service to get all the channels you want. The coverage for Freeview differs too - those channels not provided by the public service "Freeview Light" transmitters the current coverage shown thus

(54%)

, taken from Connected Nations Report 2017: Data analysis' Key: wb_sunny daytime; watch_later nighttime; account_box funded from the TV License; flags show Freeview channel limits.
High definition channels
Regional content
: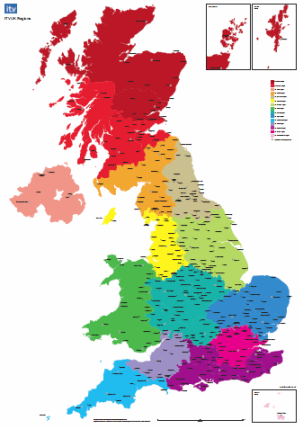 Channel 3 network for adverts and regional news. See
ITV, UTV and STV regions - overview map - interactive maps
. .
media.info
: For full details of broadcaster contacts, see the
media.info ITV 1 HD page
.
Official site
: See the
ITV 1 HD website
.
From Wikipedia
: From 2 April 2010, ITV1 HD became a standard channel available on all digital platforms. It was available on Telewest channel 118 and Freeview channel 503 in homes which were involved in the HD trial. The original ITV HD stopped broadcasting on the 30 November 2006. - en.wikipedia.org
read more about ITV 1 HD on wikipedia
(summary by
Clipped
).
Freeview multiplex
: ITV 1 HD is on
multiplex PSB3
in
.
This channel carries a subtitles service for the deaf, hard of hearing and quiet environments.
Comments
Sunday, 19 February 2012

Dear Briantist,please help me ! I have a Panasonic HD TV connected to a Humax Freesat HD receiver but just recently ( in the last week )I have noticed that as from the early evenings the BBC HD channels have disappeared showing ' BAD SIGNAL ' on the screen. I'm communicating with you from the Algarve in Portugal; is it possible that the BBC deliberately reduce their HD signal strength during the evenings when they have maximum viewer numbers ?

Technophobe's 3 posts
Sunday, 26 February 2012

Technophobe: There is no change to the power output of the transmitter during the day or night.

However, when you already have a weak signal (as you are outside the "footprint") the effect of sun on the atmosphere can effect satellite reception.

You could use a larger dish to resolve this problem, but first I would use a satellite signal meter to ensure the dish is well aligned to the satellite.

Briantist's 38,908 posts
Friday, 2 March 2012

Briantist: thanks for your response.
I now understand that the evening loss of the BBC HD channels was wrapped up in the ( then ) pending switch of satellites and now that the switch over has been achieved my HD channels have been regained

Technophobe

Technophobe's 3 posts
Friday, 16 March 2012
D
Dennis
8:02 PM
Petersfield

Midhurst transmitter.
On ITV1 I get South local news.
On ITV1HD I get South East local news.
Is it possible to get South news on ITV1HD?

Dennis's 1 post
Dennis's:
map
D's Freeview map
terrain
D's terrain plot
waves
D's frequency data
D's Freeview Detailed Coverage
Saturday, 17 March 2012

Dennis: No because there are only a handful of ITV1HD regions (four or five, I believe).

Dave Lindsay's 5,724 posts
Tuesday, 19 June 2012

have just bought samsung smt-s7800 freesat box, can't seem to get itv hd channel. Ilive on west coast of scotland, any suggestions on how to recieve this channel

Thanks Jim

jim mccormack's 1 post

jim mccormack: The West coast of Scotland is a very large area and a more precise location is required, a post code or one from nearby being suffice, as the signal levels expected at your location can then be assessed as well as the transmitter that serves the area.

jb38's 7,179 posts
Wednesday, 20 June 2012

jim mccormack: Please ignore my request for info on location as I failed to notice that the model referred to is a Freesat device, however regarding your ITV HD problem, does the ITV HD channel number 119 show on the EPG list but its just that you cannot receive it even although you have the box coupled into an HD Ready TV via an HDMI lead?

jb38's 7,179 posts

Jim - I think jb38 has picked your post up incorrectly as your receiver is a "Freesat" satellite box, rather than a "Freeview" receiver where it takes the digital transmission from a transmitter. Too much "POP" I thing after that England win!!

However he is correct in that the post code will determine whether the channel list, channel guide gives you eg:- ITV Granada HD in the Border ITV region - Dumfries and Galloway area of West Scotland or if you are from Ayrshire upwards STV.

To get ITV HD if your in an STV area you will need to put in either a Dumfries & Galloway post code or one from an English ITV region.


Les Nicol's 991 posts

P>S> Living in the South West of Scotland, I can get STV HD (basically the same program line up as ITV HD), but the parameters for this have to be added manually, o my Humax PVR receiver.

Les Nicol's 991 posts
Select more comments
Your comment please