ITV 1 HD
ITV HD has arrived, offering everything you know and love about ITV1 but in even shinier, brighter high definition. So now you can get even closer to all your favourite shows, whether it's The X Factor, Coronation Street or Ray Mears' Wild Britain. High Definition TV offers the very latest in picture quality with sharp images, rich colours and amazing detail. It's the closest you'll get to the action, without being there.
Main TV standard-definiton channels
How to Watch: ITV 1 HD
Below is a list of all the television and radio channels that you can watch in the UK using one of the free services: DAB (for radio), Freeview, Sky No Card - Sky without a viewing card (Freesat from Sky (or fSfS)) and Freesat.. Where a channel can be watched for free, the channel number is listed below. In addition, if you can watch (or listen) immediately online, press the button in the "web" column.

As some channels are exclusive to one service alone, you may need to get receive more than one service to get all the channels you want. The coverage for Freeview differs too - those channels not provided by the public service "Freeview Light" transmitters the current coverage shown thus

(54%)

, taken from Connected Nations Report 2017: Data analysis' Key: wb_sunny daytime; watch_later nighttime; account_box funded from the TV License; flags show Freeview channel limits.
High definition channels
Regional content
: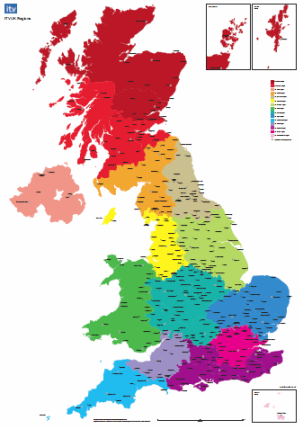 Channel 3 network for adverts and regional news. See
ITV, UTV and STV regions - overview map - interactive maps
. .
media.info
: For full details of broadcaster contacts, see the
media.info ITV 1 HD page
.
Official site
: See the
ITV 1 HD website
.
From Wikipedia
: From 2 April 2010, ITV1 HD became a standard channel available on all digital platforms. It was available on Telewest channel 118 and Freeview channel 503 in homes which were involved in the HD trial. The original ITV HD stopped broadcasting on the 30 November 2006. - en.wikipedia.org
read more about ITV 1 HD on wikipedia
(summary by
Clipped
).
Freeview multiplex
: ITV 1 HD is on
multiplex PSB3
in
.
This channel carries a subtitles service for the deaf, hard of hearing and quiet environments.
Comments
Monday, 17 December 2012
P
Philip Lane
10:44 PM
Burgess Hill

Can someone please help? Having installed a new TV during the Olympics and putting up with the awful pictures and sound I thought by now all would be good!! ITV1 HD and CHANNEL 4 HD, both loose sound for 1 second on and off at times throughout the transmissions. Both BBC HDs have been perfect for a while. Question 1, what on earth is going on? 2 how can I fix it?I am between Heathfield and Midhurst transmitters.

Philip Lane's 2 posts
Philip's:
map
P's Freeview map
terrain
P's terrain plot
waves
P's frequency data
P's Freeview Detailed Coverage

Philip Lane: I would check that it is tuned to the correct transmitter.

Answer to question 2 depends on what is the issue!

Bring up the signal strength screen and it should hopefully tell you which UHF channel it is tuned to. HD from Midhurst is on C58 and Heathfield's is on C47.

Dave Lindsay's 5,724 posts
Tuesday, 18 December 2012
P
Philip Lane
12:01 PM
Burgess Hill

Philip Lane: Thank you Dave, I have checked today and yes I am tuned into Midhurst C58. The sound on all HD channels is still breaking up at times for 1 second including BBC2 this morning?
I am certainly puzzled?

Philip Lane's 2 posts
Philip's:
map
P's Freeview map
terrain
P's terrain plot
waves
P's frequency data
P's Freeview Detailed Coverage
Wednesday, 19 December 2012

Philip Lane: It's worth checking if there are any firmware updates for your TV. The encoders for Freeview HD can switch between interlaced and progressive modes for each Group of Pictures (GoP), depending on how well that GoP compresses in each mode. Some TVs don't cope well with a change of mode, resetting all the hardware, causing a break in audio as well as video. (They expected mode changes to only occur when switching channels or sources.)

Because the mode switches depend on the content transmitted, they will occur apparently at random, even within a programme, and different channels will be affected at different times.

Mike Dimmick's 2,486 posts
Wednesday, 26 March 2014

Two more ITV HD regional variants were added to Freesat today.
Identified by the local news they carry, they are ITV HD Central and ITV HD Meridian.
These, together with ITV HD Granada and ITV HD London, bring the total to four.

js's 819 posts
Sunday, 14 September 2014

Why does moel y parc transmitter in north east wales transmit itv hd central west and not itv hd wales?

Andy's 1 post

Andy: That's because there isn't an ITV Wales HD to broadcast, so you get Central West.

Briantist's 38,899 posts
Tuesday, 9 December 2014

i live in Trowbridge and i get channel 103 ITV HD, but when my local news comes on ITV West is not there and i have to go to channel 3 to see local news, but its only in SD, can you confirm to me that this is correct, and there is no local itv west news in HD, thx

chris's 1 post

chris: That is correct. There is only a few number of ITV HD regions.

Dave Lindsay's 5,724 posts

chris:

I also live in Trowbridge and it is correct that the ITV HD service does not carry the local (HTV West) news. That's because the HD services are 'general' and carry the same programming as everywhere else in the UK. Only the SD services cater for the local news. I gather it's all abouit how muchg it costs to transmit local news in HD and to control the networking so that the correct local news gets shown.

MikeP's 3,056 posts
Select more comments
Your comment please