Freeview reception - all about aerials

Brian Butterworth published on UK Free TV
Updated 8th January 2014.


Your ability of receive all the Freeview transmissions depends on the suitability of aerial
the design style,
the "group", and
its physical location.
Standard type - Yagi aerial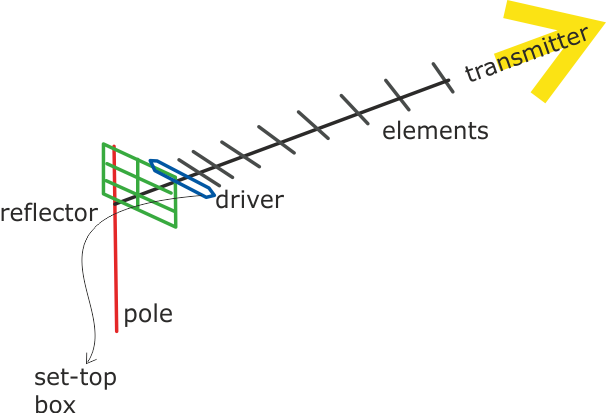 The
standard
type of TV aerial is known as the Yagi aerial. It is mounted on a pole, and consists of a rod with a reflector (shown green) at the back and many spiky elements (in grey) at the front. The connecting
cable
connects to the element nearest the reflector, known as the driver (shown in blue).
These Yagi aerials are directional and so
pick
up signals best from a
transmitter
that the rod points towards. The more elements the aerial has, the better it picks up a
signal
and becomes more directional.
A standard-type aerial is all that is required for
digital
TV
reception
in most places. These antennae have between 10 and 18 elements and a single reflector. These are recommended for new installations for good digital television reception, but will more often than not function perfectly in good reception areas.
Typically these aerials are designed to receive only some transmission frequencies - see "groups" below.
High Gain aerials

These aerials are designed for poor digital reception areas, and have two reflectors. For maximum signal strength, some digital high
gain
aerials have up to 100 elements. Since the
switchover
to digital-only transmissions back in October 2012, most UK households now have good
quality
digital TV signals.
A more expensive aerial is only required where the signal strength is low, but can often provide the whole Freeview reception where it might otherwise be impossible.
The CAI (that represents aerial installers) has four standards for digital TV aerials. The highest standard "1" is for homes on the fringes of coverage areas, intermediate standard "2" is suitable for use within the coverage area; minimum standard "3" is for good coverage conditions.
These aerials can be either
wideband
, or receive only selected frequencies - see "groups" below.
Grid

You may haved used a 'Grid aerial' for
analogue
reception, but as they are generally unsuitable for Freeview reception, they have now generally been replaced by the Yagi type. However in some places a Grid aerial installation may work for Freeview: otherwise replace with a standard Yagi aerial.
Indoor
Indoor aerials
are generally not suitable for Freeview reception. In areas of good signal strength it is often possible to receive some transmissions. Even where an aerial works, people often find that may get interruptions to their viewing (or recording).
Loft mounted
Loft
mounted arrivals are not generally recommended for Freeview reception, as the
roof
tiles and plumbing will degrade the signal. Some compensation for this loss of signal can be made by using
satellite
-grade cable to connect the set top box to the aerial.
Positioning
The best position for a TV aerial is mounted outdoors, as high from the ground as possible, pointing directly at the transmitter. The signal can be blocked by hills and tall buildings. It should be positioned away from any other aerials.
Horizontal or vertical?
The transmitter will either use vertical
mode
which requires the elements of your aerial to be up-down, or horizontal mode which requires them to be level with the ground.
Groups
Both analogue and digital television is transmitted the same group of transmission frequencies (known as
channel
21 through to 60). A coloured marking on the aerial shows the group.

To create the best possible analogue
picture
, TV transmissions from adjacent transmitters have been designated to several different groups of frequencies. By using an aerial that receives only the
channels
in the correct group, the analogue picture can be kept free from
interference
.
To receive Freeview transmissions from the same transmitter it has been sometimes necessary to use frequencies that are not part of the transmitter's normal group. When this has occurred, the aerial will need to be replaced with a "wideband" aerial (also known as group W) - one that covers every group.
As
Ofcom
is planning to move the TV frequencies again - perhaps as soon as 2018 - it may be wise to use a wideband aerial if you can to ensure you can keep viewing Freeview for many years to come.
Comments
Saturday, 14 December 2013

Just a note regarding Youview box and signal strength/quality: the facility is in fact available in the YouView software options after all! I hadn't been able to see it for looking.

It's fiddly and tedious to navigate as it only gives the option to check the currently viewed channel reception str/qual (although this possibly might be all that's needed.) To view another channel's reception you have to switch back to normal tv viewing, choose another tv channel then go through the "Y" menu options again.

At least it's there, I suppose. I still hope the powers that be at Youview, opt to get manual tuning facility sorted out soon. This would surely make life a lot easier.

Merry Christmas all....
Frank

Frrank Finely's 10 posts
Sunday, 29 December 2013

I'm surprised the log-periodic aerial doesn't get a mention in the article at the top of this. It's gain may not be the highest, but it's genuinely wideband without peaks, troughs or curves and it presents a greatly reduced target for high winds and jackdaw conventions. Also my installer finds them pretty good directionality-wise since we get good signals from Wrekin and Winter Hill and a massive one from Moel-y-Parc which if one's in England one can, with expert effort, avoid. Log-periodics are gaining ground hereabouts of recent times.

Brian's 6 posts

hi, we use talley relay i'm in talley, sa19 postcode. the service went off for a day a day back, then back on, two of my tv's get all channels. but now, the third tv is missing all bbc tv and dab radio, but all the other freeview channels are there.

we tried retuning the problem tv.. normally our signal is fine, no probs.

presumably the repair at the relay might have dropped the bbc channels output levels, how do i get a msg to the talley relay engineers?

i have double checked aerial and splitter box, it makes no difference which of the 8 outputs on the booster box the tv with lost channels is plugged into. I'm engineering by work,

main thing is, can i get a msg to get talley freeview relay checked? thanks

paul's 1 post

paul: If you put your postcode into the website, you get a link to R + T - which will tell you the status.

As it is, it looks like its had enginnering works for a while - Talley (Carmarthenshire, Wales) Freeview Light transmitter | ukfree.tv - 11 years of independent, free digital TV advice

However, if two of your TV's are fine, but the third has a problem, check that its tuned to the same transmitter as the other two, or make sure that there isn't a problem with the feed to it.

MikeB's 2,579 posts
Tuesday, 7 January 2014

Hello Brian.
Why do you say that Grid aerials "are generally unsuitable for digital" ?

Justin Smith's 41 posts

Briantist
I recommend that you rewrite the main part of this page as any UHF aerial, of the correct group, is adequate for either digital or analogue TV reception. There is no difference in the reception of a signal carrying a modulation of digital multiplexes and the reception of an analogue service. That some have been trying to 'sell' aerials as being 'digital' shows how marketing people will stop at nothing to confuse the public and make more money. The CIA do not differentiate, neither do the BBC. Several of the correspondents on these pages also point out that there is no such thing as a 'digital' aerial.
I suspect that a grid array aerial will be as effective, in the right circumstances, as a yagi, a modified yagi or a log periodic.

MikeP's 3,056 posts

MikeP: You're totally right.

I did write this in December 2005, where at the time there was a lot of the country needing "high gain" aerials for digital reception.

Not because the digital signals are in any way special, but because the signals were so very weak.

I must have posted "there isn't such a thing as a digital aerial" a million times.

Briantist's 38,899 posts
Wednesday, 8 January 2014

It was just the comment about Grid aerials I was questioning Brian. Where did that come from ? Remember a Grid aerial isn`t actually low gain, it`s just not really high gain either !

Wideband gain curves (including a Grid) :
ATV Stock Aerial Tests

Justin Smith's 41 posts

Justin Smith: I seem the recall that, at the time of writing, Grid aerials were generally not very well installed: low down and not not located optimally.

The very low power digital signals, at the time, usually required the very best positioning and to be "pointed" with a good physical line-of-sight to the transmitter.

Back then the set-top boxes were less sensitive too.

As I recall, there was a "residual" hatred of "rooftop TV aerials in some areas - even actual legal bans" and Grids had been installed because they "looked nicer".

Briantist's 38,899 posts
Saturday, 11 January 2014

Hello Brian.
I realised when I had a quick look at my past posts that I asked this same question before, sorry I`d forgotten ! I do think you should remove the line unsuitable for Digital though, you do still see a few Grids up and we don`t want people changing them unnecessarily do we ?

Justin Smith's 41 posts
Select more comments
Your comment please