Freeview reception - all about aerials

Brian Butterworth published on UK Free TV
Updated 8th January 2014.


Your ability of receive all the Freeview transmissions depends on the suitability of aerial
the design style,
the "group", and
its physical location.
Standard type - Yagi aerial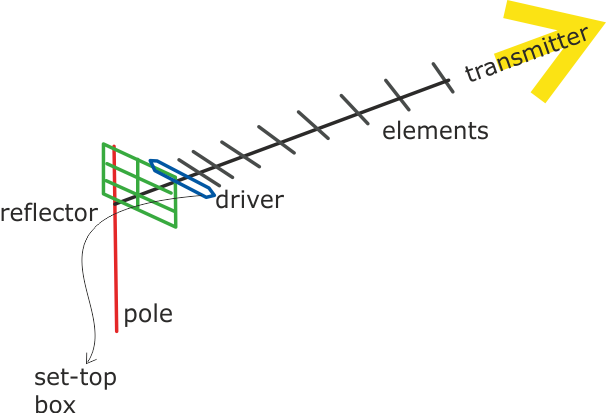 The
standard
type of TV aerial is known as the Yagi aerial. It is mounted on a pole, and consists of a rod with a reflector (shown green) at the back and many spiky elements (in grey) at the front. The connecting
cable
connects to the element nearest the reflector, known as the driver (shown in blue).
These Yagi aerials are directional and so pick up signals best from a
transmitter
that the rod points towards. The more elements the aerial has, the better it picks up a
signal
and becomes more directional.
A standard-type aerial is all that is required for
digital
TV
reception
in most places. These antennae have between 10 and 18 elements and a single reflector. These are recommended for new installations for good digital television reception, but will more often than not function perfectly in good reception areas.
Typically these aerials are designed to receive only some transmission frequencies - see "groups" below.
High Gain aerials

These aerials are designed for poor digital reception areas, and have two reflectors. For maximum signal strength, some digital high
gain
aerials have up to 100 elements. Since the
switchover
to digital-only transmissions back in October 2012, most UK households now have good
quality
digital TV signals.
A more expensive aerial is only required where the signal strength is low, but can often provide the whole Freeview reception where it might otherwise be impossible.
The CAI (that represents aerial installers) has four standards for digital TV aerials. The highest standard "1" is for homes on the fringes of coverage areas, intermediate standard "2" is suitable for use within the coverage area; minimum standard "3" is for good coverage conditions.
These aerials can be either
wideband
, or receive only selected frequencies - see "groups" below.
Grid

You may haved used a 'Grid aerial' for
analogue
reception, but as they are generally unsuitable for Freeview reception, they have now generally been replaced by the Yagi type. However in some places a Grid aerial installation may work for Freeview: otherwise replace with a standard Yagi aerial.
Indoor
Indoor aerials
are generally not suitable for Freeview reception. In areas of good signal strength it is often possible to receive some transmissions. Even where an aerial works, people often find that may get interruptions to their viewing (or recording).
Loft mounted
Loft
mounted arrivals are not generally recommended for Freeview reception, as the
roof
tiles and plumbing will degrade the signal. Some compensation for this loss of signal can be made by using
satellite
-grade cable to connect the set top box to the aerial.
Positioning
The best position for a TV aerial is mounted outdoors, as high from the ground as possible, pointing directly at the transmitter. The signal can be blocked by hills and tall buildings. It should be positioned away from any other aerials.
Horizontal or vertical?
The transmitter will either use vertical
mode
which requires the elements of your aerial to be up-down, or horizontal mode which requires them to be level with the ground.
Groups
Both analogue and digital television is transmitted the same group of transmission frequencies (known as
channel
21 through to 60). A coloured marking on the aerial shows the group.

To create the best possible analogue
picture
, TV transmissions from adjacent transmitters have been designated to several different groups of frequencies. By using an aerial that receives only the
channels
in the correct group, the analogue picture can be kept free from
interference
.
To receive Freeview transmissions from the same transmitter it has been sometimes necessary to use frequencies that are not part of the transmitter's normal group. When this has occurred, the aerial will need to be replaced with a "wideband" aerial (also known as group W) - one that covers every group.
As
Ofcom
is planning to move the TV frequencies again - perhaps as soon as 2018 - it may be wise to use a wideband aerial if you can to ensure you can keep viewing Freeview for many years to come.
Comments
Tuesday, 12 November 2013

Frank: Heathfield (and therefore Newhaven which rebroadcasts it) carries BBC South East and ITV Meridian (East). Rowridge carries BBC South and ITV Meridian (Southampton). Whitehawk's regions are a hybrid of Rowridge and Heathfield. Its BBC is South East (as Heathfield) and ITV is Meridian (Southampton) (as Rowridge).

For information and ideas on aerials for Rowridge, see:

Rowridge Transmitter

Your high gain wideband yagi aerial isn't so "high gain" on Group A channels (see the above link). Thus, if you need a high gain aerial for Rowridge, a Group A aerial is best.

Also, the higher the "gain" of the aerial, the narrower the acceptance angle. Thus, if you haven't got line-of-sight you have no "beam" which to aim at and are relying on the signal bending at the brow over which you receive.

Use manual tuning so as to get the channels from the transmitters you want rather than what the TV "decides" to give you.

The simplest permutation is to use a single aerial pointing somewhere between Newhaven and Whitehawk, or perhaps nearer the latter as its signals aren't as good. This would require no diplexer. This would allow viewing of both Meridian micro-regions and BBC South East. If you want BBC South as well then you would have to look at installing a Rowridge aerial as well.

Dave Lindsay's 5,724 posts

Frank:
There is no such thing as a 'digital' aerial. All UHF aerials are designed to receive all signals within bands 4 and/or 5 but are tailored to better suit certain sections of the frequency bands. A wideband aerial has poorer reception in the lower frequencies, so for Rowridge you would be best using a Group A aerial, but be careful about reception angle as mentioned above (the more 'bars' across the boom the narrower the angle and more difficult to aim at the transmitter - especially if it is beyond the horizon!).

MikeP's 3,056 posts
Wednesday, 13 November 2013

Many thanks Dave Lindsay and MikeP
I suspect the old yagi aerial I'm currently using (similar to the ukfree.tv diagram top of this page) is from the analogue era - but is this likely to provide "high gain" and provide wideband digital reception? Given that it's currently loft-mounted and still getting good reception of the Newhaven relay channels, I assume it's not doing too badly. I'm still sceptical about my "weak" channels coming from Rowridge, especially as the aerial is pointing as per Dave Lindsay's suggestion i.e. between Newhaven and Whitehawk. The ukfree.tv coverage map for Whitehawk shows I'm just inside the zone for its coverage, trouble is, unless the aerial goes high outside its loft-mounted aim is just obstructed by a chimney stack, which I know can't be good. I will try out all the helpful suggestions and advice, I feel sure things will be better once I get the aerial outside. Thanks everyone for your help!

Frank's 10 posts

Frank: A wideband aerial isn't necessarily required - it depends on what UHF channels (frequencies) you are looking to receive, this dependent on transmitter(s).

Usually, the PSB channels of transmitters are within the same aerial group as the former four-channel analogue. This is the case with Newhaven whose channels have always been in Group B (yellow tip). See:

Aerials, TV Aerial and Digital Aerial

Whitehawk's are Group C/D although C48 (COM6) is at the top end of Group B (there is an overlap).

Don't read too much into the coverage maps. Being outside of the green area does not mean a signal won't be received. The map shows areas where the signal level (strength) is calculated as being at or above a particular level at a particular distance above ground. Thus, as the ground drops away the signal level required to "light" the area green is further above the ground.

The channels from the three transmitters - Newhaven, Whitehawk and Rowridge - are as follows:

21 Rowridge PSB3
22 Rowridge COM5
24 Rowridge PSB1
25 Rowridge COM4
27 Rowridge PSB2
28 Rowridge COM6
40 Newhaven PSB3
43 Newhaven PSB2
48 Whitehawk COM6
50 Newhaven PSB1
51 Whitehawk PSB3
53 Whitehawk PSB2
56 Whitehawk COM5
57 Whitehawk COM4
60 Whitehawk PSB1

As you can see, the channels of Newhaven and Whitehawk span Group E (which is Group B and Group C/D combined).

Multiplexes are:

PSB1 - BBC standard definition
PSB2 - ITV, Channel 4, Channel 5 etc
PSB3 - HD services
COM4 - ITV3, Quest etc
COM5 - Pick TV etc
COM6 - 4Music etc

For a full list of services by multiplex, see:

DTG :: DTT Services by Multiplex

I suggest that you try resiting your aerial outside, pointing in the direction of Newhaven and Whitehawk. Then try and tune in the three PSB channels of the former and the COM channels of the latter.

If you are using manual tuning then having entered the UHF channel number wait and see if a reading is given as to the strength and quality on that channel (i.e. don't press the button to scan immediately).

Dave Lindsay's 5,724 posts
Thursday, 14 November 2013

Dave: Thanks very much for the detailed info.

Unfortunately, I think I'm partially sunk with manual tuning, I can do this on our TV we have but not, with our new "youview" box which only seems to have an auto facility for tuning. I'm hoping youview will add a software update for this in the near future. There's an active thread on this at:


Manual Tuning


* Would the ukfree.tv community like to help throw some weight at this? Thanks in advance if any of you do.

Dave, once I've got the aerial outside (I'm thinking a new log36 looks a good option from the guys at Sheffield as my old yagi looks too frail for the job) * I'd welcome your comments about the suitability for my circumstances before I commit.

I will use the info you've kindly supplied to at least manually retune the TV, which will at least give me the option of watching, if not recording for the time being and would provide some guidance as to what channels the youview box should be able to get if it ever allows a manual retune (if needed in my instance.) I don't know if this would require youview to alter the hardware - in which case lots of current youviewers are sunk - or just the software - which should be relatively straightforward.)

Thanks Dave.


Frank's 10 posts
Friday, 15 November 2013

Frank: I wouldn't worry about the YouView not having manual tuning. The TV is probably more useful to you fitting your aerial as it has manual tuning.

With the manual tuning screen you can select the UHF channel you want and then move your aerial until you get a good signal, as indicated by the on-screen signal meter. With automatic tuning you can't do this and you can only ever tune in something that is there and this requires the aerial to be in position.

Once you have the aerial fitted you can see what the automatic tuning on the YouView box gives you. It may give you what you want or you might have to unplug the aerial for part of the scan to get it tuned as you want it.

For example, if it picks up and stores Rowridge under the proper logical channel numbers (that is *not* in your 800s) then this can be avoided by unplugging the aerial for the first portion of the scan where Rowridge's channels are broadcast.

Automatic tuning works fine in the lab where a test subject is provided with signals from one transmitter, but in the real world there are always situations with overlapping transmitters.

The "Log 36" is a Vision V10-36L:

V10-36L 36 Element Stub Tuner Super Log Periodic Aerial » Vision Products - Powerful Products. Easy Installation. Excellent Value

As you may have read, the advantage of a log periodic over a yagi is the flatter response and it's wideband, so it can be used for reception of channels from Rowridge (which are all in Group A).

If the strength isn't good enough then you can always add an amplifier.

Dave Lindsay's 5,724 posts
Monday, 18 November 2013

Hi, We had not bothered much about the TV signal from the aerial as had sat TV for quite a while but got a 'youview' box as I wanted to record BBC 'red button' programs which the sky+ box doesn't seem to be capable of, but the pictures are quite poor compared to sat TV. New box indicated 50% signal and 100% quality, aerial was an old thing, been on roof for a lot of years so got a 'Triax unix 44' wideband class 2 from a local TV shop as they recomended it but signal only increased to 54%.

We are about 30 miles from Bilsdale and can just about see the mast from our roof on a good day, though there are the tops of some trees and 2 mobile phone masts in between.

From the information I have read on various web sites I thought the cheapest option would be to try an attenuator first and got a 20db adjustable one but it does not make any noticeable difference to the picture.

So now wondering whether to try a 'log 36' aerial or maybe an 'xb16k' , any advice would be appreciated.


Mike's 1 post
Mike's:
map
M's Freeview map
terrain
M's terrain plot
waves
M's frequency data
M's Freeview Detailed Coverage

Mike: I suggest you use a log periodic, so the Log 36 or DM Log fit the bill.

You are about 30km from the transmitter, which is around 19 miles.

Signal strength isn't that important - it's quality that matters. With 100% quality all the digits are present and the picture is the best it can be.

That said, the strength would appear low in view of your distance from the transmitter.

The Public Service (PSB) channels from Bilsdale are in Group A, and so a Group A aerial installed in the days of four-channel analogue should work fine for the PSB channels.

Presumably you have at least one television with built-in Freeview. So what does it read on the five channels (or six if it's HD)?

PSB1 - BBC One - C26
PSB2 - ITV - C29
PSB3 - BBC One HD - C23
COM4 - ITV3 - C43
COM5 - Pick TV - C46
COM6 - 4Music - C40

Dave Lindsay's 5,724 posts
Wednesday, 20 November 2013

Thanks for your reply, been looking for info on 'DM log' and not too sure but think I might try a log 36.
The 30 miles is correct, we are a good bit further west than Bedale, I just use it to stay 'under the radar' as our house is the only one on our post code .
It's a real pain getting to the signal info for each channel but they are all between 48 and 54%

Mike's 3 posts

Mike: A DM log to all intents and purposes has an almost flat gain across all channels (21 - 68) of 6dB albeit with it peaking at 7dB between 40 - 50.

On the other hand a Log 36 offers just under 8dB from channel 21 and rising to 9.5dB on channels 45 - 50 before falling back off to 6dB at Ch60.

Needless to say the Log 36 is a safer bet for use in areas where 4G problems are liable to spring up.

That said, when dealing with logs one should never be over influenced by the gain figures given, as they are obtained under strict test transmission conditions which seldom ever represent that experienced in reality.

jb38's 7,179 posts
Select more comments
Your comment please