Freeview reception - all about aerials

Brian Butterworth published on UK Free TV
Updated 8th January 2014.


Your ability of receive all the Freeview transmissions depends on the suitability of aerial
the design style,
the "group", and
its physical location.
Standard type - Yagi aerial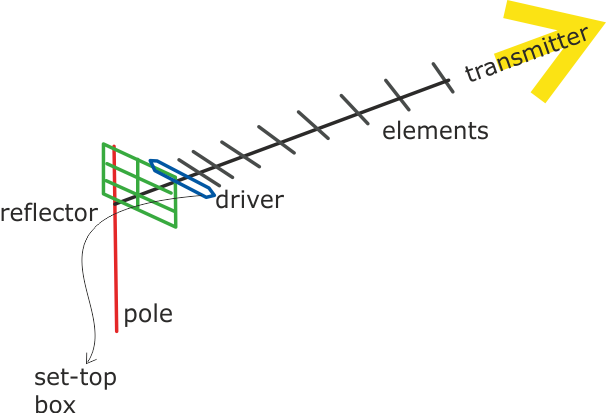 The
standard
type of TV aerial is known as the Yagi aerial. It is mounted on a pole, and consists of a rod with a reflector (shown green) at the back and many spiky elements (in grey) at the front. The connecting
cable
connects to the element nearest the reflector, known as the driver (shown in blue).
These Yagi aerials are directional and so pick up signals best from a
transmitter
that the rod points towards. The more elements the aerial has, the better it picks up a
signal
and becomes more directional.
A standard-type aerial is all that is required for
digital
TV
reception
in most places. These antennae have between 10 and 18 elements and a single reflector. These are recommended for new installations for good digital television reception, but will more often than not function perfectly in good reception areas.
Typically these aerials are designed to receive only some transmission frequencies - see "groups" below.
High Gain aerials

These aerials are designed for poor digital reception areas, and have two reflectors. For maximum signal strength, some digital high
gain
aerials have up to 100 elements. Since the
switchover
to digital-only transmissions back in October 2012, most UK households now have good
quality
digital TV signals.
A more expensive aerial is only required where the signal strength is low, but can often provide the whole Freeview reception where it might otherwise be impossible.
The CAI (that represents aerial installers) has four standards for digital TV aerials. The highest standard "1" is for homes on the fringes of coverage areas, intermediate standard "2" is suitable for use within the coverage area; minimum standard "3" is for good coverage conditions.
These aerials can be either
wideband
, or receive only selected frequencies - see "groups" below.
Grid

You may haved used a 'Grid aerial' for
analogue
reception, but as they are generally unsuitable for Freeview reception, they have now generally been replaced by the Yagi type. However in some places a Grid aerial installation may work for Freeview: otherwise replace with a standard Yagi aerial.
Indoor
Indoor aerials
are generally not suitable for Freeview reception. In areas of good signal strength it is often possible to receive some transmissions. Even where an aerial works, people often find that may get interruptions to their viewing (or recording).
Loft mounted
Loft
mounted arrivals are not generally recommended for Freeview reception, as the
roof
tiles and plumbing will degrade the signal. Some compensation for this loss of signal can be made by using
satellite
-grade cable to connect the set top box to the aerial.
Positioning
The best position for a TV aerial is mounted outdoors, as high from the ground as possible, pointing directly at the transmitter. The signal can be blocked by hills and tall buildings. It should be positioned away from any other aerials.
Horizontal or vertical?
The transmitter will either use vertical
mode
which requires the elements of your aerial to be up-down, or horizontal mode which requires them to be level with the ground.
Groups
Both analogue and digital television is transmitted the same group of transmission frequencies (known as
channel
21 through to 60). A coloured marking on the aerial shows the group.

To create the best possible analogue
picture
, TV transmissions from adjacent transmitters have been designated to several different groups of frequencies. By using an aerial that receives only the
channels
in the correct group, the analogue picture can be kept free from
interference
.
To receive Freeview transmissions from the same transmitter it has been sometimes necessary to use frequencies that are not part of the transmitter's normal group. When this has occurred, the aerial will need to be replaced with a "wideband" aerial (also known as group W) - one that covers every group.
As
Ofcom
is planning to move the TV frequencies again - perhaps as soon as 2018 - it may be wise to use a wideband aerial if you can to ensure you can keep viewing Freeview for many years to come.
Comments
Saturday, 11 January 2014

Not sure if anyone can help/advise? Since digitalisation my reception has been really poor often gettong a no signal message on screen, sections of picture missing and bits of voice missing (not sure if this is the same as video-conf where packets are being dropped?)

Literally just across the lane is an expanse of trees and surprisingly reception is worse in winter when leaves have dropped.

I have what looks to be a yagi arial from the above, and it has a booster mounted on the arial. When the booster failed on the last occasion and new arial put up, the engineer stated that he thought the reception was as good as it was going to get and, satellite possibly wouldn't be much better - now begining to wonder if the engineer's advice is correct

Graham Heal's 1 post

Graham Heal
For anyone contributing to this website to be able to help you they would need to know your location, a postcode would be helpful, and knowledge of your equipment, what TV etc.

It is apparent that having too strong a signal can be as bad as having too weak a signal. Plus having obstruction between you and the transmitter can be problematic as well - and tree are a case in point.

The affects you are describing would normally be categorised as pixellation where the signal cannot be decoded properly due to several possibilities. Hence the need for location and equipment information. If you don't want to give your own post code, one of a nearby shop will help.

MikeP's 3,056 posts

Justin Smith: I have seen advertisements from the U.S.A. where grid aerials were offered as being "ideal for digital"

KMJ,Derby's 1,811 posts

I am very hard of hearing like about 14% of the population of the UK yet most of the Freeview Channels I try have no subtitles.
Why is nothing being done about this?

Brian M. Leahy's 14 posts
Sunday, 12 January 2014

Brian M. Leahy: Join the club Brian I am deaf since birth. most channels don't have to carry subtitles unless they are public service IE BBC and ITV. I do find the quality of the "live" subtitles are really awful have to auto correct the words myself. I think of com is looking in to this.... so i believe.

Rob's 171 posts
Tuesday, 14 January 2014
B
Brian M. Leahy
11:13 AM
Abingdon

Brian M. Leahy: I understand that but when I contact channels with no subtitles many of them claim that they were using them on the programmes I complained about which suggests a technical problem.

Brian M. Leahy's 14 posts
Brian's:
map
B's Freeview map
terrain
B's terrain plot
waves
B's frequency data
B's Freeview Detailed Coverage

Rob: i know brain but its no excuse really....... its time we deaf fight for full access to tv end off.... we should not pay full licence fee at all... blind people get cheap tv licence so why not for the deaf.... lets be fair here.....

Rob's 171 posts
Tuesday, 21 January 2014

Rob: I have noticed one thing.... if you have a cheap and cheerful STB box on normal tv... the subtitles on there are not very reailable ie bush,alba boxes they need to b e reset nearly all the time.... I think its time we can find out which STB and PVR are more realiable than others and why?

Rob's 171 posts
Tuesday, 11 March 2014

Question:
I have a roof space fitted aerial supplied in my brand new house whose elements are nailed to the rafters, where they touch?? The weird thing is it's a new Yagi, but pointing in EXACTLY the opposite direction to the transmitter. Signal quality on diagnostics seems to be nearly 10 across the range but signal strength seems 8 to 10, HD is the worst affected. I only live 4 miles from the transmitter, but the elevation is quite low. Is the reversed direction an attempt to reduce the signal strength? Or should I un-nail it and point it towad the mast, for 10 out of 10? as I'm losing HD on occasion!

Rawlinson's 1 post

Rawlinson
You don't indicate where you live so we can't work out which transmitter you would be using. It doesn't much matter about elements touching woodwork as long as they are not distorted. Pointing the opposite way may be a problem though, I assume you are viewing the aerial as having the longest part of the boom in front of the folded dipole aiming away from the transmitter. You should not be trying to get a signal strength of maximum for all channels, too strong a signal causes the exact problem you are describing and affects HD services most..

MikeP's 3,056 posts
Select more comments
Your comment please