Freeview reception - all about aerials

Brian Butterworth published on UK Free TV
Updated 8th January 2014.


Your ability of receive all the Freeview transmissions depends on the suitability of aerial
the design style,
the "group", and
its physical location.
Standard type - Yagi aerial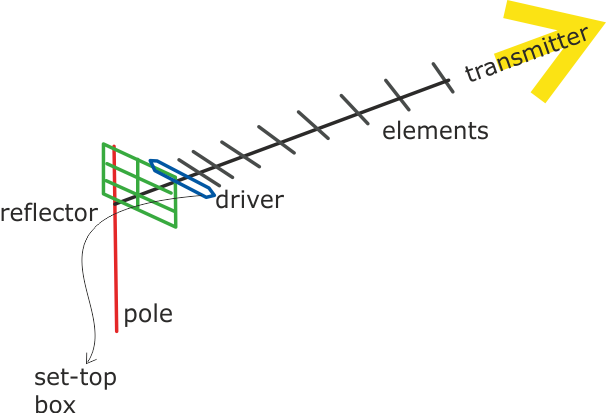 The
standard
type of TV aerial is known as the Yagi aerial. It is mounted on a pole, and consists of a rod with a reflector (shown green) at the back and many spiky elements (in grey) at the front. The connecting
cable
connects to the element nearest the reflector, known as the driver (shown in blue).
These Yagi aerials are directional and so
pick
up signals best from a
transmitter
that the rod points towards. The more elements the aerial has, the better it picks up a
signal
and becomes more directional.
A standard-type aerial is all that is required for
digital
TV
reception
in most places. These antennae have between 10 and 18 elements and a single reflector. These are recommended for new installations for good digital television reception, but will more often than not function perfectly in good reception areas.
Typically these aerials are designed to receive only some transmission frequencies - see "groups" below.
High Gain aerials

These aerials are designed for poor digital reception areas, and have two reflectors. For maximum signal strength, some digital high
gain
aerials have up to 100 elements. Since the
switchover
to digital-only transmissions back in October 2012, most UK households now have good
quality
digital TV signals.
A more expensive aerial is only required where the signal strength is low, but can often provide the whole Freeview reception where it might otherwise be impossible.
The CAI (that represents aerial installers) has four standards for digital TV aerials. The highest standard "1" is for homes on the fringes of coverage areas, intermediate standard "2" is suitable for use within the coverage area; minimum standard "3" is for good coverage conditions.
These aerials can be either
wideband
, or receive only selected frequencies - see "groups" below.
Grid

You may haved used a 'Grid aerial' for
analogue
reception, but as they are generally unsuitable for Freeview reception, they have now generally been replaced by the Yagi type. However in some places a Grid aerial installation may work for Freeview: otherwise replace with a standard Yagi aerial.
Indoor
Indoor aerials
are generally not suitable for Freeview reception. In areas of good signal strength it is often possible to receive some transmissions. Even where an aerial works, people often find that may get interruptions to their viewing (or recording).
Loft mounted
Loft
mounted arrivals are not generally recommended for Freeview reception, as the
roof
tiles and plumbing will degrade the signal. Some compensation for this loss of signal can be made by using
satellite
-grade cable to connect the set top box to the aerial.
Positioning
The best position for a TV aerial is mounted outdoors, as high from the ground as possible, pointing directly at the transmitter. The signal can be blocked by hills and tall buildings. It should be positioned away from any other aerials.
Horizontal or vertical?
The transmitter will either use vertical
mode
which requires the elements of your aerial to be up-down, or horizontal mode which requires them to be level with the ground.
Groups
Both analogue and digital television is transmitted the same group of transmission frequencies (known as
channel
21 through to 60). A coloured marking on the aerial shows the group.

To create the best possible analogue
picture
, TV transmissions from adjacent transmitters have been designated to several different groups of frequencies. By using an aerial that receives only the
channels
in the correct group, the analogue picture can be kept free from
interference
.
To receive Freeview transmissions from the same transmitter it has been sometimes necessary to use frequencies that are not part of the transmitter's normal group. When this has occurred, the aerial will need to be replaced with a "wideband" aerial (also known as group W) - one that covers every group.
As
Ofcom
is planning to move the TV frequencies again - perhaps as soon as 2018 - it may be wise to use a wideband aerial if you can to ensure you can keep viewing Freeview for many years to come.
Comments
Monday, 26 March 2012
Idris
10:58 PM


I live in a fringe area in Dorset served by by a local transmitter that only provides a limited Freeview service so I have tuned into the Beacon Hill transmitter with a high gain aerial & mast head booster so I can receive the full Freeview service with local news from Plymouth.
Now that Rowridge transmitter has come on line can I fit a second aerial via a tee connector into the booster so I can retain the Beacon Hill signal that is stronger & add the Southampton based news service from the Rowridge transmitter.

Idris's 16 posts
Tuesday, 27 March 2012

Idris: It is not good practice to combine two aerials using a splitter in reverse without filtering.

A diplexer combines two aerials into one downlead. Each of the two inputs are filtered to only allow certain channels through. Some examples are here:

A.T.V (Aerials And Television) TV Aerial, DAB Aerial, FM Aerial. onlinesplittersandamps.html#TVTVdiplexers">Online TV Splitters, Amps & Diplexers sales

The only thing I would say here is that if you go with the "Channels 21* to 35 combined with 37 to 68 (i.e. split at CH36)", then you won't be able to receive (without altering your aerial system) the future multiplex that is expected to be broadcast on Ch36. For that reason I would probably go with "Channels 21* to 37 combined with 39 to 68". This does mean, of course, that you will have to receive the future multiplex on C36 and the two others expected to broadcast on 31 to 35 from Rowridge.

There may be other solutions using filters and a splitter in reverse.

See ATV Sheffield's site for more information:

A.T.V (Aerials And Television) TV Aerial, DAB Aerial, FM Aerial.

Dave Lindsay's 5,724 posts

I live in RH11 and have an aerial pointing at Crystal palace.I also have the full SKY package. I have a Panny TX42s30b with FreeviewHD built in. My aerial is on the front of the house and a cable run would be about 20 meters. What would be the best aerial and would I need a booster of any kind. Our current aerial has 9 spines and a rectangular backplate. (Sorry if they arent the correct terms).

sally's 4 posts

sally - bit confused. Are you planning to ditch your Sky satellite and go Freeview?

Have you got a cable from your current aerial? Or could you trial rig one?

Need a full postcode to be moresure but RH11 has a reasonable signal so what you have might be enough.

Steve P's 1,173 posts

Steve. I am not ditching the Sky, but I want the option of FreeviewHD on the Panasonic as well as SKY.

sally's 4 posts

Oh. And I have to run a new cable from the aerial. to get it downstairs. Do you think 20 meters is too long a run?

sally's 4 posts

sally: As you already have an aerial, it is probably best to try it and see if it is sufficient. However, Crystal Palace completes switchover on 18th April so you can only say with certainty if it will work then (if it doesn't work now).

In order to get HD services on Freeview you will have to wait until 18th April, no doubt. HD Freeview services aren't normally available before switchover. Crystal Palace is one of a few exceptions.

However Crystal Palace's current HD service is on lower power than the standard definition services with restrictions in some directions.

In particular, the Reigate transmitter uses the same frequency as Crystal Palace uses for HD (at the moment). Not only does Reigate serve your general area, but the HD signal from Crystal Palace is likely to be reduced in that direction to avoid interfering with those receiving from Reigate. So it's safe to say that you won't get HD from CP before 18th April.

Dave Lindsay's 5,724 posts
M
Michael
7:14 PM
Kingsbridge

I live in kingsbridge TQ7 we have a repeater nearby which does not provide the full freeview channels. I am quite high up and am told I may be able to install an aerial directed at the main carradon hill transmitter. Would this work and what sort of aerial would i need

Michael's 1 post
Michael's:
map
M's Freeview map
terrain
M's terrain plot
waves
M's frequency data
M's Freeview Detailed Coverage

Michael: A Group A aerial will work with all channels used by Caradon.

See here:

Digital TV Transmitters

See also other pages on ATV's website for background information on installing aerials.

See also this plot showing that your line is slightly obstructed:


Terrain between ( m a.g.l.) and (antenna m a.g.l.) - Optimising UK DTT Freeview and Radio aerial location

I wouldn't like to suggest what sort of aerial you might need as I'm not a professional. You may find that those at ATV may be able to advise you.

Dave Lindsay's 5,724 posts
Wednesday, 28 March 2012

Sally: 20m is not vast, but you might need a "masthead amplifier". Only experiment will tell.

Steve P's 1,173 posts
Select more comments
Your comment please