Indoor aerials

Brian Butterworth published on UK Free TV
We have tested a number of indoor aerials, to investigate how well they work for Freeview reception.
Simple stick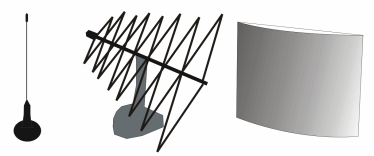 The first is a small 20cm high simple stick aerial, costing a few pounds. This was found to give adequate reception of (16QAM-
mode
) Freeview
channels
in strong
signal
areas, especially outside.
However, unless it can be placed in direct sight of the
transmitter
an only unsatisfactory signal can be received.
Indoor Yagi
The second form of aerial is of the Yagi design of around 30cm length, costing around 10.
This aerial was slightly better than the simple stick design, largely because it can be directed to point at the transmitter and be positioned horizontally or vertically as required.
However, in poor signal areas the
64QAM
channels were not received, and the aerial required good placement to get an uninterrupted Freeview signal.
Indoor Panel aerial
This was found to have around the same reception
quality
as the Indoor Yagi type, and cost around the same.
Indoor digital aerial with booster
Costing 25-30, the improvement of the signal provided by a modern internal TV aerial. Typically able to boost the signal by 36dB, this type of aerial when well positioned provided stable, uninterrupted Freeview reception on all channels.
Comments
Saturday, 30 July 2011

Jm F: Yes, you are quite correct about that type of filter, but the reason I didn't mention it was because that any filter no matter what its intended for, can have the effect of slightly reducing the signal that's wanted going through it at the same time as suppressing the one that isn't wanted, and although under normal reception circumstances this could safely be disregarded, however in Julie's case her reception doesn't give the impression of being very good in the first place I didn't want to suggest anything that would be liable to reduce it further.

Nothing to stop her trying it though if she chooses!



jb38's 7,179 posts

Hey Julie,
Have you got a south facing garden or somewhere you could hide a freesat dish, film 4 available on that for free and it would stop you having an aerial on the roof, strange some people complain about an aerial and not a dish and visa versa

Might be worth looking into

All the best ian

Ian's 59 posts
Monday, 1 August 2011

I have freeview and I get most channels but not ITV1 (I get 3,4 and 2+1). I really want ITV1 as the rugby world cup will be on it and I'm a kiwi!

I live in a flat in East London (Westferry) and there is no chance the landlord will be putting an outdoor aerial in so I need to rely on an indoor aerial.

Can you please recommend what indoor aerial would give me the best chance of picking up ITV1?

Ryan's 1 post
Tuesday, 2 August 2011

Ryan: Indoor aerials are very unreliable for Freeview reception, but I would also check for Single frequency interference | ukfree.tv - independent free digital TV advice .

Briantist's 38,908 posts

Julie: More about dish placement at Householder guide to satellite dishes | ukfree.tv - independent free digital TV advice .

Briantist's 38,908 posts
Tuesday, 23 August 2011
J
Jan Harbidge
11:30 AM
Leigh-on-sea

Hi, can someone help me with this please? I currently have a small HD ready tv in the spare room; it's connected to an AC adaptor via a DC in plug at the rear of the TV which is then plugged into the mains. It is also plugged into a small digital indoor aerial. The reception is poor but it's only a spare Tv and it does not bother me that much, however,because I have just upgraded a TV I tried plugging in the newer Hitachi HD ready TV but this one does not have the DC in portal and when just using the TV mains plug and the digi indoor aerial I receive a blue screen; showing no signal. There is not an option for the DC in Ac adaptor to be plugged in. Is that essential? I only want to use it as a spare as it has an integral DVD player which is why I want to use it. What am I doing wrong? Thanks. Jan

Jan Harbidge's 1 post
Jan's:
map
J's Freeview map
terrain
J's terrain plot
waves
J's frequency data
J's Freeview Detailed Coverage
Friday, 2 September 2011

If i buy a digi box for my telly in the bedroom will it work if my ariel is not external, can i buy an ariel for my bedroom which is at the top of the house to help boost the signal thanks...

louiza's 1 post
louiza's:
map
L's Freeview map
terrain
L's terrain plot
waves
L's frequency data
L's Freeview Detailed Coverage

louiza: Indoor aerials are always a bit hit and miss, but it is worth a try. You will have to buy a digibox anyway to view anything on an analogue telly after the analogue transmitters are switched off. You are predicted to be able to have good reception from the Wharfedale transmitter after 7th September 2011 on Mux BBCA (the BBC channels), and from 21st September 2011 on Mux D3+4 (ITV1&2, C4, C5 etc) If you have a window facing East at which you can point the aerial, it should help with reception.

KMJ,Derby's 1,811 posts
Thursday, 8 September 2011

our flat screen tv in the kitchen worked okay before with an indoor arial and a booster. Now that analogue's been switched off in Nottinghamshire, so have all the channels despite trying to retune. What do we need to do to get them back?

eddie's 1 post

eddie: It all depends on whether or not the TV you have is dual standard, that is capable of analogue as well as Freeview (digital) reception.

The other important factor as far as Freeview reception is concerned is your location, preferably in the form of a post code so that your reception possibilities can be checked on.

jb38's 7,179 posts
Select more comments
Your comment please