Do I need to buy a booster?

Brian Butterworth published on UK Free TV
With analogue television, it has often been necessary to buy an amplifier to improve the quality of the television picture, or to supply a steady on several televisions fed from the same aerial.

Many people have asked if it necessary to investing in a signal booster for Freeview.

"Analogue television" means is that the sound and pictures are broadcast using signals that are an "analogue" of the input. The sound and picture are transmitted from the source as electrical signals, then as radio waves and then back to sound and picture again.

In an analogue television camera, the image is scanned 25 times a second from side to side, from top to bottom and back. Where a lot of light is scanned, a high voltage is produced. Where no light is scanned, no voltage is produced. The output voltage is the same ratio to amount of light at scanned.

Leaving aside the technically, this signal is sent to the transmitter. The transmitter emits a radio wave on a known frequency, which is varied by the incoming voltage.




A microphone also converts the sound vibrations it picks up into a voltage, which when sent to the transmitter is added to another radio transmission frequency.

The signals are received by a television aerial pointing at the transmitter and converted back to very weak electrical signals. The sound is amplified and sent to a loudspeaker, and a picture created on the TV screen.

So on an analogue television, if the incoming signal is weak then the picture is dull as the background noise (the snow scene seen when an analogue television is not tuned) makes the picture less watchable.

The best analogue television set equipped with a great TV aerial located near to a high powered transmitter will produce brilliant pictures and clear sound. A poor set with an inadequate aerial or substandard cable will not.

If a weak signal is fed to a booster device, this will make the picture appear better on the television set or sets. It is often worth the investment.
Digital television
In a
digital
studio, the voltages from the cameras and microphones are not sent directly to the transmitter. It is converted into a stream of numbers inside a computer. The input voltage relates directly to the number in the computer. By sampling the input at a regular frequency, it is therefore possible to both store and transmit the information digitally this is what computers are good at.
It is therefore possible to take these numbers and generate a sound and picture output from them. However, the amount of information generated is over 240Mb/s, 30 times the rate of the fastest broadband connection.
Buy using computational techniques on this information the data can be compressed to as low as 2Mb/s, with as little as 6Mb/s being required for a good quality picture. These data compression techniques are called "lossy" because the reconstructed images are not identical to the originals, but look virtually similar to human eyes.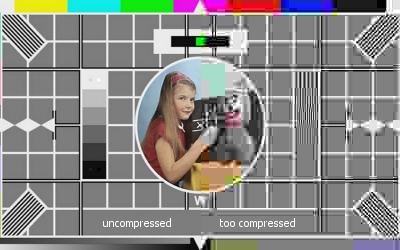 Digital television uses the same transmission frequencies as analogue uses, known as
C21
to
C68
. The digital data is sent using a system called COFDM (Coded Orthogonal Frequency-Division-Multiplexing) which can carry data at a rate of 18Mb/s or 24Mb/s. Several television
channels
and some
radio stations
can be multiplexed together to produce exactly this amount of data.
At the
receiver
, it must be able to decode every single bit from these transmission multiplexes. A single error is impossible to correct for, so the decoder must have no errors.
Until
switchover
happens, the Freeview signals are being broadcast at very, very low
power
levels. However the COFDM system and sensitive digital equipment will, as long as the signal can be found and decoded there will be pixel-perfect reconstruction of the television channel. If the signal is drowned out by
interference
(especially from analogue transmissions) then no picture or sound will be output.
If the TV aerial installation you have provides you with all the Freeview channels, there is nothing to worry about.
If you are missing some channels because the signal is just too weak the best place to start is by improving the aerial, see
Freeview reception - All about aerials
. A bigger, higher, better designed aerial will always be the most sensible way to get perfect
reception
.
If you want to supply a signal to several sets, where the incoming signal is being "split" to serve several Freeview boxes, a
masthead
amplifier will be effective. This is because the signal is already of good quality and is being repeated for several sets.
However, if you are not getting a good signal from your aerial, a booster by the TV set will probably not
help
as this will simply boost the background interference as much as the Freeview signal.
In circumstances where an amplifier that has improved a picture on an analogue, it may be unsuitable for Freeview reception. Sometimes they will block one or more
multiplex
, where disconnecting the amplifier will restore the channels.
Comments
Sunday, 25 December 2011

Happy Christmas.....not sure if you can advise.

I have just moved into Student Flats in Holloway Road, London. Have a brand new LG Digi TV which feeds off a coaxial wall socket....which I believe is common system to all other flats ( 200 off)..as such I do not control the aerial, or replacement therefor.


.....unfortunately I cannot receive all Freeview Channels....or I can receive some but with a very snowy screen...I am tempted to buy a booster but not sure it will help.

Simon's 1 post

Simon: And a "Happy Christmas" to you also.

However, as far as your query is concerned, I would really advise that its by far the best policy to make enquiries with other residents of the building before purchasing anything, because the "snowy" screen you refer to isn't something associated with Freeview reception, so what you have observed has to be with reference to the "analogue" reception from Crystal Palace, and its on very high power!

Just out of interest, using the DRG's reception predictor, (trade view) I carried out some reception checks by entering a few test post codes taken from locations along Holloway Road, all of indicating good reception as being possible except strangely for the ITV1 multiplex on a N7 6PP post code, as all others were OK.

Crystal Palace is located at 9 miles @ approx 168 degrees from that code, and "if" your flat is located at a high point in the building you "may" get away with using a set top aerial, that is provided your flat is facing roughly S/S.E., but its hit and miss situation and only on site testing would show what's possible.

jb38's 7,179 posts

Simon: Just as an afterthought to what I already mentioned, on reading your posting again I take it that you did actually carry out the initial scan with your LG being set to "DVB" and not analogue?

jb38's 7,179 posts
Monday, 26 December 2011

I am gutted! We have lost our itv channel as well as channel 4 and 5 etc. we live at gu10 3dx. Can't believe this could happen to us on Xmas day which meant us missing emmerdale and corrie! We did a rescan etc to no avail. Please help as we are desperate. We have a booster box and this has never happened before,

Karen's 1 post
Karen's:
map
K's Freeview map
terrain
K's terrain plot
waves
K's frequency data
K's Freeview Detailed Coverage

Karen: Good reception of the multiplex used by these programme channels mentioned is not necessarily guaranteed at your location, and all that's likely happened is that the signal has dropped down slightly to under the reception threshold for your TV / box, the problem now being that by you carrying out a re-scan you will have lost it from your receivers memory. (never re-scan when a channels drops out!)

As it appears to be Crystal Palace that you are receiving from, (nothing else shown as possible) what I suggest you now do apart from carrying out frequent re-scans, is to carry out a "manual" scan only on mux Ch22 (the channel used by C/P for ITV / Ch4/5 etc) and see if anything comes in, but before doing so check up in the 800 ranges to make sure ITV1 etc is not up there.

By the way, depending on your TV / box, when you enter Ch22 as the channel you want to scan you might see its present signal level being shown, this at least proving its there, albeit it still might be under the reception threshold.

jb38's 7,179 posts

Karen: It could be that (if it can be adjusted) adjustment of the booster will improve matters. If I had a variable booster and I lost a channel, this would be the first thing I would look at.

The thing with boosters is that they often do not need to be a maximum setting to achieve best results. Too higher setting can often be worse than a lower setting.

I would adjust it and then try manually tuning to Ch22.

As jb38 says, don't rescan because now you may have two problems: the TV isn't tuned and the signal isn't there. You can't tune the TV until the signal is there and you don't know that the signal is there until you've tuned.

A clue could be the other channels you have got tuned in. By going on to the signal strength/quality screen it will tell you about those. The objective (with digital) is not to have as strong a signal as possible. The strength gauges on different TVs/boxes are different, but as an example, my Sony RDR-HXD870 functions perfectly fine with a strength of 50% or lower. If you had previously installed your booster with the thinking that turning it up to maxmimum to achieve highest signal strength, then it might be worth adjusting it.

Dave Lindsay's 5,724 posts
Wednesday, 14 March 2012

I recently bought a new aerial to receive Freeview channels and use a Vision masthead amplifier with PSU. The amplifier was originally taped onto the aerial mast by the 'professionals', within inches of some of the elements, and the reception was okay. I have read that an amplifier should be at least 1 metre from the aerial and I moved it away by approx. 750mm. Since then I occasionally get a slight distorsion on my TVs. I have also added a signal booster in the TV cable from the PSU but with no improvement. Can you please advise. Should I move the amp. back to the mast?

Bob Abbot's 9 posts

Bob Abbot: You should really have indicated your location (pref: post code) with this type of question as it would have enabled the signal levels expected in your area to be checked on, however as far as the vision amplifier is concerned these should really be clipped to aerials supporting pole with a plastic cable tie, but it doesn't really matter where they are located near to the aerial so long as not in front of the reflector or next to the active elements where the coax is connected into.

It should not really be necessary to have an additional amplifier with these type of aerial amps, (except for powered distribution amp) "if" the mast head amp referred to is a gold coloured type fitted into a grey plastic housing as these are quite powerful, but if you come back with an update regarding the location info request it would then make it easier to give further advice that's more appropriate to your location.

jb38's 7,179 posts
Friday, 16 March 2012

Bob Abbot: jb38-thanks for your comments. Apologies for omitting my location-EH45 8EF and yes, my amp. is the gold type in grey plastic housing. This area got 'switched' on about 2 1/2 years ago and my aerial points to Peebles(?) transmitter, same as others. There are houses around me but not directly in front of my aerial. Should I reposition my amp. onto the mast/pole and remove the booster?

Bob Abbot's 9 posts

Bob Abbot: Well on having a check at your location in relation to the Peebles relay (@ 2miles) would not really suggest that a booster of the type you have should really be required, however the fact that it was fitted is inclined to indicate that things are maybe not quite as they seem, and possibly due it having been found (or known by the aerial installer) that your signal is prone to suffering from elements of seasonal vegetation (tree leaves) problems, which I know there is an abundance of around Peebles, tree leaves (on even one tree) having quite an effect on signals from low powered transmitters such as applies to the 20 watts Peebles relay.

What I would like you to do is carry out a signal strength / quality check on both the BBC and ITV, observing whatever is indicated on each channel test over a few minutes, and in particular the stability level of the quality. Another thing to do is, once you have noted the strength / quality of either the BBC or ITV just leave the TV on signal check menu and remove the additional booster you fitted, then re-check if the previously noted indications have changed.

That said though, I have to say that if the Vision amp had been fitted into the loft rather than the mast I would have requested you temporarily try by-passing it using an "F" plug coupler, as where there is only a short distance of coax between the aerial and the loft the mast head amp does not actually need to be on the mast as it makes no difference, albeit in theory mast head amps should be as near to the aerials active element as possible so as not to amplify cable noise, or possibly interference picked up in same.

Anyway try the suggested giving an update on results, but though if on checking the signal you get a strength / quality level of 100% being indicated then thats not always a good thing, as the signal might be hovering on the point of overloading the TV's tuner, as an overly powerful signal gives exactly the same symptoms when viewing as a weak one, although I do have a sneaking suspicion that the difficulty you experience now an again might only really be improved by experimenting with slightly different aerial positions, and this not necessarily meaning higher but in the horizontal sense, something not really feasible when dealing with outdoor aerials unless of the gutter mount type.


jb38's 7,179 posts
Select more comments
Your comment please