Loft aerials

Brian Butterworth published on UK Free TV
One of the most common problems people have with Freeview reception relates to the use of "loft" aerials.

Because the analogue TV transmitter network uses very high power transmissions (the total ERP for the UK is 64 megawatts) many people have installed their TV aerial in places such as lofts, or have used other Indoor Aerials.

The effect on that roof tiles and walls have on analogue TV signals is that the picture will degrade slightly. Making the signal slightly weaker will add a 'snow' element to the picture which is mildly irritating. The picture quality drops, but it is usually possible to make out the picture, as demonstrated here: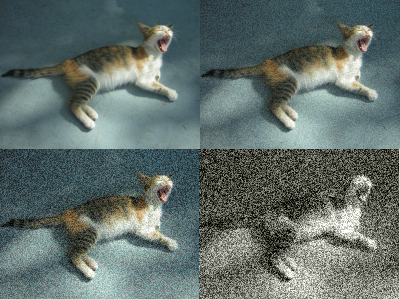 Many people have preferred this slight loss in picture quality for the perceived benefits of a loft-mounted aerial. Loft aerials are much easier and somewhat safer to install, and the aerial is shielded from wind and rain that can cause damage to rooftop aerials. In some places (such as New Towns) TV aerials have been previously banned from rooftops.

However, the BBC and others state that Freeview reception demands a roof-top aerial. The existing (pre Digital Switchover) Freeview signals are at very low power levels. The use by ITV, Channel 4 and five of "64QAM" mode for their transmission multiplexes to provide more channel choice results in a very lower chance of reception of these channels (multiplex 2 is ITV1, ITV2, ITV3, ITV4, CITV, Channel 4, More4, E4, Film4+1; multiplex A carries five, five Life and five US) with a loft-mounted aerial.

By comparison with the image above of how analogue signals look as the signal grow weaker, digital TV reception will continue to give perfect pictures and sound as the power level drops off, until suddenly the level drops below what the COFDM system can cope with. At this point the picture will become blocky and freeze whilst the sound will appear to come and go. Another tiny drop in signal level will result in no picture or sound and a message saying that "no signal is being received". As the signal can vary with weather conditions, people often find that a loft aerial will work when installed and then suddenly stop some months later.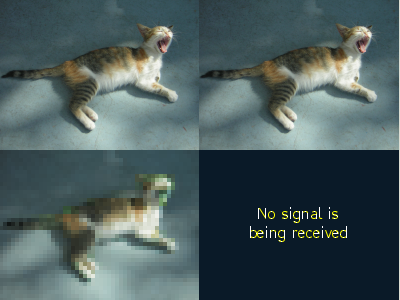 After switchover
After switchover new digital signals will replace the existing analogue and digital ones. The new digital signals will be at much higher levels that the current ones (for most people) and this will
help
with reception. However, all six multiplexes will switch to the
64QAM
mode that causes the problems indicated above.
Due to our Climate Change commitments (Kyoto Protocol), the signal levels for these new digital will not be as high as those currently used for analogue. For this reason you should not depend on the increase in power levels after switchover compensating for having a loft aerial.
Wherever possible you should use a rooftop aerial. If this is impossible, you may find that connecting your aerial to your Freeview box or integrated digital television using
satellite
-grade coaxial
cable
will compensate for the loss.
Comments
Monday, 9 September 2013
E
Emily
2:14 PM
Haverfordwest

I am currently a sky multi room customer. I want to cancel sky in the bedroom, and just use freeview which is built in to my tv. However, I cannot seem to get my tv to tune into receiving any channels. I dont have an outdoor aerial , but one in my loft which worked when using analogue. Do I need a freeview box? an indoor aerial?

Emily's 1 post
Emily's:
map
E's Freeview map
terrain
E's terrain plot
waves
E's frequency data
E's Freeview Detailed Coverage

Emily: I think there's a good chance that your aerial should work for Freeview.

Have you connected the aerial directly to the TV (i.e. not via the Sky box or any other box)? What is the make and model number of your TV (some older ones won't work after switchover)?

Dave Lindsay's 5,724 posts
Sunday, 29 September 2013

Hiya!
My parents live on the side of a hill in Bath and currently have two TVs receiving signal from a loft aerial. Dad managed to trip the electrics to the whole house earlier in the week and they are now without any TV signal - I suspected the boosters in the loft are probably the culprits. Dad has been into the loft but can't get the boosters working! I have tried to explain to them that they need to have a roof aerial to get good digital signal and now might be a good time to do it! Any advice please, I would be so grateful. Parents are approaching 70 years old, not on the Net and I'm concerned that they'll call someone out and get conned in the process!

Clare's 1 post
Clare's:
map
C's Freeview map
terrain
C's terrain plot
waves
C's frequency data
C's Freeview Detailed Coverage

Clare: With regards to requiring another aerial, not necessarily! because if your Dad has been having perfectly satisfactory reception prior to the mishap then its rather obvious that the loft aerial presently used is perfectly OK.

However as far as the booster / splitter is concerned, if this is plugged into a socket in the loft then ask him to try plugging something else into the socket such as a table lamp or whatever for the purpose of verifying that the socket is still being powered, as it may not be! because boosters are extremely low powered devices and which most of have in built protection, and so I cant see the booster having been responsible for the problem.

jb38's 7,179 posts
Tuesday, 19 November 2013

Hi,

We have an at least 10 year old aerial in the attic that gives no freeview signal. We would like to remove it as it takes up too much room for no signal. I can only find one wire coming from it and going to a splitter (presumably the 2 wires then going to the 2 aerial points in the house). The aerial looks like it unscrews to take it apart. Will it be connected to the mains? If so, have you any ideas how it may be connected and how it can be safely taken apart? Also, if it removed, will the 2 cables going to the aerial points be 'live' wires? This may sound silly, but it is my mum that goes into the attic not me and I want her to be safe.

Thank you

Beth's 1 post

Beth: There will be no live mains (or shouldn't be) within the aerial. If no signal is coming out of it then this could be for a number of reasons.

The most obvious is that the "splitter" box requires a power supply, and without one isn't likely to give any signal out.

A photograph of said objects and/or knowledge of the manufacturer and model number(s) may allow identification of their purpose.

If you are looking to use an aerial for Freeview then it might be that this aerial is can be used.

Dave Lindsay's 5,724 posts
Tuesday, 14 January 2014

hi we live in john o groats ,have loft arial and booster to 4 tv,s sometimes signal break for no apparent reason,and sometimes ipod or mobile texting seems to be the issue.should i change the arial for a better model or put another ariel in loft (plenty of room). also wich one.? not sure if we are tuned to keelang hill, group b arial or rumster forrest wideband arial help.dave.

dave simpson's 1 post

dave simpson: Indications are that you have a clear line-of-sight with the Keelylang Hill transmitter @ 22 miles / 359° although Rumster Forrest operating on lower mux channel numbers can also be "partially" received and which "might" have been stored in your TV or box, therefore you can check whether they have or not by carrying out a signal strength test on each of the following EPG's (programme number listings) for the purpose of cross checking the transmitter mux channel number seen along with the strength / quality indications, e.g: EPG 10 being mux channel 42.

EPG programme number test : 1 (BBC1) - 3 (ITV1) - 10 (ITV3) - 11 (Pick TV) 18 (4Music) plus any HD channel.

Keelylang Hill muxes: 46 (BBC) - 43 (ITV1) - 40 (HD service) - 42 (ITV3 etc) - 45 (Pick TV) - 39 (4Music)

If your TV or box does not indicate the mux transmitter channel number along with the signal strength indications then carry out a factory reset (or first time installation) followed by manually tuning each of the mux channels one at a time, storing same if not automatically done!


jb38's 7,179 posts

dave simpson: By the way as far as the aerial is concerned, its not so much a case of changing it for a better model but making sure that its positioned as far away from the source of interference as possible, this also applies to the powered booster / splitter.

jb38's 7,179 posts
Thursday, 25 September 2014

I live in a new build flat in Stepany Green. There is a wall socket for the aerial. I use a freeview set top box and have scart cables. However the reception of various chsannels varies throughout the day - sometime no sgnal, sometimes broken picture, sometimes OK. Can you help me get a clear picture on all channels at all times? Many thanks.

Kelli's 1 post
Select more comments
Your comment please