Loft aerials

Brian Butterworth published on UK Free TV
One of the most common problems people have with Freeview reception relates to the use of "loft" aerials.

Because the analogue TV transmitter network uses very high power transmissions (the total ERP for the UK is 64 megawatts) many people have installed their TV aerial in places such as lofts, or have used other Indoor Aerials.

The effect on that roof tiles and walls have on analogue TV signals is that the picture will degrade slightly. Making the signal slightly weaker will add a 'snow' element to the picture which is mildly irritating. The picture quality drops, but it is usually possible to make out the picture, as demonstrated here: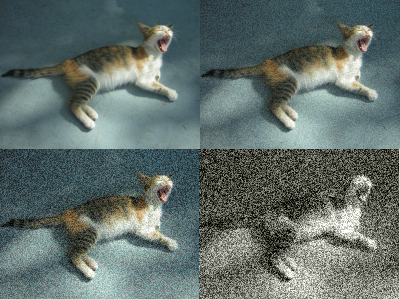 Many people have preferred this slight loss in picture quality for the perceived benefits of a loft-mounted aerial. Loft aerials are much easier and somewhat safer to install, and the aerial is shielded from wind and rain that can cause damage to rooftop aerials. In some places (such as New Towns) TV aerials have been previously banned from rooftops.

However, the BBC and others state that Freeview reception demands a roof-top aerial. The existing (pre Digital Switchover) Freeview signals are at very low power levels. The use by ITV, Channel 4 and five of "64QAM" mode for their transmission multiplexes to provide more channel choice results in a very lower chance of reception of these channels (multiplex 2 is ITV1, ITV2, ITV3, ITV4, CITV, Channel 4, More4, E4, Film4+1; multiplex A carries five, five Life and five US) with a loft-mounted aerial.

By comparison with the image above of how analogue signals look as the signal grow weaker, digital TV reception will continue to give perfect pictures and sound as the power level drops off, until suddenly the level drops below what the COFDM system can cope with. At this point the picture will become blocky and freeze whilst the sound will appear to come and go. Another tiny drop in signal level will result in no picture or sound and a message saying that "no signal is being received". As the signal can vary with weather conditions, people often find that a loft aerial will work when installed and then suddenly stop some months later.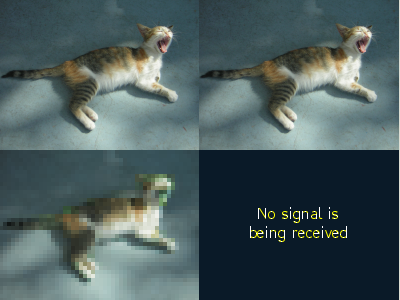 After switchover
After switchover new digital signals will replace the existing analogue and digital ones. The new digital signals will be at much higher levels that the current ones (for most people) and this will
help
with reception. However, all six multiplexes will switch to the
64QAM
mode that causes the problems indicated above.
Due to our Climate Change commitments (Kyoto Protocol), the signal levels for these new digital will not be as high as those currently used for analogue. For this reason you should not depend on the increase in power levels after switchover compensating for having a loft aerial.
Wherever possible you should use a rooftop aerial. If this is impossible, you may find that connecting your aerial to your Freeview box or integrated digital television using
satellite
-grade coaxial
cable
will compensate for the loss.
Comments
Monday, 3 September 2012

Hi, just moved into SW20 9BB.

We have inherited a loft aerial from the previous residents which according to google maps appears to be pointing exactly towards crystal palace. However I've been unable to pick up ANY signal at all when connected to the coaxial wall socket (our freeview box just reads "no/bad signal"). Conclusion is that the problem must be either the aerial or the cable.

I've tried the usual laymans tricks (checked for loose connections at the socket and aerial etc), but can't verify the integrity of the cable as it runs inside the cavity wall.

What is the likelihood it's the 'loft aerial' to blame?
What's the likelihood it's the coaxial cable to blame?

External aerials are against our lease, so have got to make this work...any ideas or next steps gratefully received.

IanC's 2 posts
IanC's:
map
I's Freeview map
terrain
I's terrain plot
waves
I's frequency data
I's Freeview Detailed Coverage
Tuesday, 4 September 2012
Tim CO14
10:53 AM
Walton On The Naze

IanC: A shame you can't have an external aerial installed, as that would almost certainly solve your problem, especially as the installation would provide an up-to-date aerial and cable. I'm guessing your loft aerial is an old Yagi type, which in many locations is adequate for digital reception. I use one at home (35 miles from Sudbury transmitter) for the bedroom TV, and get all available channels. But probably the biggest cause of your signal loss lies with the coax cable, which could be several years old, liable to all sorts of interference, and may even be broken.
My suggestion would be to buy some new 'digital' screened coax cable (its length at least equal to the one in the wall), fit it to the loft aerial, drop it out of the loft hatch and plug it into a TV or digi-box and see if you get a signal. If you then get some channels (the strongest), upgrading the aerial to a digital high-gain one should get you more channels (especially as you're not far from Crystal Palace). If all's well, then it should be possible to replace the existing cable in the wall cavity with the new one.
No doubt further advise will be given by some of our aerial technicians on this forum!

Tim CO14's 34 posts
Tim's:
map
T's Freeview map
terrain
T's terrain plot
waves
T's frequency data
T's Freeview Detailed Coverage
M
Mark Fletcher
5:16 PM
Halifax

Ian C.London,SW20 9BB.What colour is the tip of the loft aerial,as if it is black it denotes a group W wideband aerial and the wrong aerial to use on all group A (red tipped) Crystal Palace transmitter,especially in a poor/marginal signal area or if from your abode to mast roughly 7 miles it is heavily built up as such.Try a set top aerial as if this produces better results then excess signal would be here a likely culprit.

Mark Fletcher's 673 posts
Mark's:
map
M's Freeview map
terrain
M's terrain plot
waves
M's frequency data
M's Freeview Detailed Coverage
M
Mark Fletcher
5:19 PM
Halifax

Debbie Black.If you leave your full postcode preferably or a nearby location as such,we can equip you with further valuable advice and help as such !

Mark Fletcher's 673 posts
Mark's:
map
M's Freeview map
terrain
M's terrain plot
waves
M's frequency data
M's Freeview Detailed Coverage

@ Mark and Tim CO14 : thank you do much for your very helpful advice; problem now solved and merrily watching Film4. Together you'vd saved me a bunch of cash and several evenings of heart ache... very grateful. Ian

IanC's 2 posts
IanC's:
map
I's Freeview map
terrain
I's terrain plot
waves
I's frequency data
I's Freeview Detailed Coverage
Saturday, 27 October 2012
A
Angie Powell
10:22 AM
Portland

Hi
I currently have sky tv and no aerial at all. Thinking about swapping to btvision but how do I know if I can get a decent coverage. Postcode is DT5 2JQ and what would the best loft aerial be, can't have it put on roof as I live in rented accommodation.
Thanks
Ang

Angie Powell's 1 post
Angie's:
map
A's Freeview map
terrain
A's terrain plot
waves
A's frequency data
A's Freeview Detailed Coverage

Angie Powell: Based on the information that is available on the internet, you are not in a good signal area and really (probably) need an external aerial. Even then, you "may" be limited to the number of channels.

The size of aerials on rooftops (which can be seen on Streetview) suggests this might be the case.

The terrain plotter shows that the reason for poor reception is because the terrain goes upwards in that direction:


Terrain between ( m a.g.l.) and (antenna m a.g.l.) - Optimising UK DTT Freeview and Radio aerial location

If it weren't for this, then you would be able to see Stockland Hill transmitter and would therefore have a very good chance of reception in the loft (subject to tiles/insulation not reducing the signal too much).

Never say never and be mindful that this is just an initial assessment; it could be better in reality.

If you live in a bungalow then commonsense* suggests that your chances will be lower. * TV reception is described as a black-art, even by the experts!

If you do successfully receive from Stockland Hill, you may end up only being able to receive the Public Service Broadcaster (PSB) channels. The Commercial (COM) ones aren't as strong and in a poor area they may therefore be unavailable.

See this page for PSBs and COMs:

DTG :: DTT Services by Multiplex

If you intend to buy an aerial, then avoid the DIY sheds as they sell wideband aerials and a wideband aerial isn't required for Stockland and will also not work as good on the channels/frequencies it uses.

A Group A aerial should be used:

Digital TV Transmitters Nationwide Page 2

The ATV Sheffield also has a wealth of information on TV reception (see link above).

The XB10A is shorter than the Yagi 18A and is therefore more suited to loft installs. For Stockland aerials should be mounted horizontally (elements flat).

If you were to get an aerial and Stockland Hill was unavailable or did not provide all channels, then you might be able to receive from Rowridge on the Isle of Wight. Again, it will be touch and go as you don't have line-of-sight, even though it is mainly across water. This is because the terrain on the Isle of Purbeck is in the way. Rowridge is all Group A, so the aerial would be suitable. Switch it to vertical polarisation (elements up/down) for Rowridge. Rowridge broadcasts BBC South and ITV Meridian, so will give you different regional programming. There is the possibility that you will also only receive PSBs from Rowridge.


There's no guarantees here so I'm certainly not saying that it will definately work. If you were in a good signal area, then there might have been a reasonable chance of success.

Freesat may be a better bet as it will work with your dish. If you have two feeds/cables from the dish you will be able to record. If not, then parts can be obtained to install a second feed, although if you aren't allowed to put up a terrestrial aerial, then maybe you won't be allowed to put up another cable from the dish.

Dave Lindsay's 5,724 posts
Sunday, 28 October 2012

Jill Harmer: Have you confirmed that for BBC it is tuned to UHF channel 62 which is Huntshaw Cross?

Dave Lindsay's 5,724 posts
J
Jill Harmer
9:21 PM
Tiverton

Hi Dave,
It was set to 62, but another manual tune seems to have fixed it. I had only been using the auto tune before.
Thanks for the help.
Jill

Jill Harmer's 6 posts
Jill's:
map
J's Freeview map
terrain
J's terrain plot
waves
J's frequency data
J's Freeview Detailed Coverage
Tuesday, 30 October 2012

Following last post I found that the manual retune had only temporarily sorted the problem on Sunday evening - and the pixelation was back. However - Monday it was as clear as it always has been - methinks someone at Huntshaw Cross has done something on Monday morning.....

Jill Harmer's 6 posts
Select more comments
Your comment please