Loft aerials

Brian Butterworth published on UK Free TV
One of the most common problems people have with Freeview reception relates to the use of "loft" aerials.

Because the analogue TV transmitter network uses very high power transmissions (the total ERP for the UK is 64 megawatts) many people have installed their TV aerial in places such as lofts, or have used other Indoor Aerials.

The effect on that roof tiles and walls have on analogue TV signals is that the picture will degrade slightly. Making the signal slightly weaker will add a 'snow' element to the picture which is mildly irritating. The picture quality drops, but it is usually possible to make out the picture, as demonstrated here: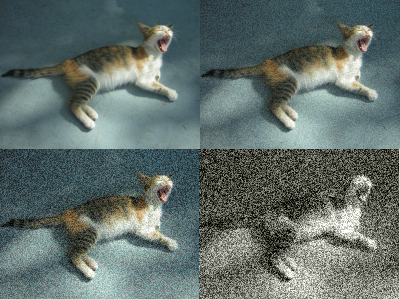 Many people have preferred this slight loss in picture quality for the perceived benefits of a loft-mounted aerial. Loft aerials are much easier and somewhat safer to install, and the aerial is shielded from wind and rain that can cause damage to rooftop aerials. In some places (such as New Towns) TV aerials have been previously banned from rooftops.

However, the BBC and others state that Freeview reception demands a roof-top aerial. The existing (pre Digital Switchover) Freeview signals are at very low power levels. The use by ITV, Channel 4 and five of "64QAM" mode for their transmission multiplexes to provide more channel choice results in a very lower chance of reception of these channels (multiplex 2 is ITV1, ITV2, ITV3, ITV4, CITV, Channel 4, More4, E4, Film4+1; multiplex A carries five, five Life and five US) with a loft-mounted aerial.

By comparison with the image above of how analogue signals look as the signal grow weaker, digital TV reception will continue to give perfect pictures and sound as the power level drops off, until suddenly the level drops below what the COFDM system can cope with. At this point the picture will become blocky and freeze whilst the sound will appear to come and go. Another tiny drop in signal level will result in no picture or sound and a message saying that "no signal is being received". As the signal can vary with weather conditions, people often find that a loft aerial will work when installed and then suddenly stop some months later.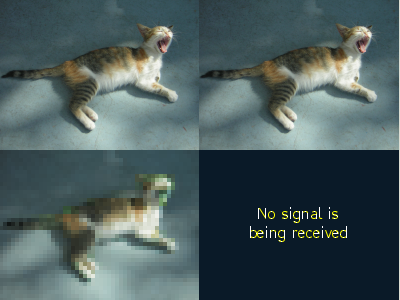 After switchover
After switchover new digital signals will replace the existing analogue and digital ones. The new digital signals will be at much higher levels that the current ones (for most people) and this will
help
with reception. However, all six multiplexes will switch to the
64QAM
mode that causes the problems indicated above.
Due to our Climate Change commitments (Kyoto Protocol), the signal levels for these new digital will not be as high as those currently used for analogue. For this reason you should not depend on the increase in power levels after switchover compensating for having a loft aerial.
Wherever possible you should use a rooftop aerial. If this is impossible, you may find that connecting your aerial to your Freeview box or integrated digital television using
satellite
-grade coaxial
cable
will compensate for the loss.
Comments
Sunday, 9 October 2011
I
Ian Davies
9:19 AM
Halesowen

Cheers jb38. The old sender is just a video sender. I'm using it just for the ability to switch channels from the bedroom, on the V+ box in the living room.

The aerial at the moment is only feeding the downstairs TV. TV in our bedroom is being fed from the modulator. The new system is hoping to feed all the extra TV's (not yet installed).

I now realise that I can take the feed from the aerial and connect this directly into the modulator, which will combine both the aerial and V+ box. When I get sky, I can just remove the modulator.

Thanks for info on splitter. Will purchase one with the DC bypass. That's the key bit of info I needed. Was unaware that you could do this. Thought I may have to buy an amp, which presumably, I may still have to, but the £3 splitter is first option to try.

Many thanks again... Ian.

Ian Davies's 3 posts
Ian's:
map
I's Freeview map
terrain
I's terrain plot
waves
I's frequency data
I's Freeview Detailed Coverage

Ian Davies: Yes, that's correct, the only thing I do notice though on checking your reception possibilities is that the Freeview PSB only (limited channels) Haden Hill is showing as superior for reception over Sutton Coldfield, so if you are using Sutton and any glitches start to appear after making your alterations by feeding the aerial through the Virgin box, then the inclusion of an amplifier in line between the aerial and Virgin box should correct that. (about 6/10dB would suffice)

Although if this does occur you could make another posting updating the situation.

Remember though to keep the RF modulators output channel spaced two channels either side of the multiplex channels being used by the station you are receiving from.

jb38's 7,179 posts
Friday, 11 November 2011

We have recently had solar panels fitted to our house and have found that the signal from our loft aerial has dropped considerably. I have tried moving the aerial but it hasn't solved the problem. My aerial is some 17 years old, would the problem be solved by replacing it with a new high powered digital loft aerial and if so, could you recommend what strength aerial I would need?
Thank you for any help that you are able to give me.

P. Heron's 1 post

P. Heron: If the direction the signal is being received from is via the side of the roof that the solar panels are mounted on, then it wont really make much difference what type of aerial you use, the only way around the problem being to mount the aerial on the gutter, should your building be suitable for that type of mount.

Its not easy to recommend an alternative aerial without knowledge of your Post Code, as that would have enabled the checking of the signal levels expected at your location.

jb38's 7,179 posts
M
Mark Fletcher
5:12 PM
Halifax

P Heron.Please leave your full postcode as without this none of us can give you qualified assistance as such.

Mark Fletcher's 673 posts
Mark's:
map
M's Freeview map
terrain
M's terrain plot
waves
M's frequency data
M's Freeview Detailed Coverage
Wednesday, 23 November 2011

Hi, I am trying to help out my Grandma as she doesn't yet qualify for the switchover installation for free. I have bought a box but am only receiving mux c (pick tv etc) but the picture is perfect. She has a loft arial too with solar panels at 244deg SW and the postcode is RM16 5UN. Any help would be great, and bearinig in mind I'm likely to have to do this myself.. (female and handy with a drill but no tradesperson!)

S MacLeod's 1 post
S's:
map
S's Freeview map
terrain
S's terrain plot
waves
S's frequency data
S's Freeview Detailed Coverage
Thursday, 24 November 2011

S MacLeod: That's a very precise bearing!

If the aerial at your house points to Crystal Palace (like your grandma's does), I would take the box there and tune it in. And then take it back to your grandma's and see if it works.

Alternatively, you might be able to manually tune it at your grandma's (without having to take it to yours). If it doesn't pick up the channels with a manual tune, then I would do as above, and take it to an aerial I know works.

Once it's tuned to CP, then don't re-scan (not until switchover). If you connect it to your grandma's aerial and it says "no signal", you know that it is not sited to pick up sufficient signal.

I would think that the solar panels will reduce the TV signal. What is the quality of the analogue pictures like?

Dave Lindsay's 5,724 posts

For the last 30+years, I have had London as my local station via Crystal Palace. I have just purchased a new TV and PVR. It is transmitted now from Sandy with Anglia news. Both manufactures have tried to get me back to London without success. I do live in a difficult location with houses and trees and I have a loft aerial installed some years ago because the outside aerial was not giving a good picture. Do I have to live with this until April, and will it be easier to go back to Crystal Palace then.

K. Monk's 1 post

K. Monk: If you still have your outside aerial, give it a try with digital, you might be able to pick up Crystal Palace.

Dave Lindsay's 5,724 posts
Wednesday, 30 November 2011
A
Adrian Robertshaw
1:29 PM
Huddersfield

My postcode is HD8 9DS. I wish to install a loft aerial as I simply do want an external aerial, they look awful (should be banned or made subject to planning laws). What can you recommend? Upstairs digital reception on Freeview is fine with a simple indoor aerial but downstairs it is poor and unreliable.

cheers

Adrian

Adrian Robertshaw's 1 post
Adrian's:
map
A's Freeview map
terrain
A's terrain plot
waves
A's frequency data
A's Freeview Detailed Coverage
Select more comments
Your comment please