Loft aerials

Brian Butterworth published on UK Free TV
One of the most common problems people have with Freeview reception relates to the use of "loft" aerials.

Because the analogue TV transmitter network uses very high power transmissions (the total ERP for the UK is 64 megawatts) many people have installed their TV aerial in places such as lofts, or have used other Indoor Aerials.

The effect on that roof tiles and walls have on analogue TV signals is that the picture will degrade slightly. Making the signal slightly weaker will add a 'snow' element to the picture which is mildly irritating. The picture quality drops, but it is usually possible to make out the picture, as demonstrated here: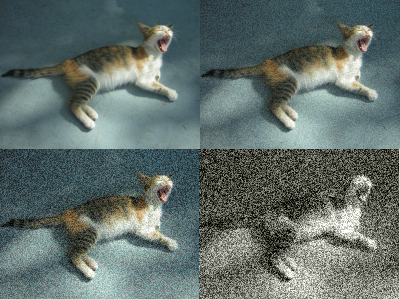 Many people have preferred this slight loss in picture quality for the perceived benefits of a loft-mounted aerial. Loft aerials are much easier and somewhat safer to install, and the aerial is shielded from wind and rain that can cause damage to rooftop aerials. In some places (such as New Towns) TV aerials have been previously banned from rooftops.

However, the BBC and others state that Freeview reception demands a roof-top aerial. The existing (pre Digital Switchover) Freeview signals are at very low power levels. The use by ITV, Channel 4 and five of "64QAM" mode for their transmission multiplexes to provide more channel choice results in a very lower chance of reception of these channels (multiplex 2 is ITV1, ITV2, ITV3, ITV4, CITV, Channel 4, More4, E4, Film4+1; multiplex A carries five, five Life and five US) with a loft-mounted aerial.

By comparison with the image above of how analogue signals look as the signal grow weaker, digital TV reception will continue to give perfect pictures and sound as the power level drops off, until suddenly the level drops below what the COFDM system can cope with. At this point the picture will become blocky and freeze whilst the sound will appear to come and go. Another tiny drop in signal level will result in no picture or sound and a message saying that "no signal is being received". As the signal can vary with weather conditions, people often find that a loft aerial will work when installed and then suddenly stop some months later.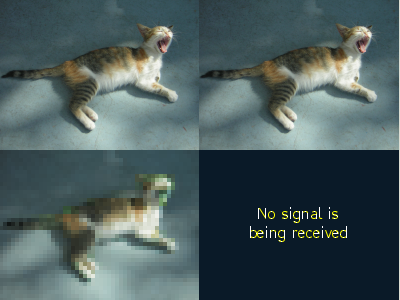 After switchover
After switchover new digital signals will replace the existing analogue and digital ones. The new digital signals will be at much higher levels that the current ones (for most people) and this will
help
with reception. However, all six multiplexes will switch to the
64QAM
mode that causes the problems indicated above.
Due to our Climate Change commitments (Kyoto Protocol), the signal levels for these new digital will not be as high as those currently used for analogue. For this reason you should not depend on the increase in power levels after switchover compensating for having a loft aerial.
Wherever possible you should use a rooftop aerial. If this is impossible, you may find that connecting your aerial to your Freeview box or integrated digital television using
satellite
-grade coaxial
cable
will compensate for the loss.
Comments
Sunday, 17 July 2011

Robin: If you want stable Freeview reception, mount the aerial outside on the roof.

Briantist's 38,899 posts
Monday, 18 July 2011

Thanks Briantist
I had freesat before upgrading to HD tv, looks like I need to upgrade to an HD freesat box as well! Thanks for the help. (54.088471,-4.75)

Simon's 2 posts
Tuesday, 19 July 2011

Simon: If you already have a dish, then adding in a Freesat HD box is very straightforward.

Briantist's 38,899 posts
Thursday, 21 July 2011

Hi
At around 2pm this afternoon our freeview stated no signal. My other half re scanned (a number of times) we now have 0 channels. After what seemed hours on the phone to BT they have decided it is the aerial. We have now been up in the loft and all seems fine. there is a Y fitted for the two bedrooms and the two TV'S work perfectly upstairs. Brought them downstairs (they have internal freeview) plugged them into aerial and they do not work! How can the two upstairs work and downstairs nothing, please? any help is appreciated in now what is a very fraught household! (not me I might add).

Dawn's 2 posts
Friday, 22 July 2011

Dawn: Hi there, I assume one side of your Y splitter feeds the two bedrooms, whilst the other side is fed to downstairs. Y splitters rarely give any problem, apart from cutting the signal in half, even if they are not being used. So I think your fault must be in the coax plugs feeding from the Y splitter to downstairs, probably one of the outside brading touching the inner wire. Check the coax plugs and make sure the centre wire is not being shorted out by the screening (the brading of the cable). Hope this helps.


John's 3 posts
Saturday, 23 July 2011

Dawn: Y splitters can give trouble, but you can check it by swapping the two output feeds over. If that makes the bedrooms stop working and downstairs is now OK, its the Y splitter.
Otherwise, shorts in the coax feed to downstairs is likely - coax plugs with tiny screws holidng the centre core are frequently the cause of this, when the screws become loose.

Jm F's 141 posts

Hi John and jf thanks for taking the time to reply. We sorted it finally this morning! Never occured to us but the carpenter was in and at at non obvious position the lead from the loft comes down the wall (not in any covering) anyway the cable had a nail in it! Now removed and working perfectly ha ha
thanks again

Dawn's 2 posts
Monday, 25 July 2011

Dawn: may be worth changing your coax after that,could cause problems in the future.

Des Collier's 171 posts
Wednesday, 10 August 2011

I have recently moved house and can't find my aerial at all! There is nothing on the roof at all, and I can't see anything inside the loft (I don't know what a loft aerial looks like - does it look the same as a roof aerial?). One of my neighbours has what she thinks is a booster that plugs directly into her TV (and the wall via a 3-pin normal plug)and works fine, without being plugged into any other aerial. Will this work for me? I have a flatscreen samsung TV with built-in freeview, but am barely receiving anything at all - neither analogue or digital. I don't know if this will be better after our switchover (I'm oxford, so we're due to switch over in September).

thanks
Steph

Steph's 2 posts

Steph: Although you have mentioned that you are located in Oxford its a case of where? as a post code would enable your actual reception possibilities to be checked on.

As far as a loft aerial is concerned, they just look the same as aerials seen on many roofs, albeit usually less bulky, unless that is its one of the "log periodic" variety, then its basically flat and shaped like an arrow head with a flattened point.

Loft aerials work very well in many locations provided they aren't sited next to a water tank, or even worse facing into it! as in real terms the reception strength difference between loft level and chimney stack mounting is in most cases minimal, or in some "iffy" locations loft actually being better as the aerial can be moved about to obtain the best reception position.

That said though, a problem they can have over being mounted outside is because a wet roof can slightly reduce the signal being received, something which is not exactly a good thing if in an area of poor reception, however if you provide a post code then a more positive assessment can be given.



jb38's 7,179 posts
Select more comments
Your comment please