Loft aerials

Brian Butterworth published on UK Free TV
One of the most common problems people have with Freeview reception relates to the use of "loft" aerials.

Because the analogue TV transmitter network uses very high power transmissions (the total ERP for the UK is 64 megawatts) many people have installed their TV aerial in places such as lofts, or have used other Indoor Aerials.

The effect on that roof tiles and walls have on analogue TV signals is that the picture will degrade slightly. Making the signal slightly weaker will add a 'snow' element to the picture which is mildly irritating. The picture quality drops, but it is usually possible to make out the picture, as demonstrated here: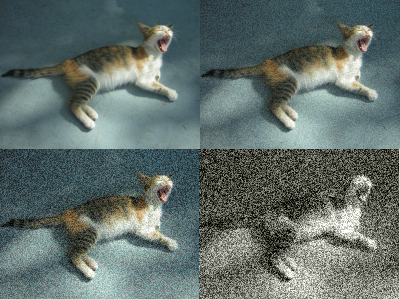 Many people have preferred this slight loss in picture quality for the perceived benefits of a loft-mounted aerial. Loft aerials are much easier and somewhat safer to install, and the aerial is shielded from wind and rain that can cause damage to rooftop aerials. In some places (such as New Towns) TV aerials have been previously banned from rooftops.

However, the BBC and others state that Freeview reception demands a roof-top aerial. The existing (pre Digital Switchover) Freeview signals are at very low power levels. The use by ITV, Channel 4 and five of "64QAM" mode for their transmission multiplexes to provide more channel choice results in a very lower chance of reception of these channels (multiplex 2 is ITV1, ITV2, ITV3, ITV4, CITV, Channel 4, More4, E4, Film4+1; multiplex A carries five, five Life and five US) with a loft-mounted aerial.

By comparison with the image above of how analogue signals look as the signal grow weaker, digital TV reception will continue to give perfect pictures and sound as the power level drops off, until suddenly the level drops below what the COFDM system can cope with. At this point the picture will become blocky and freeze whilst the sound will appear to come and go. Another tiny drop in signal level will result in no picture or sound and a message saying that "no signal is being received". As the signal can vary with weather conditions, people often find that a loft aerial will work when installed and then suddenly stop some months later.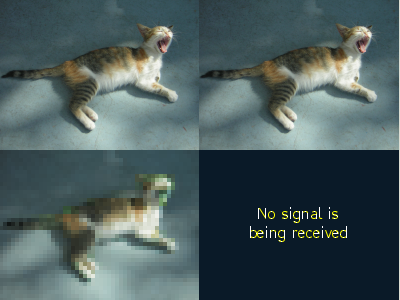 After switchover
After switchover new digital signals will replace the existing analogue and digital ones. The new digital signals will be at much higher levels that the current ones (for most people) and this will
help
with reception. However, all six multiplexes will switch to the
64QAM
mode that causes the problems indicated above.
Due to our Climate Change commitments (Kyoto Protocol), the signal levels for these new digital will not be as high as those currently used for analogue. For this reason you should not depend on the increase in power levels after switchover compensating for having a loft aerial.
Wherever possible you should use a rooftop aerial. If this is impossible, you may find that connecting your aerial to your Freeview box or integrated digital television using
satellite
-grade coaxial
cable
will compensate for the loss.
Comments
Wednesday, 30 November 2011

Adrian Robertshaw: At being only 2 miles away from Emley Moor you want to use the simplest easy to mount aerial possible, the DM18 seen on the link being perfectly suited for your requirements.

Online TV FM DAB Aerial sales

jb38's 7,179 posts
Saturday, 17 December 2011

Hi can't get itv 3 all other channels fine

Harvey's 1 post
Monday, 19 December 2011
D
dmr
6:38 PM
Sittingbourne

I'm in me10 3ad and looking at purcasing a an aerial to go in my loft and then using freeview, any suggestions for a good aerial and will the signal be good.

dmr's 1 post
dmr's: ...
Tuesday, 20 December 2011

dmr: Loft aerials are unsuitable for reliable Freeview reception, please fit your aerial on the roof.

Also you should not that your best transmitter option is Bluebell Hill, but only after 27th June 2012 or Crystal Palace after 18th April 2012.

Briantist's 38,905 posts
Friday, 30 December 2011

Why can I be watching the TV with a good picture one minute and the next it can freeze or say No Signal then come back and work fine, and some channels are worse than others at losing the signal even the main 5 channels have there moments of poor signal, yes I have a loft aerial but the rules for where I live say that's where it should be my post code is PR25 2NU and it's pointed towards Winter Hill, I have a new aerial and a booster box in the loft as I have more than 1 TV the only thing left is the coaxe, but the TV's upstairs come from the aerial into the booster and then stright into the set and they still have problems, so any clues?

Trev's 1 post
Trev's:
map
T's Freeview map
terrain
T's terrain plot
waves
T's frequency data
T's Freeview Detailed Coverage

Trev: At 9 miles, with clear line of sight (from the roof-top at least, assuming no local obstructions), you could well be suffering from too high a signal level.

See here:

Freeview signals: too much of a good thing is bad for you | ukfree.tv - independent free digital TV advice

At this stage I wouldn't plump for replacing the coax. I suggest that you turn the booster down to its lowest setting. The objective is NOT to get the signal strength as near 100% as possible! (see the above link)

If the problem isn't solved by turning down the booster, try this: As you have multiple outlets fed from your booster, I suggest that you disconnect the booster (to test), connecting the incoming aerial directly to a feeds to the one wall socket. You might need an adapter to do this, e.g. a female to female F-connector (I suggest that such an adapter is a useful tool for fault-finding at times like this).

Dave Lindsay's 5,724 posts

Trev does it happen on all the tv's if it does it is the aerial if its only on one tv swap them around this is a good way to check if its the tv. If the break up is during high winds it could be down to trees. By the way since digital started i have only seen 2 jobs that too much signal cause a problem this is from someone who has been doing aerials for over twenty years not someone who just reads this blog. Hope this helps

Mazbar's 384 posts
Tuesday, 24 January 2012

Will we all get better reception after switch over on 18th april
Fr Chris

Chris's 4 posts
Chris's:
map
C's Freeview map
terrain
C's terrain plot
waves
C's frequency data
C's Freeview Detailed Coverage

Will we all get better reception after switch
over on 18th april. Please advise
Fr Chris

Chris's 4 posts
Chris's:
map
C's Freeview map
terrain
C's terrain plot
waves
C's frequency data
C's Freeview Detailed Coverage
Select more comments
Your comment please