Where are the public service (Freeview Light) transmitters?

Brian Butterworth published on UK Free TV
There are many TV transmitters in the UK, but only 81 of them carry all the services including the three commercial multiplexes. The other 1,036 transmitters will only carry the three public service transmitters, sometimes called Freeview Lite.

The commercial operators, SDN (originally S4C Digital Networks, now part of ITV plc) and Arqiva (originally as Crown Castle International, the privatized BBC Engineering) declined the invitation from Ofcom to extend their transmission network, see No new full Freeview transmitters.

As the transmitters can cover millions of homes down to less than 100, this means that:


In England, there are 54 full service transmitters and 583 public service transmitters, but the three-multiplex transmitters only serve 7% of the population.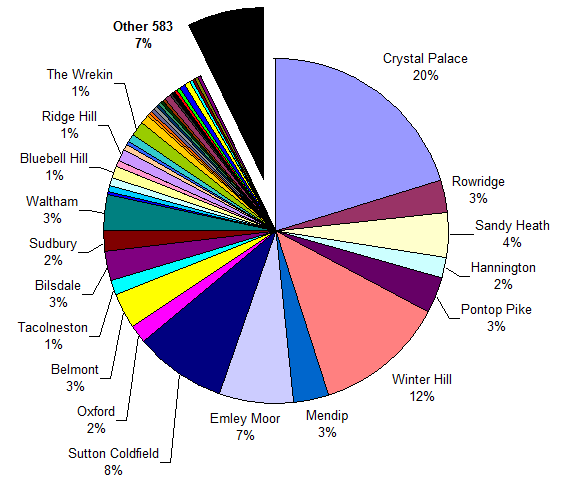 The main reason for the commercial operators not extending their networks is the uneconomic nature of these sites. It is not simply a question of being allocated frequencies by Ofcom (these were freely available to the operators) - the cost of installing the three antennas on each mast, the considerable capital expense of providing the transmission equipment and the ongoing network, power and monitoring costs.

In Scotland, the 14 main transmitters cover 85% of the population with full Freeview, but those in the mountains and islands are again uneconomic. Indeed, the Black Hill transmitter alone covers 40% of Scots.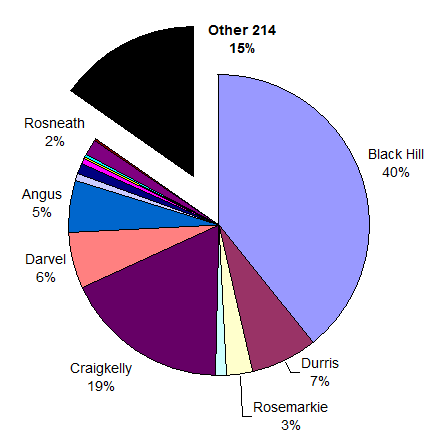 Looking to Northern Ireland, the Divis transmitter provides services to 67% of the population, with two other full service transmitters providing the next 13%. However, again 20% of the population are provided by the other 43 and these will provides just the public services.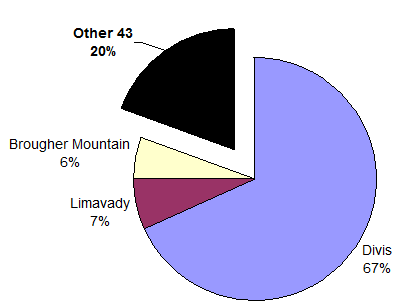 TV viewers in Wales stand the most chance - one in three - of being short of channels. Nine main transmitters cover 66% of the population, and in the mountains and valleys the other 196 transmitters cover very small populations each.




Map showing public service only areas in England, Wales, NI and Scotland.


Comments
Tuesday, 25 December 2012

David Jones: Ofcom should indeed have mandated that the Commercial licence holders broadcast from all transmitters. However it felt that it had no legal power to compel them to do so.

This must come down to Parliament for not ensuring that the law was not strong enough to require them to mirror the Public Service Broadcaster networks.

Dave Lindsay's 5,724 posts

Dave Lindsay: It is worth pointing out that the "digital dividend" expected from selling off the 800MHz band is going to be worth between £2.5 billion and £3.5 billion[1].

Ofcom is required by law to make the most efficient use of the radio frequencies - and so was legally forbidden to require them to be used for DTT.

It may still be that in 2018 other bands are taken away from DTT and the coverage of the COM multiplexes will drop to lower than now (and move to DVB-T2).

[1] The UK's 4G Auction Will Hobble The Networks To Reduce The National Deficit - Forbes

Briantist's 38,905 posts

...so basically, there is no way Ofcom is going to be allowed to turn down BILLIONS of pounds of income from 4G users, in return for getting Dave and Channel 5+1 to 8% of the population in return for no additional income to HM Exchequer.

Briantist's 38,905 posts

Briantist: The relevant stuff is here on the Ofcom site Ofcom | Television Multiplex Licence Renewals - Statement

"In November 2010, Ofcom received an application from Arqiva to renew the two [Broadcasting Act] Licences. Arqiva reconfirmed its application in March 2011. Under section 16 of the 1996 Act, when considering whether or not to renew a television multiplex licence, Ofcom has to decide whether to require additional obligations relating to ... the coverage of the service ... Following consultation we have decided not to require any such additional obligations."

Briantist's 38,905 posts

As for Multiplex A, the decision was earlier, but the same (from http://stakeholders.ofcom….pdf ):

"Our decision is therefore as follows:

We do not intend to require the applicant to furnish a supplementary
technical plan under section 16 (a) (i) of the Act, in particular in relation to coverage obligations on Multiplex 2 and Multiplex A;

We do not intend to require further proposals from the licence holders of Multiplex 2 and Multiplex A under section 16 (a) (ii) of the Act with respect to promoting or assisting the acquisition of digital equipment; and

We intend to set a zero PMR rate for the duration of the licence, using AIP as the sole pricing mechanism starting from 2014.

...

AIP (Administered Incentive Payment) fees charged for access to spectrum to reflect its value. AIP applies in bands for which significant demand exists for that spectrum either in its current use, or for an alternative radio service, and acts as an incentive to users to use their spectrum as efficiently as possible."

Briantist's 38,905 posts

Briantist: So basically, capitalist economic principles apply here! Why bother to build hospitals in the South Wales Valleys or Southern Scotland because people here are poorer than the median income in the UK!!!?
This is like the Ayn Rand economics!
Have to run, missing Coronation Street on ITV1 and then have to apply leeches to my leg ulcer.......

David Jones's 3 posts

Briantist: You are like someone who would justify slavery in the 1700; slaves pay for the rich parts of the UK, therefore the poor parts have no right to complain.
The poor parts are subsidised by our wealth and should move to ports where they can too buy slaves to move up the social ladder.

David Jones's 3 posts
Wednesday, 26 December 2012
P
Peter Henderson
12:58 AM
Newtownabbey

Brian: You're quite correct.

The difference between full Freeview and Freesat is now only three or four stations (Dave, Yesterday, and Viva I think). Freesat also has loads of stations that aren't even on Freeview.

Personally, if I was being served by a Freeview Lite transmitter I'd go for Freesat.

Don't forget David, you can also install an octo LNB and have Freesat in as many rooms as you want without the need for a subscription or telephone line.

If you're stuck with Freeview Lite Freesat is a no brainer.

Peter Henderson's 240 posts
Peter's:
map
P's Freeview map
terrain
P's terrain plot
waves
P's frequency data
P's Freeview Detailed Coverage

David Jones: I don't think Brian sounds like he'd justify slavery, etc. He's relaying information on government decisions, not making or justifying them. If you have a problem with government decisions, I think you should write to your MP rather than insult people who are trying to be helpful.

John Robinson's 43 posts

Brian one other thing if every transmitter had to carry every multiplex would there be enough channel numbers not to cause interference. Like here in some places you could receive signal from winter hill storton wood moy e park Yorkshire Lancaster sklmersdale and parbold there also needs to be blank channel numbers for things like sky from rf2 and then the 4g clearance wouldn't it just be fun and games hope you have had a good Christmas

Mazbar's 384 posts
Select more comments
Your comment please