Freeview signals: too much of a good thing is bad for you

Brian Butterworth published on UK Free TV
Most people will experience nothing but simplicity and joy with the digital switchover - the process that turns off the old five high power analogue signals, and the existing six low power digital services and replaces them with six new high power Freeview multiplexes.

For those with problems, there are generally three issues.


Eliminating other possible problems first
The first is that very, very old equipment will not function with the digital signals split into 6,817 sub-signals, as it was only designed to work with 1,705 sub-signals. This is known as the "8k
mode
issue" - see
TVs and boxes that do not support the 8k
It is also common that people do not clear out the old
channel list
(by selecting "first time installation" retune, "Factory Reset" or "Shipping Condition") before doing an "autoscan" for the available broadcast frequencies, and this results in everything from missing
channels
to no subtitles, programme guide, wrong channel numbers and no text services. If you can't find how to do it see either
Freeview Retune - list of manuals
or do it this way:
My Freeview box has no EPG, is blank, has no sound or the channel line up is wrong
.
A third problem is caused by having signals from more than one
transmitter
- see
Digital Region Overlap
.
The final very common issue is "too much
signal
".
Transmitters have much more digital power after switchover
At most transmitters, the digital signals after switchover are considerably more powerful than before. This was because when the analogue and digital services ran together, the digital services were kept low to prevent appearing as snowy
interference
on television sets using analogue
reception
.
Here is an example, from
Sutton Coldfield
, of how the signals change at switchover:

4,000kW of analogue signals are turned off, and the digital services increase in total power from 48kW to 1,200kW - that is an increase of 25 times in numerical terms, also know as +14dB. (The reduction of -7dB from the analogue strength is intended - the digital services require less power to cover the same number of homes).
This large increase in power should cause no effect for most people. A stronger signal does not increase the
picture
quality
(you need
Freeview HD
for that), sound levels - the only effect should be that more homes that are further away from the transmitter
mast
can receive a stable digital signal.
High gain aerials and signal boosters
However, many people have been tempted into buying one both high
gain
aerials and signal boosters.

High-gain aerials were very suitable for places where the Freeview signal before switchover was very weak indeed, but if you have one of these and you are located closer to the transmitter, you will probably now have a signal overload.
Generally speaking, signal
booster
devices are never
really
much use for Freeview reception, and much of the time they actually amplify the interference more than they do the signal, causing reception to get worse, not better.
How to tell if you have too much signal
There are almost as many ways for a Freeview box to display the "signal strength" and "signal quality" as there are types of Freeview box. Here are some of them: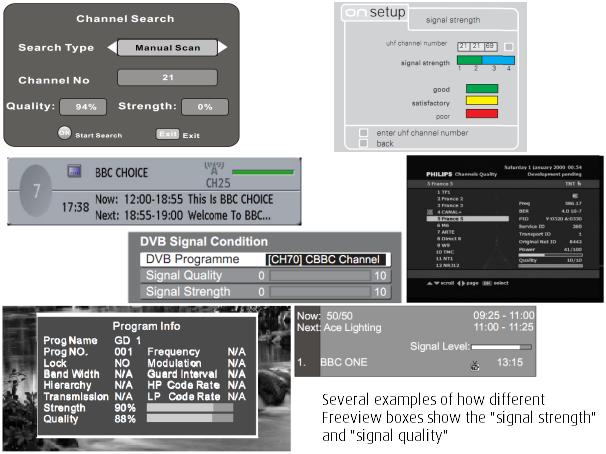 Speaking generally, there will be two indicators:
One is
signal strength
- this shows the power level of the signal entering the Freeview box. Often "0" is the lowest and "10" the highest, but sometimes it can be a percentage, sometimes coloured boxes and so on.
The signal strength should be around 75% - more than this indicates too much signal.
The other measure is the
signal quality
and this is much more important to high-quality Freeview viewing. Any measures that increase this to the maximum will provide for uninterrupted viewing, lower values will result in "bit errors" that cause the picture to freeze and the sound to mute out.
One problem with over powerful signals is the overload can sometimes show as a low signal because the receiver circuitry will enter a "blown fuse" state to protect itself.
How to deal with too much signal
First, if you have a booster or
amplifier
- remove it from your system. Don't just unplug the power, as this will result in
no signal
getting though the device.
If you can't just disconnect the
output
cable
and connect it to the input cable, you might need a coax female-female coupler to connect two male connectors together.

If you don't have a booster or amplifier, you might have to fit an attenuator onto the cable. They come in two types, either a "single attenuator", around five pounds, or a variable attenuator, for around ten pounds. The variable sort has a knob that can be turned to select the required level of signal dampening.
Comments
Thursday, 13 December 2012

matt: This is a link showing an example of what I am referring to, and by it being a variable type of device it can be adjusted whilst referring to the TV's signal check screen, insomuch that its adjusted to give a signal "strength" of around 90% max, this level giving a good safety margin from both overload situations as well as dips causing the level to drop down too close to the cut off threshold.

By the way, in overload situations HD reception is always affected before SD, the latter sometimes appearing as being perfectly OK.

TV Aerial Attenuator Variable 0-20Db Freeview Digital | eBay

jb38's 7,179 posts

matt: What happens if you go to the signal information screen when on an HD channel? What is the strength/bit error level?

jb: Had the same situation with a new Samsung (ES5500) recently, everything including HD channels ok on set top aerial, but less reliable on loft aerial (Craigkelly is on the hill above us!).

Though the loft aerial is fine on a Sharp TV, and was normally fine on the Samsung except the HD and Arq A mux, strange.

Michael's 358 posts
Saturday, 22 December 2012

I live on Anglesey , @ 10 miles from transmitter, which is within sight of my house. Have had intermittent picture breakup since analogue was turned off. Aerial is in loft linked to a Labgear CM7274 masthead amp which distributes to 4 tv's around the house. Could the breakup be due to signal overload? I was thinking of fitting a variable attenuator, but where would it go? Does it have to be on the lead from the aerial to the amp/distributor (both in the loft, so not so easy to adjust)? Or could I plug the attenuator on the socket to the main tv, which also carries 12v dc from the powersupply next to the main tv to the amp in the loft?

Neil's 2 posts
Neil's:
map
N's Freeview map
terrain
N's terrain plot
waves
N's frequency data
N's Freeview Detailed Coverage

Neil: If access to the loft is relatively easy to arrange then rather than purchase anything just yet for a test you should temporarily connect the lead from the aerial that would normally go into the Labgear's common input and connect it directly into the coax that goes down to one of your other TV's as obviously you cannot use the main TV's lead when it also carries the DC from the power unit, in other words by-passing the amp as that will soon indicate if overloading is the problem, which of course it might or might not be the cause.

Also it wouldn't go amiss to carry out a signal level check on your TV and observe if the "quality" is seen to dive now and again, you could try this both before and after having carrying out the temporary by-pass test on the Labgear.

If its a CM7274 I realise that it uses a saddle and clamp, so you should just slacken the inner core connector on both cables and bridge them without actually pulling them completely out of the clamp.

jb38's 7,179 posts

Thanks JB38. So, just to check I've understood correctly what you've said, I should just use a short piece of solid wire to bridge the inner core connectors of the aerial input and lead to tv. Should I also unplug the power supply downstairs?

On the one tv I have which gives signal quality bars concurrently with the picture I have seen the quality (but not signal level) drop as the picture breaks up. I'll report back on what we get on the bypass test.

Neil's 2 posts

Neil: Basically yes with regards to what you have mentioned regarding the Labgear, because if you very slightly slacken the clamp as well at the middle core terminal then you should be able to wiggle the coax back just enough to release the middle core from the holding screw.

That said though, there is another method you could use that would leave everything exactly as present except for the one test TV, this done by disconnecting the middle core (only the core) of the lead that goes to one of your TV's and just bridging it directly onto the aerial input terminal on the amp, as this would allow your system to operate in the same way as it does just now except for the test TV being fed directly from the aerial, this maybe being the easiest option for you to try as you could leave it running like that for a day or so and that would give you time to evaluate the results.

By the way there isn't any DC voltage involved with any of these tests and so you will not short anything out, as the voltage is only on the lead from the DC power supply.

And yes! please give an update on the test.

jb38's 7,179 posts

Neil: One bit of advice i can give you is that i have yet to see an aerial in the loft give signal overload. The labgear amp only gives a 12db gain and 10 miles from a transmitter isnt that close. the most comon cause for a problem would be for the amp to have a fault as it is quite old i havent used one for over 5 years. One other in the last 3 years since winter hill switched i havent come accross signal overload. What you need to know is signal strength befor it goes into the amp and then what it is after for this you need a good meter. Any advice on this site is only advice without seeing your set up you will get nowhere. So my advice to you is if you want tv working for christmas is look for a local aerial man tonight call first thing in the morning and with luck he might fit you. Hope you have a merry christmas

Mazbar's 384 posts

Mazbar: As far as not getting anywhere, not exactly true, as I advise as an engineer with many (very!) years experience in both transmission as well as reception problems, and indeed being called in by various to help solve problem situations in both the domestic sense as well as my normal commercial / industrial work.

I fully realise that as an aerial installer you would obviously prefer for someone to seek assistance albeit on a chargeable basis, and it some cases it might end up that way dependant on the ability of the person with the problem, but in many cases a person can possibly solve the situation themselves with a little assistance.

jb38's 7,179 posts
Sunday, 23 December 2012

Jb38 just to make things quiet clear you are not an aerial rigger but you are advising on all matters about aerials. I fit aerials 7 days a week for the last 24 years no other side line jobs. I am not a radio ham or spark i know my job some of the advice i see here is borderline dangerous, you wouldnt advise any one to mess around with there gas system or there ringmain because that could be against the law, but some of the posters are advising people to move ir check there aerials if they are on there roof or at a high apex this is not safe! if paying some one to do the job right is ok where do you work so we all can get in touch with your employers and advise them how to do your job then they wont need you and you can spend even longer helping others

Mazbar's 384 posts

Mazbar: Judging by past comments you have made I am well aware that you have concerns (I will refrain from saying "bee in your bonnet") about people who in your opinion, are allegedly being goaded into going onto roofs, but I never at any time advise (or suggest) that anyone should venture onto a roof unless the person seeking advice has indicated in one way or another that they have already been involved with their roof mounted aerial, or alternatively are acquaint with working at heights.

However as your posting / statement was made immediately after my communication with Neil it has to be assumed that you have perceived something said as having some element of danger involved? which of course is totally incorrect as even in the very remotest fashion there isn't any! as it involves being in a loft with a device that operates on no more than 15 volts DC at approx 50 milliamps, the mains power unit being located elsewhere.

And as far as aerial riggers are concerned though, yes! you are quite correct I do "not" do that for a living, but do get involved in rectifying technical problems associated with what has been fitted, and in many cases caused by a "go with the flow" attitude of many installers who automatically look at surrounding aerials and forge ahead by installing similar without considering for one minute whether what's seen is satisfactory or not, that is considering the fact that with digital reception a higher standard of accuracy is involved because quality is more important than strength.

I fully appreciate that there are obviously a number of installers around that adopt a more professional approach to what they do and likewise will fuss around to get the best possible results without looking at their watches all of the time, but though these types are very much in the minority, although even at that most are not necessarily technically minded people in other than what they are directly involved with, nor even in many cases appreciate the differences in techniques that have to be used with digital reception over that of analogue when in iffy reception areas, hence quite frequently inappropriate aerials are seen to have been installed, for example a multi element high gain aerial facing into trees.

As far as myself is concerned, as a fully qualified HNC level "hands on" RF equipment engineer get involved with all aspects of complex equipment used for a variety of communication purposes and have been doing for about 15 years longer than the time factor mentioned by yourself, plus this spills over into repairing radio amateurs gear as well as domestic equipment used for entertainment purposes, I also work on a retainer system from a couple of retail outlets to rectify or advise on any problems experienced by purchasers of TV reception equipment, usually of course the equipment concerned being in the somewhat higher price bracket.

Taking all this into account, I think that I am qualified enough to know if any danger is attached to any advice given.

jb38's 7,179 posts
Select more comments
Your comment please