Freeview signals: too much of a good thing is bad for you

Brian Butterworth published on UK Free TV
Most people will experience nothing but simplicity and joy with the digital switchover - the process that turns off the old five high power analogue signals, and the existing six low power digital services and replaces them with six new high power Freeview multiplexes.

For those with problems, there are generally three issues.


Eliminating other possible problems first
The first is that very, very old equipment will not function with the digital signals split into 6,817 sub-signals, as it was only designed to work with 1,705 sub-signals. This is known as the "8k
mode
issue" - see
TVs and boxes that do not support the 8k
It is also common that people do not clear out the old
channel list
(by selecting "first time installation" retune, "Factory Reset" or "Shipping Condition") before doing an "autoscan" for the available broadcast frequencies, and this results in everything from missing
channels
to no subtitles, programme guide, wrong channel numbers and no text services. If you can't find how to do it see either
Freeview Retune - list of manuals
or do it this way:
My Freeview box has no EPG, is blank, has no sound or the channel line up is wrong
.
A third problem is caused by having signals from more than one
transmitter
- see
Digital Region Overlap
.
The final very common issue is "too much
signal
".
Transmitters have much more digital power after switchover
At most transmitters, the digital signals after switchover are considerably more powerful than before. This was because when the analogue and digital services ran together, the digital services were kept low to prevent appearing as snowy
interference
on television sets using analogue
reception
.
Here is an example, from
Sutton Coldfield
, of how the signals change at switchover:

4,000kW of analogue signals are turned off, and the digital services increase in total power from 48kW to 1,200kW - that is an increase of 25 times in numerical terms, also know as +14dB. (The reduction of -7dB from the analogue strength is intended - the digital services require less power to cover the same number of homes).
This large increase in power should cause no effect for most people. A stronger signal does not increase the
picture
quality
(you need
Freeview HD
for that), sound levels - the only effect should be that more homes that are further away from the transmitter
mast
can receive a stable digital signal.
High gain aerials and signal boosters
However, many people have been tempted into buying one both high
gain
aerials and signal boosters.

High-gain aerials were very suitable for places where the Freeview signal before switchover was very weak indeed, but if you have one of these and you are located closer to the transmitter, you will probably now have a signal overload.
Generally speaking, signal
booster
devices are never
really
much use for Freeview reception, and much of the time they actually amplify the interference more than they do the signal, causing reception to get worse, not better.
How to tell if you have too much signal
There are almost as many ways for a Freeview box to display the "signal strength" and "signal quality" as there are types of Freeview box. Here are some of them: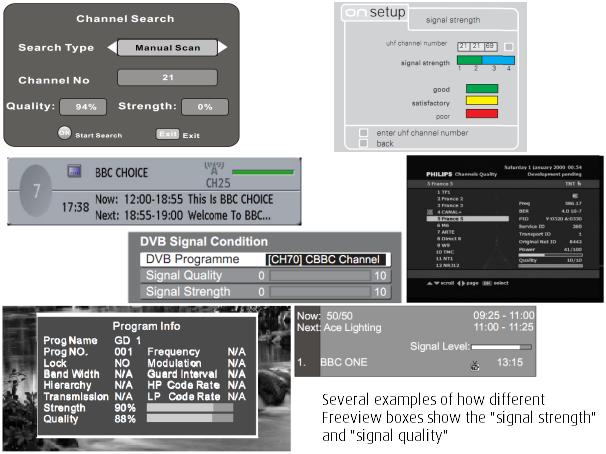 Speaking generally, there will be two indicators:
One is
signal strength
- this shows the power level of the signal entering the Freeview box. Often "0" is the lowest and "10" the highest, but sometimes it can be a percentage, sometimes coloured boxes and so on.
The signal strength should be around 75% - more than this indicates too much signal.
The other measure is the
signal quality
and this is much more important to high-quality Freeview viewing. Any measures that increase this to the maximum will provide for uninterrupted viewing, lower values will result in "bit errors" that cause the picture to freeze and the sound to mute out.
One problem with over powerful signals is the overload can sometimes show as a low signal because the receiver circuitry will enter a "blown fuse" state to protect itself.
How to deal with too much signal
First, if you have a booster or
amplifier
- remove it from your system. Don't just unplug the power, as this will result in
no signal
getting though the device.
If you can't just disconnect the
output
cable
and connect it to the input cable, you might need a coax female-female coupler to connect two male connectors together.

If you don't have a booster or amplifier, you might have to fit an attenuator onto the cable. They come in two types, either a "single attenuator", around five pounds, or a variable attenuator, for around ten pounds. The variable sort has a knob that can be turned to select the required level of signal dampening.
Comments
Sunday, 23 December 2012

jb38: Sorry i didnt mean to go of on one but this thread does annoy me. To get signal overload it has to be very very high i have seen 85dbuv work fine for a lot of the post here there is another problem.

Mazbar's 384 posts

Mazbar: Well what you have said just highlights one of the many variables that exists with DTT reception, because if you know for certain that the calibration is OK on your signal check meter, then as you will no doubt be aware 85dBuV is just over 12dB above the maximum recommended level for DTT reception, and so any equipment that apparently works OK at the level mentioned is doing so at the upper limits of its signal overload safety margin, although the point is that it works.

But though the brand of equipment being used also plays a big part in this, because although Panasonic (by far the best) Sony (some of) JVC and of course all Humax devices can cope reasonably well with excessive signal levels many other devices such as LG and Samsung can fare very badly, as in my experience the latter two brands develop instability problems with even the slightest hint of an excessively high level of signal on the aerial socket.

I do not necessarily disagree either with your doubts about an excessive level of signal applying in the case of Neils installation and is the reason why I had mentioned not to purchase anything as yet, because if different brands of TV's (or boxes) are being used on the various outputs from the Labgear and they all glitch about the same time, then that can indicate that either the problem is being caused by the Labgear itself or that the actual signal being received is suffering from fluctuations, as its nearly impossible for four different TV's to have the same glitching point if fed from an excessive level of signal.

This of course being why I suggested that one of the TV's be by-passed as far as the Labgear is concerned.



jb38's 7,179 posts
Monday, 24 December 2012

Mazbar: Just to add the final part of my reply which I just noticed did not paste in properly. (my fault)

> This of course being why I suggested that one of the TV's be by-passed as far as the Labgear is concerned, because if the TV that is fed straight from the aerial also glitches then its a signal problem of a nature that is basically out with local control.<


jb38's 7,179 posts

jb38: you are missing the point i'm not just refering to mike my main transmitter in my area is winter hill one of the strongest transmitters in england and signal overload is just not a problem. If your signal worked after any switchover then you shouldnt have a problem. After the winterhill switchover i didnt have one call that was signal overload not one. If people have a problem with reception it is normaly down to the following, aerial fallen down, rear reflector flapping, coax broken or damaged letting in water, amplifier faulty, customer moveing cable stopping system, trees or other thing in the way stopping signal, other transmitters coming in over main transmitter. I will through this out to other aerial riggers who go out and work at the sharp end not just a keybord warrior is signal overload a big problem or a very very small one.

Mazbar's 384 posts

Having recently received a You-View box from BT it has never received HD channels without the pitcher breaking up, system settings show signal strength 50% - 52% and signal quality 100% . Original BT vision box worked fine, are You-View boxes more sensitive regards signal strength. My aerial is in the loft and worked fine for many years until You-View box. I live M28 approx 9 miles from Winterhill so in a general good signal area. I have recently tried a number of new aerials with the help if local aerial supplies, they give less signal strength or just the same, Advise on what is classed as a good signal strength along with quality to receive HD channels on You-Veiw. No problems are being experienced with HD channels on TV only when using You-View box.

Rob's 1 post

Rob: The problem is, that devices of different manufacture do not necessarily give the same indications even although the signal being fed into their aerial input sockets might be at identical levels, and with regards to the signal what method are you using to feed the aerial into the box as well as possibly your TV?

By the way, a good average signal level for satisfactory reception should be around 65- 70% or so and with a quality level of around 90%+.

jb38's 7,179 posts

Rob: was it grax you went to ?

Mazbar's 384 posts
Sunday, 30 December 2012

Hi
I am having trouble receiving some freeview channels. The signal strength for BBC1,ITV1 channel 4, 5, More 4 E4 are all 36/37% which you suggest is low, but the picture etc is fine. However ITV3 5* and 5 USA are 34% and the piture/sound is contstantly breaking up. Sometimes the signal is lost altogether. Dave is mising as are a few others I should be able to recieve. I live in Stourbridge so assume Brierley Hill is my transmitter which is relatively close. I have been getting ITV3 and Dave ok till a few weeks ago. Any advice. should I get a new areial.

linsey's 2 posts

linsey: Although the picture may well be fine the levels mentioned are far to low for reliable reception and are liable be hovering just above the threshold for reception, ITV3 etc dipping under it now and again hence your problem.

A post code (or one from nearby) is really necessary to determine the signal levels expected in your area, but if you are close to the transmitter it can indeed cause problems of the nature described and also result in false signal strength indications being given, and so if you have access to a set top aerial try that and see if anything is received, if it us then the signal is strong, or at least reasonable so! and possibly requiring the addition of an attenuator in line with your TV or boxes aerial socket.

Best give an update though on results of the test mentioned.



jb38's 7,179 posts
L
linsey
1:45 PM
Stourbridge

thanks. my post code is dy8 3xe will that help diganose the problem better. When I said I am close i may have missled you - not sure how close is good/bad, but brieley hill is only approx 3 ish miles away.
Glad of any further advice.

linsey's 2 posts
linsey's: ...
Select more comments
Your comment please